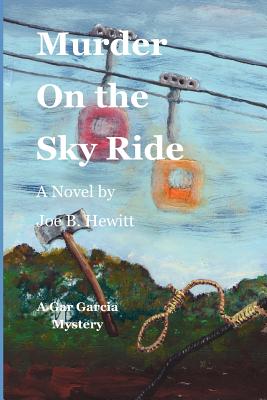 Murder on the Sky Ride (Paperback)
Createspace Independent Publishing Platform, 9781481183178, 328pp.
Publication Date: January 8, 2013
Description
Killers cut an amusement park sky ride cable that kills a prominent Hispanic politician and a woman who drowns when her cable car falls into the water. The Texas Governor orders a young Texas Ranger to take over the investigation because he had arrested the politician victim on drug smuggling charges. The politician's brothers stalk the Ranger because they believe he framed their brother. A 21-year-old sky ride attendant becomes unwillingly involved, and gets into deep trouble with the killers and the law as well. This is an action filled detective story with bad guys who are really bad and a clever, yet quite human detective. No graphic sex scenes or "F" word, but macho appeal is still there. It's clean enough that you could give it to your daughter or your mother. Other titles that had been considered will tell you something: Trophies (one of the characters is a compulsive trophy collector.) Homicide Exclusion (murder motive involves $6 million in insurance money, but each policy has a homicide exclusion. Some of the characters: Enrique "Gar" Garcia, young Texas Ranger, his wife Lizzie, son Enrique Jr.; Steve Pierce, 21, with a prison record who is caught up in the crime as a suspect and a victim; Thomas, law student who became a career criminal; Hawknose, his sociopath partner; Burke Masters, "big man in town" and obsessive compulsive trophy collector; Ben and Johnny Diaz, amateur assassins; Two detectives, a surly police chief, and several women you'll get to know.
About the Author
To keep from confusing readers of his non-fiction books, author Joe B. Hewitt originally wrote this novel under his registered pen name "Alexander Whitehouse." He reconsidered and put his own name on it. Hewitt started writing as a newspaper reporter, covering the police beat and later the courthouse beat. He moved on to copy editor and then national and international news editor and city desk "slot man." (The slot man is in charge of Page 1 and some inside pages and coordinates work of other editors.) He owned and published two Texas weeklies, and later served as editor and publisher of another weekly in which he held stock and was president of the corporation. After 10 year in the newspaper business, Hewitt heeded the call to ministry, received a theological education at Bible Baptist Seminary and Dallas Baptist University. He pastored churches in the Dallas area for 39 years. For four years he was a full time vocational evangelist and special elections consultant. Of 13 major campaigns, he won 11. After retiring from the pastorate in 2001, Hewitt began training as a mediator. He has served as a professional mediator for courts in Dallas and surrounding counties since 2002. Throughout all that time, Hewitt never stopped writing, travel articles for newspapers, magazine articles, Sunday school teacher curriculum, and non-fiction, religious books. In recent years he started writing fiction, he said, "Because it's more fun. You can make up stuff."
Advertisement