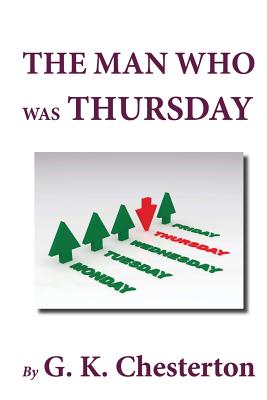 The Man Who Was Thursday (Paperback)
Createspace Independent Publishing Platform, 9781481215985, 142pp.
Publication Date: December 10, 2012
Other Editions of This Title:
Paperback (4/12/2013)
Paperback (4/24/2014)
Paperback (7/28/2018)
Paperback (7/17/2019)
Paperback (11/28/2017)
Paperback (1/13/2017)
Paperback (7/25/2009)
Paperback (12/20/2013)
Paperback (3/18/2017)
Paperback (10/10/2016)
Library Binding (11/15/2005)
Paperback (9/19/2016)
Paperback (9/24/2015)
Paperback (4/12/2015)
Paperback (10/17/2017)
Paperback (10/28/2017)
Paperback (10/19/2013)
Paperback (9/20/2018)
Paperback (1/29/2007)
* Individual store prices may vary.
Description
G.K. Chesterton's classic novella tackles anarchy, social order, God, peace, war, religion, human nature, and a few dozen other weight concepts. And somehow he manages to mash it all together into a delightful satire, full of tongue-in-cheek commentary that is still relevant today. As the book opens, Gabriel Symes is debating with a soapbox anarchist. The two men impress each other enough that the anarchist introduces Symes to a seven-man council of anarchists, all named after days of the week. In short order, they elect Symes their newest member -- Thursday. But they don't know that he's also been recruited by an anti-anarchy organization. And soon Symes finds out that he's not the only person on the council who is not what he seems. There are other spies and double-agents, working for the same cause. But who -- and what -- is the jovial, powerful Mr. Sunday, the head of the organization? Hot air balloons, elaborate disguises, duels and police chases -- Chesterton certainly knew how to keep this novel interesting. Though written almost a century ago, "The Man Who Was Thursday" still feels very fresh. That's partly because of Chesterton's cheery writing... and partly because it's such an intelligent book. He doesn't avoid some timeless topics that make some people squirm. Humanity (good and bad), anarchy, religion and its place in human nature, and creation versus destruction all get tackled here -- disguised as a comic police investigation. And unlike most satires, it isn't dated; the topics are reflections of humanity and religion, so they're as relevant now as they were in 1908. But the story isn't pedantic or boring; Chesterton keeps things lively by having his characters act like real people, rather than mouthpieces. From Symes to the Colonel to the mysterious Sunday himself, they all have a sort of friendly, energetic quality. "We're all spies Come and have a drink " one of the characters announces cheerfully near the end. And of course, once the madcap police investigations are finished, there's still a mystery. Who is Sunday? What are his goals? And for that matter, WHAT is Sunday -- genius, force of nature, villain or god? The answer is a bit of a surprise, and as a reflection of Chesterton's beliefs, it's a delicate, intelligent piece of work. "The Man Who Was Thursday" is a wacky little satire that will both amuse and educate you. Not bad for a book often subtitled "A Nightmare.
About the Author
Gilbert Keith Chesterton (1874-1936) was an English writer. His prolific and diverse output included philosophy, ontology, poetry, play writing, journalism, public lecturing and debating, literary and art criticism, biography, Christian apologetics, and fiction, including fantasy and detective fiction. Chesterton has been called the "prince of paradox." Time magazine, in a review of a biography of Chesterton, observed of his writing style: "Whenever possible Chesterton made his points with popular sayings, proverbs, allegories-first carefully turning them inside out." For example, Chesterton wrote "Thieves respect property. They merely wish the property to become their property that they may more perfectly respect it." Chesterton is well known for his reasoned apologetics and even some of those who disagree with him have recognized the universal appeal of such works as Orthodoxy and The Everlasting Man. Chesterton, as a political thinker, cast aspersions on both liberalism and conservatism, saying, "The whole modern world has divided itself into Conservatives and Progressives. The business of Progressives is to go on making mistakes. The business of the Conservatives is to prevent the mistakes from being corrected." Chesterton routinely referred to himself as an "orthodox" Christian, and came to identify such a position with Catholicism more and more, eventually converting to Roman Catholicism from Anglicanism. George Bernard Shaw, Chesterton's "friendly enemy" according to Time, said of him, "He was a man of colossal genius."