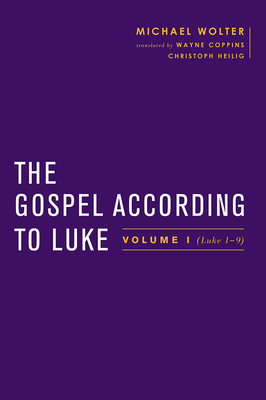 The Gospel According to Luke (Hardcover)
Volume I (Luke 1-9:50) (Baylor-Mohr Siebeck Studies in Early Christianity)
Baylor University Press, 9781481305921, 520pp.
Publication Date: October 1, 2016
Other Editions of This Title:
Paperback (11/1/2018)
Hardcover (9/15/2017)
* Individual store prices may vary.
Description
In this fourth volume of the Baylor-Mohr Siebeck Studies in Early Christianity, Michael Wolter provides a detailed, verse-by-verse interpretation of the Third Evangelist. Wolter's commentary fully complements the great tradition of Handbooks of the New Testament published by Mohr Siebeck. Replacing the third edition of Erich Klostermann's commentary on Luke, Wolter's volume rightly joins those by Conzelmann (Acts), K semann (Romans), and Lietzmann (1 Corinthians) in this venerable series.
Wolter's approach to a sustained reading of Luke's Gospel is comprehensive. He carefully places Luke's narrative of Jesus in its cultural context, paying close attention to the relationship of the Gospel with its Jewish and Greco-Roman environment. Wolter performs form-critical and narrative analysis of the specific stories; however, Wolter also emphasizes Luke as a theologian and his Gospel as a work of theology.
Wolter recognizes how Luke's narrative of Jesus forms the first part of a unified work--the Acts of Apostles being the second--that represents a new moment in Israel's history. But in surprising new ways, Wolter makes clear that it is God alone who works in and through the words and deeds of Jesus to bring salvation to Israel. His commentary shows that Luke succeeds in preserving the history of Jesus and its theological impact and that this history stands on equal footing with the history of early Christianity. Wolter's thorough, careful reading follows Luke as the Evangelist seeks to explain how the fulfillment of the Old Testament promises of God for Israel results in a parting of the ways between the Christian church on the one side and Judaism on the other. Scholars and students alike will benefit from access to new German scholarship now available to English-language audiences.
--C. Kavin Rowe, Professor of New Testament, Duke University Divinity School "The Christian Century.
About the Author
Michael Wolter is Professor of New Testament at the Faculty of Protestant Theology at the University of Bonn in Germany and Honorary Professor at the Theological Faculty at the University of Pretoria in South Africa. His book Paul - An Outline of His Theology is also available from Baylor University Press.Wayne Coppins is Professor of Religion at The University of Georgia.Simon Gathercole is Reader in New Testament Studies at the University of Cambridge.
or
Not Currently Available for Direct Purchase