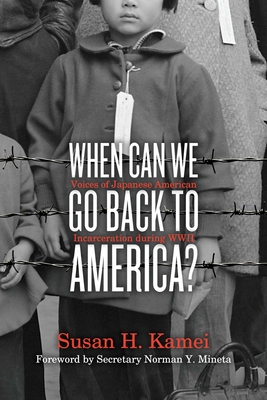 When Can We Go Back to America? (Hardcover)
Voices of Japanese American Incarceration During World War II
Simon & Schuster Books for Young Readers, 9781481401449, 560pp.
Publication Date: September 7, 2021
* Individual store prices may vary.
Description
From Susan H. Kamei and Barry Denenberg, the award-winning author of Ali: An American Champion, comes a powerful new oral history of Japanese incarceration during World War II from the perspective of the young people affected.

It's difficult to believe it happened here, in the Land of the Free: After the bombing of Pearl Harbor in 1941, the United States government imprisoned more than one hundred and twenty thousand Japanese Americans living on the Pacific Coast in desolate concentration camps until the end of World War II just because of their race.

In this book, the voices of those who lived through this experience are wrapped around the story of their incarceration and illuminate the frightening reality of this dark period in American history. Many of them were children and young adults at the time.

Now, more than ever, this book is needed for all who care about what it means to be an American.
About the Author
Susan H. Kamei received her JD from the Georgetown University Law Center and teaches at the University of Southern California on the legal ramifications of the incarceration of persons of Japanese ancestry during World War II and about the application of those constitutional issues to national security and civil liberties considerations today.

Barry Denenberg is the author of many critically acclaimed biographies and nonfiction works. He has written on a wide range of people including Nelson Mandela, Charles Lindbergh, Jackie Robinson and Elvis Presley. His innovative books on Abraham Lincoln (Lincoln Shot), Muhammad Ali (Ali: An American Champion), and the sinking of the Titanic (Titanic Sinks!), combine narrative with illustration and photography in a unique format which reviewers have called "history at its best" (Kirkus Reviews, starred review). Denenberg is also known for his many memorable books in the Dear America series—most notably When Will This Cruel War Be Over?: The Civil War Diary of Emma Simpson, a title that won the Jefferson Cup. Denenberg divides his time between New York City and Westchester County.