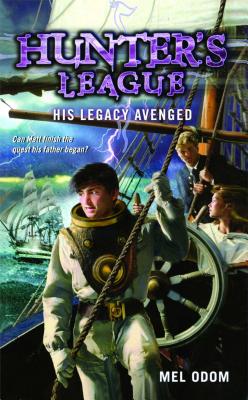 His Legacy Avenged (Hunter's League #4)
Paperback

* Individual store prices may vary.
Description
Into the Deep

"I will see my father avenged," Matt replied, "or die in the attempt."

Ever since his parents' untimely deaths at the hands of a vicious enemy, Matt Hunter has risked his own life -- and that of his friends -- over and over again. But his team's motivation has changed. As they have grown closer to Creighdor's evil empire, a greater purpose has been revealed: The fate of humankind lies in their hands.

Hunter's League is gearing up for its final confrontation. First, though, they must learn their foe's true nature. It's a discovery with extraordinary implications. And it means one last outrageous journey to the most unlikely of places -- a trip to the bottom of the ocean.
Simon Pulse, 9781481401579, 256pp.
Publication Date: April 27, 2013
About the Author
Mel Odom is the author of dozens of books and several television and game tie-ins, including Buffy the Campire Slayer, Diablo, Sabrina the Teenage Witch, and novels set in Forgotten Realms. He received the American Librarian Association's ALEX Award for his novel, The Rover. He's also been a Stephen Tall finalist and was inducted into the Oklahoma Writer's Hall Of Fame. He lives with his wife in Moore, Oklahoma.