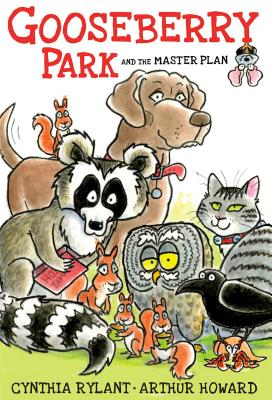 Gooseberry Park and the Master Plan (Hardcover)
Beach Lane Books, 9781481404495, 128pp.
Publication Date: April 21, 2015
Other Editions of This Title:
Paperback (8/1/2007)
Paperback (3/1/2016)
Paperback (12/1/1998)
Hardcover (10/13/1995)
* Individual store prices may vary.
Description
Stumpy the Squirrel and friends team up to save the day in this charming standalone companion to the beloved Gooseberry Park, from Newbery Medalist Cynthia Rylant and illustrator Arthur Howard.

There has been no rain for months, and all of the animals in Gooseberry Park are in danger. Can the gang of dear friends come up with a brilliant solution in time to save the day? Absolutely!

Newbery Medalist Cynthia Rylant's first novel in more than a decade has all the wit and charm of the first adventure of the Gooseberry Park gang, which Kirkus Reviews called "sophisticated and funny…a tender tale delivered by a sure hand."
About the Author
Cynthia Rylant is the author of more than 100 books for young people, including the beloved Henry and Mudge, Annie and Snowball, Brownie & Pearl, and Mr. Putter & Tabby series. Her novel Missing May received the Newbery Medal. She lives in Lake Oswego, Oregon. Visit her at CynthiaRylant.com.

Arthur Howard is the illustrator of Goatilocks and the Three Bears by Erica S. Perl, Noodle & Lou by Liz Garton Scanlon, the Mr. Putter and Tabby series and Gooseberry Park books by Cynthia Rylant, and his own picture books. He has also coauthored and illustrated many books of humor for adults and appeared for seven seasons in the PBS math-oriented production Square One Television. He lives in New York City.
Praise For Gooseberry Park and the Master Plan…
Ten years after the publication of her last novel, Gooseberry Park (1995), Rylant returns with a sequel....Rylant writes with her customary restrained humor, creating with apparently no effort a full cast of three-dimensional furred and feathered characters. The story comes with lessons ranging from the overuse of fossil fuels to the peculiar magic of friendship, all applied with a gentle hand and a spirit of generous trust in the abilities of her readers to understand them. Her frequent collaborator Howard supplies lumpily humorous grayscale illustrations that augment the character development and give readers' eyes places to rest. Readers new to Gooseberry Park will hope they don't have to wait another 10 years for the next book
— Kirkus Reviews

Twenty years after Gooseberry Park, Rylant and Howard return with a companion book, and it's well worth the wait. While an ice storm figured prominently in the previous book, a drought is now causing trouble for Stumpy the squirrel, Murray the bat, and other animals in and around the park. Rylant swiftly recaps the events of the earlier book before moving on to the animals' efforts to secure needed water, using a plan devised by genius crow Herman (it involves 200 owls and a great many drinking straws). Howard's b&w illustrations build on the story's ample humor (as when he shows a blissed-out Murray enjoying a Reiki session from Gwendolyn the hermit crab) while Rylant unspools a quietly magical tale of cooperation and kindness, with a gentle environmental undercurrent.
— Publishers Weekly, *STARRED REVIEW

In this follow-up to Gooseberry Park (1995), the animals are living the dream. Murray the bat has a steady supply of Oreos; Gwendolyn the hermit crab periodically cruises around on the back of Kona, the chocolate lab; and Stumpy the squirrel has three bright children, though their habit of emulating Murray by hanging upside down has generated a bit of neighborhood gossip. When a drought hits the park and dries up Gooseberry Creek, however, the animal friends grow concerned for those who cannot journey far afield for water. That's when they know they need a plan—a master plan. Enlisting a possum, a parliament of owls, and a few others, the park's animals come together to deliver water to those in need. Veteran children's author Rylant shows her knack for storytelling by incorporating just the right amount of heart, humor, and suspense into this gentle adventure. Short chapters generously peppered with Howard's endearing and often amusing illustrations make this a natural step up from beginning readers. A sweet tale of friendship and teamwork.
— Booklist
or
Not Currently Available for Direct Purchase