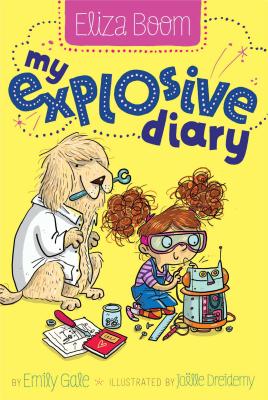 My Explosive Diary (Eliza Boom #1)
Paperback

* Individual store prices may vary.
Other Editions of This Title:
Prebound (7/15/2014)
Hardcover (7/15/2014)
Description
Meet Eliza Boom—assistant inventor, junior spy, and full-on fantastic—as she tells all in this first book of a chapter book series packed with jokes, doodles, and dear-diary secrets!

Eliza Boom is having a blast. Her father is an inventor who makes gadgets for spies, and Eliza is his unofficial assistant…very unofficial.

Eliza knows if she can just build that one indispensable thing that every secret agent needs, she can be a full-fledged spy herself, but somehow her inventions keep going wrong. Still, with her best friend (well, dog), Einstein, she's not going to give up.

When Eliza's father loses a top-secret roll of film, Eliza realizes that she might have accidentally given it to class bully Zoe Wakefield, the Queen of Mean. Eliza's got to retrieve the film, which Zoe is using as a hair bow, before enemy spies get to it. Luckily she's got Einstein as well as her own brand-new assistant (and friend), Amy, to help her.

Can these three would-be 007s get the film, stop the spies, and get revenge on the class bully? There's only one way to find out—and that's to read Eliza's diary!
Aladdin, 9781481406482, 128pp.
Publication Date: July 15, 2014
About the Author
Emily Gale lives in Melbourne, Australia, with her partner, two children, and two cats. Before that she was a freelance writer in London, publishing a fictional magazine column and several picture books including Doctor Pig and the Just Josie series.

Joelle Dreidemy can't remember the first time she started drawing…maybe since the first time she picked up a pencil! She spent her childhood among books from Roald Dahl, Quentin Blake, Tony Ross, Ralph Steadman, and others who influenced her style. Joelle studied art at the famous Emile Cohl School in Lyon, France, where she met fantastic and motivating teachers like Yves Got and Jean Claverie. She now lives in Paris illustrating projects for French, English, American, and Korean publishers. When not drawing, Joelle practices karate, plays piano, and goes to museums and the movies.