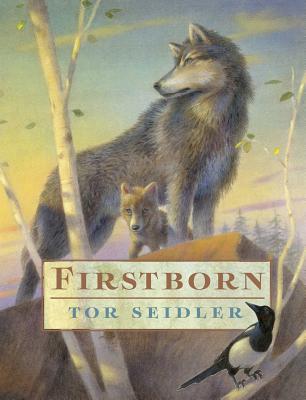 Firstborn
Hardcover

* Individual store prices may vary.
Other Editions of This Title:
Digital Audiobook (3/2/2015)
Paperback (3/1/2016)
Description
A young wolf seeks the bravery to be himself in this "rich take on the wild that quickens the pulse and fills the heart" (Kirkus Reviews), from the author of National Book Award Finalist Mean Margaret and The Wainscott Weasel.

Wolves. Predators of the wild. Stalkers of the forests. Born into rankings and expected to live up to their roles. Blue Boy, the alpha male of his pack, is the largest wolf many have ever seen, and his dream is to have a firstborn son who will take after him in every way. But Lamar is not turning out the way his father hoped. Lamar likes to watch butterflies. He worries if his younger siblings fall behind in the hunt. He has little interest in peacocking in front of other clans. Blue Boy grows increasingly dismayed at Lamar's lack of wolf instincts, and then Lamar does the intolerable: he becomes attracted to a coyote. While the other infractions can be begrudgingly tolerated, this one cannot, and the unity of the pack is in jeopardy. Lamar wants to make his family happy, but is doing what is expected of him worth losing the only true friend he's ever had?

Full of bite and beauty that will make you think of White Fang, then Ferdinand, this story cuts to the heart of what's most important: being true to yourself, and being true to others.
Praise For Firstborn…
"Do you ever have those vivid dreams that you wake up from with a start? That's what this book reminds me of. Tor Seidler has created a brutal but beautiful anthropomorphic world that practically comes to life like those dreams. I loved this book."
— Cynthia Kadohata, author of THE THING ABOUT LUCK and KIRA-KIRA, winner of the NBA and Newbery Award

"A pack of articulate wolves resettles in the grandeur of Yellowstone where multiculturalism involves interaction with coyotes. They are enabled by a magpie named Maggie. I believed every word of this magical book."
— Richard Peck, author of A YEAR DOWN YONDER, winner of the Newbery Award.

"Tor Seidler's Firstborn let's you live the way you always wanted to live: as a wolf in a wolf pack. Of course there's lots of danger, excitement, beauty but there are also things we know from human families, like love and loyalty, bravery and honor. You won't ever want to leave Blue Boy's wolf pack in the heart of the Rockies."
— Chris Raschka, two-time Caldecott Medalist for HELLO, GOODBYE WINDOW and A BALL FOR DAISY

A magpie who befriends a wolf tells their story.Maggie the magpie, hatched in a pine tree on a ranch in Montana, is unimpressed with her parents' lack of imagination in naming her Maggie and discontented overall with magpie life. After the death of her mentor, Jackson the crow, and a near-brush with a fox who, at the last moment, is scarfed up by a wolf, Maggie flies away from the ranch. She encounters the large wolf who saved her and discovers his name is Blue Boy and that he is making his way back to Canada after being forcibly relocated to Yellowstone National Park. The two form a mutually useful relationship—Maggie locates game from her airy vantage point, and Blue Boy hunts it down—and Maggie sees no reason why she "shouldn't accompany this amazing meal ticket on his journey." As months slide into years, Maggie's relationship with Blue Boy grows beyond food. She shares his joys and struggles as he is wounded by ranchers, finds a mate and a pack, settles back in Yellowstone, and sires and raises pups. Seidler's tale, narrated by the precocious Maggie and filled with her droll observations, brims with rivalries and treachery as well as selfless acts and unrequited love. A rich tale of the wild that quickens the pulse and fills the heart.
— Kirkus Reviews

"A rich tale of the wild that quickens the pulse and fills the heart."
— Kirkus Reviews

Maggie the Magpie has a great deal to learn about the world. During her first few weeks of life, Maggie experiences prejudice and stereotypes as she meets other varieties of birds and mammals. But in the midst of finding her way, she also meets a Crow named Jackson. Although less than tolerant in the beginning, Jackson warms up to Maggie's presence and begins to teach her the ways of humans, other animals, and most importantly, how to stay alive. When Jackson is shot by a human, Maggie feels she has lost her best friend and mentor. In the next few weeks she happens upon a solitary alpha male wolf named Blue Boy. Blue Boy has also lost his own family and is trying to find his way. This unlikely pair set out together looking for solid ground and they find it in small pack, of which Blue Boy becomes a member and eventually leads. The wolf settles down and starts a new family of his own while still maintaining a relationship with the lonely magpie. Blue Boys firstborn pup, Lamar, challenges social expectations by not being the alpha male that his father wants him to be. Lamar is torn between what his pack expects of him and where his heart wants to lead him. Will their relationship become so strained that it will be destroyed forever? Seidler has done superb research on animal behavior, which is clearly evident throughout the entirety of the novel. A great addition to any upper elementary or middle school collection, this is ideal for opening conversation with young students regarding racial prejudice and societal stereotypes.
— School Library Journal

Told in the voice of Maggie, a flippant-yet-wise magpie, the story takes off when she discovers parenting her own flock is not for her. Instead, she is attracted to the freedom of Blue Boy, the alpha male of a small pack of wolves living near Yellowstone. The novel chronicles the pack's adventures: bringing down buffalo, raising a litter, avoiding capture (or killing) by humans. The anthropomorphized characters are fully developed, with part of the story centered around Lamar, Blue Boy's firstborn, who is not an alphain-training, but instead prefers cavorting among flowers and pursuing a female coyote. Themes such as survival of the fittest, protection of the environment, and appreciation of those who are different abound. Seidler, writing in a style reminiscent of that of Jean Craighead George yet uniquely his own, paints word pictures of the majestic scenery. (A map helps the reader trace the travels of Blue Boy and others in the pack.) The title is slightly misleading, making the book seem more narrow than it is; there is much to appreciate here.
— Booklist

This book is a fast-paced adventure story set in majestic Yellowstone Park. Alpha wolf Blue Boy is captured in Canada and relocated to the park. He loses his mate and pups, eventually joins a small pack, and is befriended by Maggie, a magpie, the book's narrator. Blue Boy is overjoyed when Lamar, his first born, arrives. As the pack struggles to survive, Lamar grows into a wolf who marches to the beat of a different drummer and is not cut out to be a leader. Lamar strikes out on his own, but later returns to challenge Raze when he attempts to take the alpha male position. The story, told in first person, brings the animal characters to life with personalities and human characteristics. The setting's descriptions are vivid and realistic. This is a wonderful adventure story with imagery and personification woven into a tale of survival.
— School Library Connection
Atheneum Books for Young Readers, 9781481410175, 240pp.
Publication Date: March 3, 2015
About the Author
Tor Seidler is the critically acclaimed and bestselling author of more than a dozen children's books, including Firstborn, The Wainscott Weasel, A Rat's Tale, The Steadfast Tin Soldier, Gully's Travels, and most notably Mean Margaret, which was a National Book Award Finalist. He lives in New York, New York.
or
Not Currently Available for Direct Purchase