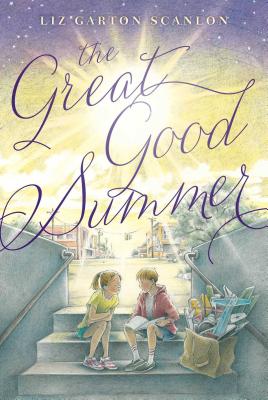 The Great Good Summer
Paperback

* Individual store prices may vary.
Other Editions of This Title:
Hardcover (5/5/2015)
Description
Ivy and Paul hatch a secret plan to find Ivy's missing mom and say good-bye to the space shuttle in this heartfelt and "engaging debut novel" (School Library Journal, starred review) reminiscent of Each Little Bird that Sings and Because of Winn-Dixie.

Ivy Green's mama has gone off with a charismatic preacher called Hallelujah Dave to The Great Good Bible Church of Panhandle Florida. At least that's where Ivy and her dad think Mama is. But since the church has no website or phone number and Mama left no forwarding address, Ivy's not entirely sure. She does know she's missing Mama. And she's starting to get just a little worried about her, too.

Paul Dobbs, one of Ivy's schoolmates, is also having a crummy summer. Paul has always wanted to be an astronaut, and now that NASA's space shuttle program has been scrapped, it looks like his dream will never get off the ground.

Although Ivy and Paul are an unlikely pair, it turns out they are the perfect allies for a runaway road trip to Florida—to look for Mama, to kiss the Space Shuttle good-bye, and maybe, just maybe, regain their faith in the things in life that are most important.
Praise For The Great Good Summer…
This engaging debut novel hooks readers from beginning to end...This tender and funny story of a strong-willed young girl is reminiscent of Rita Williams-Garcia's One Crazy Summer (HarperCollins, 2010) and Kate DiCamillo's Because of Winn-Dixie (Candlewick, 2000).
— School Library Journal *STARRED REVIEW

Ivy's quirky voice narrates the story, which is full of adventure, to be sure, but also meditations on home, family, and the differences—and striking similarities—between science and religion...Equal parts peculiar and poignant, Ivy's story will have readers giggling as they root for her to find everything she's looking for.
— Kirkus Reviews

"It's the surprise and mystery of it that makes us want to watch," quips Ivy Green, age 12, about watching remote-control airplanes fly, though she could just as easily be talking about her story itself....The real strength of this folksy novel, the first from picture-book author Scanlon (All the World), is its earnest, nonsaccharine treatment of what it means to have faith and to question it. As Ivy's trust in her mother is shaken, so is her faith in God ("We wouldn't be in this fix in the first place if it weren't for God"). Readers will be rewarded with both genuine adventure and intense reflection as Ivy finds a balance between safe comfort and disquieting wonder.
— Publishers Weekly

I loved this book for Ivy's tenderness and strength, for her so-real voice. I loved it for Ivy and Paul's growing friendship and what this says about true love. Liz Garton Scanlon has, with courage and tons of artistry, given us a fun and suspenseful story that is not afraid to ask the big questions.
— Francisco X. Stork, author of Marcelo in the Real World

When Ivy Green can't take any more missing, when even God seems to have taken off for parts unknown (along with her Mama), redemption nevertheless appears—in the sky, the stars, a kind-of-cute science boy, and a whole cast of people who love her. Liz Garton Scanlon has written a great-good miracle of a book. I can't stop hugging it.
— Kathi Appelt, author of The Underneath

When Ivy Green's mom leaves Ivy and her dad to follow a pastor named Hallelujah Dave to the Great Good Bible Church of Panhandle Florida, the seventh-grader's life is turned upside down. Mr. Green doesn't seem to know what to do about his missing wife or understand the depth of his daughter's unhappiness. But Ivy's newish friend, science-geek Paul, does have an idea: take the bus from their small Texas town to Florida, find Mrs. Green, and then visit the Kennedy Space Center, at Cape Canaveral....Ivy is a delicious character with a smart, believable voice. The conversations between churchgoing Ivy and science-loving Paul are some of the best parts of the book....Give this to readers who like their coming-of-age journeys with a hint of religion and a dose of humor.
— Booklist

This is an engaging story with strong characters and relationships, especially the father–daughter and mother–daughter bonds. The plot moves along quickly, and Ivy is a smart and thoughtful girl who many readers will appreciate. The story shows readers how trying teenage years can be and how difficult it can be to understand your place in social groups, as well as how tough the truth can be to handle. The conversations among all the characters and Ivy are realistic and make the book worth reading.—Karen Sykeny. VOYA
— VOYA

Living in the east Texas town of Loomer should be good for the soul. According to twelve-year-old resident Ivy Green, "We've got more churches than Quick Marts. And we have Advent Oil and Lube, and we have Heaven Sent Hair Designs, and we have Creation Concrete. And we pray in school, which the science club doesn't like, but that doesn't seem to stop anybody except the kids in science club." When a series of wildfires devastates the countryside, Ivy's mama can't find a speck of that godliness, so, trying to "get right with God," she up and takes off for Florida with Hallelujah Dave and his Great Good Bible Church. Confused and seemingly helpless to change her situation, Ivy spends the beginning of the summer babysitting and fretting about her mama. But when her classmate, science club member and aspiring astronaut Paul Dobbs, suggests they go to Florida, find Ivy's mama, and swing by the space shuttle before the program shuts down and dashes his dreams, the two are off on an improbable road trip. And although they travel far geographically, the novel is largely about internal growth as Ivy searches for resolutions that can incorporate her faith and Paul's scientific view of the world. Although Paul and Ivy's initial friendship appears a little convenient, their strong bond by story's end is both honest and moving. An author's note identifies the two real-life events (the Bastrop, Texas, fires and the final voyage of the space shuttle in 2011) that set the stage for the book.
— Horn Book Magazine
Beach Lane Books, 9781481411486, 240pp.
Publication Date: May 3, 2016
About the Author
Liz Garton Scanlon is the author of numerous celebrated picture books, including One Dark Bird; In the Canyon; Happy Birthday, Bunny!; the Caldecott Honor recipient All the World; and Thank You, Garden. Liz is an adjunct professor of creative writing at Austin Community College, and her poetry has been published widely in literary journals. She lives with her family in Austin, Texas. Visit her at LizGartonScanlon.com.
or
Not Currently Available for Direct Purchase