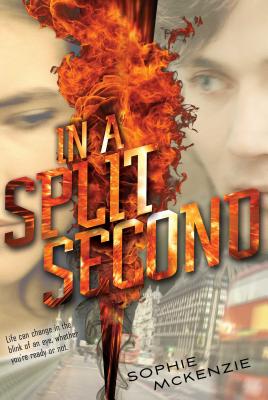 In a Split Second (Hardcover)
Simon & Schuster Books for Young Readers, 9781481413947, 368pp.
Publication Date: March 10, 2015
* Individual store prices may vary.
Description
Two lives. One explosive moment. And a secret that could end it all... A riveting, romantic thriller from the author of Girl, Missing.

Charlie's life is torn apart by a terrorist bomb in a London market. Months later, she meets Nat, whose family was devastated by the same explosion. But as Charlie gets closer to Nat she uncovers secrets and a whole cast of shady characters that lead her to believe Nat knows more about the attack than he is letting on. In a Split Second is a breathtaking thriller that shifts between the perspectives of its two main characters as their courage and their loyalties are tested to the limit.
About the Author
Sophie McKenzie was born and brought up in London, where she still lives with her teenage son. She has worked as a journalist and a magazine editor, and now writes full time. She has tallied up numerous award wins and has twice been longlisted for the Carnegie Medal.
Praise For In a Split Second…
"Sophie's thrillers are brilliant, you never know what's on the next page and you can't stop reading until you find out."
— Robert Muchamore, author of the Cherub series

"A terrifying, fast-paced thriller that you won't be able to put down."

"Split Second is a rollercoaster of a read, full of twists and turns and betrayals"

"Had me completely hooked from the first to the last page"

"EXPLOSIVE!…It's actually like being on a high speed train, heading to an unknown and dangerous destination. You think you are going to take one route and then the author switches tracks...it almost had an eerie premonistic feel to it, in the same way George Orwell's 1984 did. A gritty, thrilling and fast paced novel."

"Sophie McKenzie has her finger on the pulse of a future that is all too plausible…It just does not let up, & I found myself devouring it."
— ShrinAlpa (Blogger, also children's bookseller for Waterstones Northallerton)

"This political whodunit...boasts more than a dash of romance and plenty of action. The result is something of a cross between Pnina Moed Kass' Real Time and Robert Muchamore's CHERUB series."

McKenzie's fast-paced novel...is a gripping read...Readers may find themselves binge reading to the end."
or
Not Currently Available for Direct Purchase