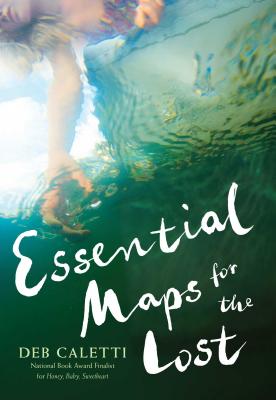 Essential Maps for the Lost (Hardcover)
Simon Pulse, 9781481415163, 336pp.
Publication Date: April 5, 2016
Other Editions of This Title:
Compact Disc (8/9/2016)
MP3 CD (8/9/2016)
Paperback (4/4/2017)
Prebound (4/4/2017)
* Individual store prices may vary.
Description
From Printz Honor medal winner and National Book Award finalist Deb Caletti comes a fresh and luminous novel "about love and loss, mental illness, and taking charge of one's own fate" (Kirkus Reviews, starred review).

There are many ways to be lost.

Sometimes people want to be lost. Madison—Mads to everyone who knows her—is trying her best to escape herself during one last summer away from a mother who needs more from her than she can give, and from a future that has been decided by everyone but her.

Sometimes the lost do the unimaginable, like the woman—the body—Mads collides with in the middle of the water on a traumatic morning that changes everything. And sometimes the lost are the ones left behind, like the son of the woman in the water, Billy Youngwolf Floyd.

Billy is struggling to find his way through each day in the shadow of grief. His one comfort is the map he carries in his pocket, out of his favorite book The Mixed-Up Files of Mrs. Basil E. Frankweiler. When three lives (and one special, shared book) collide, strange things happen. Things like questions and coincidences and secrets, lots of secrets. Things like falling in love. But can two lost people telling so many lies find their way through tragedy to each other…and to solid ground?
About the Author
Deb Caletti is the award-winning and critically acclaimed author of over sixteen books for adults and young adults, including Honey, Baby, Sweetheart, a finalist for the National Book Award; A Heart in a Body in the World, a Michael L. Printz Honor Book; and Girl, Unframed. Her books have also won the Josette Frank Award for Fiction, the Washington State Book Award, and numerous other state awards and honors, and she was a finalist for the PEN USA Award. She lives with her family in Seattle.
Praise For Essential Maps for the Lost…
Caletti (The Last Forever) returns with a lovely testament to human resiliency and true love. Mads Murray is staying with her aunt and uncle in Seattle while she pursues her realtor's license in order to work with her mother. It's not what Mads wants, but guilt and loyalty to her mother have trapped her, causing a spiral into depression. While swimming in Lake Union one morning, she discovers a body. Mads becomes fixated on the dead woman, Anna Youngwolf Floyd,and her son, Billy, who is destroyed by grief and finds comfort in the dogs that he "liberates" from unfit owners, the no-kill shelter where he works, and a map from E.L. Konigsburg's From the Mixed-up Files of Mrs. Basil E. Frankweiler. When Mads and Billy meet, they are smitten, but Mads is terrified to reveal that she's the one who found his mother. Billy and Mads's romance is tender and sweet, and Caletti's lyrical, sometimes witty narration pulls readers close to both teenagers' tangled emotions in a complex exploration of grief, mental illness, the redemptive power of storytelling, and the hope found in unexpected places. Ages 14–up.
— Publishers Weekly *STARRED REVIEW*

Two teens meet under unusual and sorrowful circumstances,and together they learn that life is full of both joy and despair. During a morning swim, 18-year-old Mads Murray discovers a woman's body floating in Seattle's Lake Union. When the local news reveals the woman's identity, Mads becomes obsessed with finding proof that Anna Youngwolf Floyd was more than a dead body, that she was a real person with connections to the world. Readers learn Anna's depression drove her to jump off the Aurora Bridge, but Mads, who is no stranger to depression, doesn't know that yet. Mads, in Seattle for the summer for an accelerated real estate course, is the only hope for the survival of her mentally ill mother's business, a fact that fills her with dread.Desperate to know why someone would end her own life, she finds a way to meet Anna's 19-year-old son, kindhearted dog-rescuer Billy, who's ignorant of his connection to Mads. The novel treats depression for what it is: a sometimes-debilitating illness one can't simply snap out of; it's neither a personality flaw nor a shortcoming. Third-person limited perspective alternates between Mads and Billy, resulting in loads of dramatic irony, and Mads and Billy's mutual love of From the Mixed-Up Files of Mrs. Basil E. Frankweiler is a sweet leitmotif. The gently chiding and honest narrative voice keeps its astute focus on the characters' emotions and does not plumb the heritage implied by Anna's name. A clear eyed story about love and loss, mental illness,and taking charge of one's own fate.
— Kirkus Reviews **STARRED REVIEW**

Gr 9 Up–The relationship between Mads and Billy, two teenagers thrown together by grisly fate and bound together over the course of the novel by love, echoes with a motif—a certain book beloved by them both: E. L. Konigsburg's From the Mixed-Up Files of Mrs. Basil E. Frankweiler. Having read the story of these two siblings who decide to hide out in the Metropolitan Museum of Art after closing time is not essential,but it is helpful to understanding the book's significance in their lives. Mads is a big reader; Billy has really only read this one book, which was special to his depressed mother, who left Billy reeling and living with his Gran after she jumped off a Seattle bridge. Mads struggles with depression herself even while she is living with her aunt and uncle to take an accelerated course to get her realtor's license. She feels trapped and locked into the future her mother has dictated. The teen is swimming in a lake one spring morning when the corpse of a jumper bumps her. Mads tows Anna Youngwolf Floyd to shore and becomes obsessed with her and the son she left behind. As she and the dog-saving,rescue shelter–working gamer Billy come to know each other, Mads can't tell him what brought her into his life. Caletti excels at focusing on the perspectives of both young people. Billy's overwhelming and moving love for Mads will pluck the heartstrings of many readers. VERDICT Recommend this tale of overcoming the ogres of depression and loss with the saving graces of sustaining relationships and self-discovery.
— School Library Journal *STARRED REVIEW*