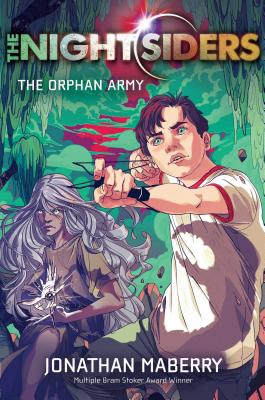 The Orphan Army (The Nightsiders #1)
Hardcover

* Individual store prices may vary.
Other Editions of This Title:
Digital Audiobook (5/18/2015)
Paperback (5/17/2016)
Description
Milo's Louisiana bayou is overrun with alien bug invaders and magical creatures in this start to a breathtaking series from bestselling author Jonathan Maberry.

In a world filled with Bugs—monsters that ceaselessly ravage the Earth—Milo Silk has a hard time keeping his dreams separate from reality. So he keeps them locked up in his dream journal and hopes they'll never come to pass. But too often, they do—like when his father disappeared three years ago. Lately, the Witch of the World has been haunting his dreams, saying he is destined to be the hero who saves everyone. But all Milo can think about is how he fears the Bugs will attack his own camp, and bring something even more terrible than ever before.

What Milo doesn't know is that the Earth is already fighting back with its own natural power in the form of Nightsiders, magical creatures who prefer shadows to sunlight and who reside in trees, caves, and rivers. And the Nightsiders are ready to find an ally in Milo…
Praise For The Orphan Army (The Nightsiders #1)…
"Hold on tight to this book because Jonathan Maberry's Nightsiders: The Orphan Army will take you on a breathtaking sci-fi adventure that's loaded with mystery, mayhem and imagination. There's a surprise on every page and full throttle action from beginning to end. Best of all, this first volume is only the beginning!"
— D.J. MacHale, New York Times bestselling author of Pendragon and The SYLO Chronicles

"Fast, frightful, and fantastic--a faery story like no other."
— Dan Abnett, writer of the Guardians of the Galaxy comic for Marvel

"Maberry's prowess in fiction as well as comic books is evident in his well-crafted story, which balances over-the-top battle scenes with the quiet moments between characters that give substance to what could be a heartless thriller. This first book in an explosive new series is the perfect mix of science fiction and magic."
— Kirkus, starred review

"This story is told with all of the skill that Maberry brought to his "Rot & Ruin" series...A must-have for fans of Maberry's previous books and middle grade sci-fi."
— School Library Journal

"Maberry skillfully blends postapocalyptic warfare with supernatural adventure, presenting memorable characters and a tense narrative...a strong start to what looks to be a highly entertaining story line."
— Publishers Weekly

"In this fast-paced, compelling blend of old-school sci-fi, magic, environmental themes, and hero's quest, Maberry introduces an everyday, likable protagonist who develops courage, confidence, and skills in a good-versus-evil battle...this Nightsiders series launcher will draw fantasy and sci-fi fans, who'll anticipate the sequel."
— Booklist

"The secret to becoming a hero is hidden between the pages of this unforgettable adventure."
— Kami Garcia, #1 New York Times bestselling co-author of Beautiful Creatures

"A sequel can't come too soon for readers who will be eager to see what this unlikely team can accomplish."
— BCCB

"It's one thing to battle an invading army of high tech aliens, but it's something quite different to do so in the swamps of Louisiana where the extraterrestrial bugs are not the strangest things in the woods. A tale of friendship, trust, and heroism, The Orphan Army is an electrifying thriller that builds to a climax as gripping as it is thoughtful and satisfying."
— A.J. Hartley, New York Times bestselling author of Darwen Arkwright and Steeplejack.

"Jonathan Maberry is a magician, a writer of great talent and versatility. From spooky fun to cinematic action to heartfelt character, he can do it all, and he does it with a sense of joy and enthusiasm that few writers can match!"
— Christopher Golden, New York Times bestselling author of Snowblind and The Cemetery Girl

"The Nightsiders is heart-pounding action and a well-paced thriller from one of the masters of sci-fi and fantasy!"
— Melissa De La Cruz, #1 bestselling author of The Isle of the Lost: A Descendants Novel

"You could use a lot of adjectives to describe Jonathan Maberry's The Orphan Army. 'Exciting,' 'surprising,' 'funny,' 'touching,'and 'creepy' all come to mind. But only one word sums up this barrier-breaking, multi-faceted book in its entirety: 'fantastic.'"
— Steve Hockensmith, author of Nick and Tesla's High-Voltage Danger Lab and Pride and Prejudice and Zombies: Dawn of the Dreadfuls

"Jonathan Maberry is one of those rare writers who shows that he is comfortable in just about any genre, cranking out pulse pounding tales of Horror, Science Fiction, Action and Adventure. The Nightsiders will terrify, thrill and delight with the frantic turn of every page."
— Thomas E. Sniegoski, New York Times Bestselling author of The Fallen series and Bone: Stupid, Stupid Rat Tails

"Nightsiders is a thrilling mashup of sci-fi, adventure, and supernatural fantasy with a heart. In The Orphan Army, the action-packed first chapter of the saga, Maberry introduces us to a twilight world of magic and mayhem where nothing less than the survival of mankind is at stake and the most powerful weapon against a nightmare is a dream. Maberry is a master."
— Tonya Hurley, New York Times bestselling author of the ghostgirl series and The Blessed trilogy.

"Nightsiders is a smart, action-packed adventure, perfect for anyone who has ever wanted to fight alongside magical monsters against alien invaders. And really, who hasn't wanted to do that? I've never read anything like it, but I want more!"
— Kendare Blake, author of Anna Dressed in Blood

"Jonathan Maberry is a master of fast, scary, and awesome. The Orphan Army will submerge you in its world, and you won't want to come up for air."
— Adam Gidwitz, bestselling author of the Tale Dark and Grimm series and The Empire Strikes Back: So You Want To Be A Jedi?

"The Orphan Army makes me wish I was a kid again, settling down with this book and being taken off on a wild adventure."
— Charlie Higson, bestselling author of The Enemy Series and The Young Bond Series

"Move over, Percy Jackson. Using breakneck pacing and relentless action sequences, Jonathan Maberry has crafted a captivating and heady mix of science fiction and fantasy as eleven-year-old Milo fights the Bugs, aliens bent on exterminating humanity, and also discovers that magic and the supernatural still exist. Short chapters alternating with longer, exquisitely choreographed fight scenes will keep reluctant readers turning the pages. More mature middle-graders will appreciate quieter character moments that lend depth, richness, and real emotion to this story. Older teens and adults will appreciate references to sci-fi staples, from E.T. to Falling Skies. With nods to literary greats--Joseph Conrad and Tolkien get their due--nearly every reader will find something to enjoy here. The Orphan Army is dark, deft, and daring . . . I loved it."
— Ilsa J. Bick, best-selling author of The Ashes Trilogy and The Dark Passages Trilogy

"From the opening lines The Orphan Army grabs you and doesn't let you go! Once again, Jonathan Maberry has created a stunning world of real people in extraordinary circumstances."
— Neal Shusterman, New York Times best-selling author of the Unwind Dystology

"The Nightsiders is an earthshaking adventure brimming with non-stop action and crawling with creepy insectoid villains. It's impossible not to root for Milo Silk and his mysterious allies, a new generation of mythic creatures from the earth's misty past, as they battle the voracious swarm. There's plenty of magic, too: shape-shifting and illusions, sure, but also the powerful spells cast by friendship, bravery, and heroism."
— Michael Northrop, New York Times bestselling author of the Tombquest series
Simon & Schuster Books for Young Readers, 9781481415750, 400pp.
Publication Date: May 19, 2015
About the Author
Jonathan Maberry is a New York Times bestselling author, five-time Bram Stoker Award winner, and comic book writer. He writes in multiple genres including suspense, thriller, horror, science fiction, fantasy, and adventure; and he writes for adults, teens, and middle grade. His works include the Joe Ledger thrillers, Glimpse, the Rot & Ruin series, the Dead of Night series, The Wolfman, The X-Files Origins: Devil's Advocate, Mars One, and many others. Several of his works are in development for film and TV, including V Wars, which is a Netflix original series. He is the editor of high-profile anthologies including the X-Files books, Aliens: Bug Hunt, Out of Tune, Hardboiled Horror, Baker Street Irregulars, Nights of the Living Dead, and others. He lives in Del Mar, California. Visit him at JonathanMaberry.com and on Twitter (@JonathanMaberry) and Facebook.
or
Not Currently Available for Direct Purchase