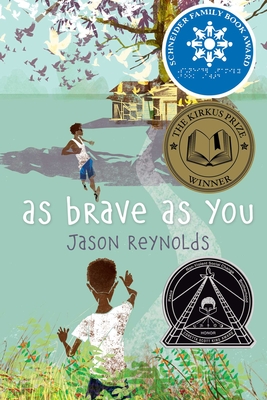 As Brave As You
Hardcover

* Individual store prices may vary.
Other Editions of This Title:
Digital Audiobook (5/2/2016)
Paperback (5/9/2017)
Paperback, Large Print (3/1/2018)
Description
Kirkus Award Finalist

Schneider Family Book Award Winner

Coretta Scott King Author Honor Book

In this "pitch-perfect contemporary novel" (Kirkus Reviews, starred review), Coretta Scott King – John Steptoe Award-winning author Jason Reynolds explores multigenerational ideas about family love and bravery in the story of two brothers, their blind grandfather, and a dangerous rite of passage.

Genie's summer is full of surprises. The first is that he and his big brother, Ernie, are leaving Brooklyn for the very first time to spend the summer with their grandparents all the way in Virginia—in the COUNTRY! The second surprise comes when Genie figures out that their grandfather is blind. Thunderstruck and—being a curious kid—Genie peppers Grandpop with questions about how he covers it so well (besides wearing way cool Ray-Bans).

How does he match his clothes? Know where to walk? Cook with a gas stove? Pour a glass of sweet tea without spilling it? Genie thinks Grandpop must be the bravest guy he's ever known, but he starts to notice that his grandfather never leaves the house—as in NEVER. And when he finds the secret room that Grandpop is always disappearing into—a room so full of songbirds and plants that it's almost as if it's been pulled inside-out—he begins to wonder if his grandfather is really so brave after all.

Then Ernie lets him down in the bravery department. It's his fourteenth birthday, and, Grandpop says to become a man, you have to learn how to shoot a gun. Genie thinks that is AWESOME until he realizes Ernie has no interest in learning how to shoot. None. Nada. Dumbfounded by Ernie's reluctance, Genie is left to wonder—is bravery and becoming a man only about proving something, or is it just as important to own up to what you won't do?
Praise For As Brave As You…
Eleven-year-old Brooklynite Genie has"worry issues," so when he and his older brother, Ernie, are sent toVirginia to spend a month with their estranged grandparents while their parents"try to figure it all out," he goes into overdrive.First, hediscovers that Grandpop is blind. Next, there's no Internet, so the questionshe keeps track of in his notebook (over 400 so far) will have to go un-Googled.Then, he breaks the model truck that's one of the only things Grandma still hasof his deceased uncle. And he and Ernie will have to do chores, like pickingpeas and scooping dog poop. What's behind the "nunya bidness door"?And is that a gun sticking out from Grandpop's waistband? Reynolds'middle-grade debut meanders like the best kind of summer vacation but neverloses sense of its throughline. The richly voiced third-person narrative,tightly focused through Genie's point of view, introduces both brothers andreaders to this rural African-American community and allows them to relax andexplore even as it delves into the many mysteries that so bedevil Genie,ranging from "Grits? What exactly are they?" to, heartbreakingly,"Why am I so stupid?" Reynolds gives his readers uncommonlywell-developed, complex characters, especially the completely believable Genieand Grandpop, whose stubborn self-sufficiency belies his vulnerability andwhose flawed love both Genie and readers will cherish.This pitch-perfectcontemporary novel gently explores the past's repercussions on the present.(Fiction. 9-12)
— Kirkus, STARRED REVIEW

"This pitch-perfect contemporary novel gently explores the past's repercussions on the present." - Kirkus Reviews, starred review

Reynolds first foray into middle-grade fiction follows the path of other stellar writers like Christopher Paul Curtis and Rita Williams-Garcia, who have brought their young protagonists home to meet the family. Our narrator is 11-year-old Genie, a worrier from Brooklyn who's headed, along with his older brother Ernie, to his grandparents' home in backwoods Virginia. There's culture shock aplenty (no internet, no TV), plus the more visceral earthquake of learning Grandpop is blind. And the aftershocks keep coming: Grandpop carries gun. Genie's notebook of questions—a wonderful literary technique—opens wide this thoroughly realistic narrator's world of concerns and brings readers closer to him. The story's richness comes in part from its evocative descriptions of place, with every sense invited to the party. Readers don't just see the dog poop that covers the yard, they feel the weight of it as the brothers shovel it into the woods and can smell it all over the boys. But it is the intricate lacing of relationships that makes this so remarkable. There are second, even third-generations problems being worked out between fathers and sons. A Jim Crow history has had a hand in shaping the issues, but there are also personal trials, hurt, and despair that hinder resolution. Yet through his inquisitive young protagonist, Reynolds movingly shows that while sometimes love hides, it still abides.

HIGH-DEMAND BACKSTORY: Reynolds comes off the one-two punch of the award-winners The Boy in the Black Suit and All American Boys as a newly branded kidlit superstar.
— Booklist *STARRED*

Reynolds (All American Boys) aims for a younger audiencewith the story of Genie and Ernie, two Brooklyn boys spending a month withtheir grandparents in North Hill, Va., while their parents try to mend a frayedmarriage. Eleven-year-old Genie is most concerned about the lack of Internetaccess: how will he look up answers to the questions that constantly come tohim? Ernie, nearly 14, is happy enough when he meets Tess, a neighbor who givesthem the lowdown on North Hill, but neither brother has any idea that theirstay will involve picking peas in the hot sun and, for Genie, keepingsecrets—both his and those of his blind grandfather. Genie's efforts to fix hismistakes (including accidentally killing one of his grandfather's belovedbirds), his realization that the Web doesn't have all the answers, andGrandpop's struggle with guilt and forgiveness after he pushes Ernie toparticipate in a dangerous family tradition create a multifaceted story thatskillfully blends light and dark elements while showing children and adultsinteracting believably and imperfectly. Ages 10–up
— Publishers Weekly

In his terrific middle-grade debut, Jason Reynolds (WhenI Was the Greatest; Boy in the Black Suit; All American Boyswith Brendan Kiely) tells the engaging story of two African American brotherswho spend a month with their grandparents while their parents work on theirstruggling marriage. This worries 11-year-old Genie Harris. Most things do.

It doesn't take long for Genie to see how different "the little house allalone on the top of a hill" is from Brooklyn: "No brownstones withthe cement stoops where you could watch the buses, ice cream trucks, and taxisride by. Nope. North Hill, Virginia, was country. Like countrycountry." There's new food, too, like grits, or, as Genie thinks,"movie prison food." And when Genie tells Grandpop wearing sunglassesinside "makes you look crazy," he learns that his grandfather isblind. This discovery worries him, too, especially when he sees a gun in hisGrandpop's back pocket. Genie has hundreds of questions, all of which he writesdown in a numbered list for future Google searches.

Unfolding family secrets and upsetting mishaps, major and minor, keep the pagesflying, and how obsessive Genie and his "cool, confident," muscledand girl-crazy older brother, Ernie, settle in with their grandparents makesfor a poignant, profound, often very funny story, told in an easy style assmooth as Grandma's banana pudding. New revelations abound: their uncle's deathin Desert Storm, masked fears, pea-picking, loud thunder, people who eatsquirrels, the ins and outs of Grandpop's mysterious six-shooter, sweet tea andmore. As Brave As You spills over with humor and heart.

Discover: Past and present collide in Jason Reynolds's middle-gradedebut about two African American brothers from Brooklyn visiting theirgrandparents in the country.
— Shelf Awareness, STARRED REVIEW

Reynolds (The Boy in the Black Suit, rev. 3/15; with Brendan Kiely, All American Boys, rev. 11/15) delivers an emotionally resonant middle-grade story of an African American family working to overcome its tumultuous past in hopes of a better future. Not-quite-teenager Genie Harris has a notebook full of questions, ranging from the superficial ("Why are swallows called swallows? did people used to eat them?") to the introspective ("Why am I so stupid?"). But there is no question as to why he and his older brother Ernie find themselves far from their Brooklyn home with their Grandma and Grandpop in rural Virginia: their parents are "maybe/possibly/probably divorcing" and are "figuring it out" in Jamaica. Warmly told in the third person, the novel follows Genie through a series of tragicomic blunders (breaking a family heirloom; the inadvertent poisoning of Grandpop's pet bird); minor triumphs (finding a neighbor with internet access!); and many heartfelt discussions with Grandpop, who is blind and fiercely independent, that often lead to startling familial revelations (his great-grandfather's suicide; his uncle Wood's untimely death during Desert Storm). Long-standing feelings of guilt, anger, and resentment reach a boiling point—and history appears to repeat itself—when Grandpop forces Ernie to shoot a gun, with misfortunate results. Genie musters up enough courage to ask his grandfather if he will ever let go of his tragic history; Grandpop's response of "maybe" feels like a victory. A novel in the tradition of Curtis's The Watsons Go to Birmingham—1963 (rev. 3/96), with deft dialogue, Northern/Southern roots, and affecting depth.
— Horn Book Magazine *Starred Review*

While their parents figure out the future of their marriage, Brooklynite brothers Genie and Ernie will be spending the summer with their paternal grandparents in Virginia. There's some bad blood between Dad and Grandpop, which has kept them apart for years, but Genie and Ernie don't see the problem—Grandpop seems pretty great. In fact, older bro Ernie, who wears sunglasses for cool affect, is pleased to see Grandpop sports the same gear, and younger bro Genie is surprised to find that Grandpop, alone among the adults he knows, is actually willing to answer Genie's endless questions. It turns out Grandpop isn't being cool; glaucoma is close to totally claiming his vision. He's mostly confined to home, but now his newly established rapport with Genie gives him incentive to tackle the outdoors. Unfortunately, false confidence outstrips ability and good sense as Grandpop insists on carrying out a coming-of-age tradition—teaching Ernie how to shoot—with disastrous results. There's much here to remind readers of Curtis's The Watsons Go to Birmingham—1963 (BCCB 1/96) with the city kids' humorous adjustment to rural life, underpinned with a serious subplot that steadily rises in importance. Ernie and Genie actually get along well, and although Ernie is certainly striding into his teens in a way that baffles Genie, he's a levelheaded kid whose summer romance with a neighbor is solid and sweet. Genie's blundering helpfulness leads to a string of adventures and provides plenty of entertainment, and the mending of rifts in this African-American family delivers the warm and proper ending the cast has richly earned. -EB
— BCCB

Reynolds's engaging middle grade debut stars 11-year-old African American Genie Harris, an inveterate worrywart who considers Google his best friend, and his older brother Ernie, who is well on his way to being a cool dude (sunglasses and all). The born and bred Brooklynites are to spend a month with their grandparents in rural Virginia while their parents take a long overdue vacation and work out their marital problems. It is only after the boys are left in their grandfather's care that they realize that he is blind. They are also surprised to learn that they are expected to do chores and follow their grandmother's strict rules—and that it is possible to exist (sort of) without the Internet. While Ernie crushes on the girl who lives at the base of the hill, Genie writes down his many burning questions so he doesn't forget them and gets to know his proud and fiercely independent grandfather. Genie barrages Grandpop with questions about his past and present abilities and about the quirky aspects of the household, especially his "nunya bidness" room, his harmonica playing, and how Grandpop might not be able to see but still packs a pistol. As the languid days unfold, the boys learn about country life and the devastating loss of the elder Harrises' son during Desert Storm and their estrangement from their living son, the boys' father. Grandpop Harris is a complicated, irascible character, full of contradictions and vulnerabilities, the least of which is his lack of vision. Reynolds captures the bond that Grandpop and Genie form in a tender, believable, and entertaining way, delivered through smart and funny prose and sparkling dialogue. VERDICT A richly realized story about life and loss, courage and grace, and what it takes to be a man. Although a tad lengthy, it is easy reading and will be appreciated by a broad audience.
— School Library Journal *STARRED*
Atheneum/Caitlyn Dlouhy Books, 9781481415903, 432pp.
Publication Date: May 3, 2016
About the Author
Jason Reynolds is a #1 New York Times bestselling author, a Newbery Award Honoree, a Printz Award Honoree, a two-time National Book Award finalist, a Kirkus Award winner, a Carnegie Medal winner, a two-time Walter Dean Myers Award winner, an NAACP Image Award Winner, and the recipient of multiple Coretta Scott King honors. He's also the 2020–2022 National Ambassador for Young People's Literature. His many books include All American Boys (cowritten with Brendan Kiely); When I Was the Greatest; The Boy in the Black Suit; Stamped; As Brave as You; For Every One; the Track series (Ghost, Patina, Sunny, and Lu); Look Both Ways; Stuntboy, in the Meantime; Ain't Burned All the Bright, and My Name Is Jason. Mine Too. (both co-written with Jason Griffin); and Long Way Down, which received a Newbery Honor, a Printz Honor, and a Coretta Scott King Honor. He lives in Washington, DC. You can find his ramblings at JasonWritesBooks.com