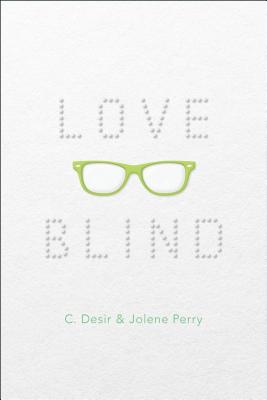 Love Blind
Paperback

* Individual store prices may vary.
Other Editions of This Title:
Hardcover (5/10/2016)
Description
Shy high schooler Kyle Jamieson and Hailey Bosler, a musician with degenerative blindness, team up to tackle a bucket list of greatest fears in this compelling novel that explores what it means to take risks.

It starts with a list of fears. Stupid things really. Things that Hailey shouldn't worry about, wouldn't worry about if she didn't wake up every morning with the world a little more blurry. Unable to see her two moms clearly. Unable to read the music for her guitar. One step closer to losing the things she cares about the most.

For a while, the only thing that keeps Hailey moving forward is the feeling she gets when she crosses something off the list.

Then she meets Kyle. He mumbles—when he talks at all—and listens to music to drown out his thoughts. He's loaded down with fears, too. So Hailey talks him into making his own list.

Together, they stumble into an odd friendship, helping each other tackle one after another of their biggest fears. But fate and timing can change everything. And sometimes facing your worst fear makes you realize you had nothing to lose after all.
Praise For Love Blind…
Sixteen-year-old Hailey Bosler has what her ophthalmologist calls"old-people eyes" (macular degeneration and glaucoma), two moms, and a position as the lead singer of a girl band. She also has a fear list, a compilation of things that she wants to conquer before she goes completely blind. After her band is interviewed at a local radio station, she bumps into the station's sound engineer, Kyle. They engage in a mumbling conversation that ends with Kyle shuffling off and Hailey intrigued. The two run into each other a second time at a concert in a bar, where she ends the night puking on his shoes. As an apology, she buys him a new pair and convinces him to start his own fear list, and thus their story begins. Partnering up for this emotionally charged novel, Desir and Perry create a duo readers will identify with and cheer for. As the teens set out to conquer their fears, the sexual tension quickly builds, with both refusing to accept the depth of their mutual attraction. Hailey is confident, stubborn, and funny and isn't afraid to show her sassy side. Meanwhile, Kyle is shy and awkward. The authors combine perfect pacing with spot-on character development that will leave readers empathizing with the characters from the very beginning. The plot takes several unexpected turns; it hits hard, exploring issues such as depression, loss of virginity, and homosexuality. VERDICT For fans of Sophie Kinsella's Finding Audrey (Delacorte) and Jennifer Niven's All the Bright Places (Knopf, both 2015).
— School Library Journal

Knowing she won't have her vision forever, legally blind teenager Hailey makes a list of her fears—the things she wants to conquer while she can still see. While confronting one of these fears, being on a radio show, she meets Kyle. He's the mumbling, socially awkward counterpart to the uninhibited, sometimes brash Hailey. In chapters alternating between their POVs, both step outside their comfort zones, taking chances, fumbling in lust, and becoming friends in the process. But will they ever take the ultimate risk, letting their friendship turn into something more? Though the lists don't frame the plot as directly as in other list-based novels, there is still much to appreciate here, such as frank, realistic dialogue and on-scene parents. As the adopted daughter of lesbian moms, Hailey doesn't have conflicted feelings about her adoption, something less frequently found in fiction but reflective of the realities of many adopted teens. Readers will root for Kyle and Hailey to come together and admire their personal growth along the way. — Jennifer Barnes
— Booklist
Simon & Schuster Books for Young Readers, 9781481416948, 336pp.
Publication Date: December 5, 2017
About the Author
C. Desir writes dark contemporary fiction for young adults. She lives with her husband, three small children, and overly enthusiastic dog outside of Chicago. She has volunteered as a rape victim activist for more than ten years, including providing direct service as an advocate in hospital ERs. She also works as an editor at Samhain Publishing. Visit her at ChristaDesir.com.

Jolene Perry is a middle and high school teacher turned author. She married the guy she kissed on her high school graduation night, lives in the mountains of Alaska, and has spent months sailing in the Caribbean. Her previous novels for young adults include The Summer I Found You and Has to Be Love.
or
Not Currently Available for Direct Purchase