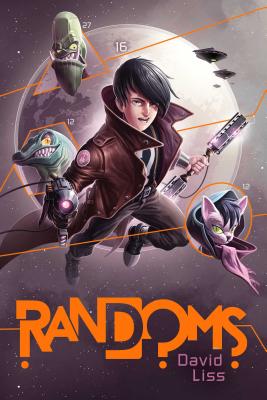 Randoms
Hardcover

* Individual store prices may vary.
Other Editions of This Title:
Paperback (9/20/2016)
Prebound (9/20/2016)
Description
A science fiction superfan finds himself on his very own space adventure when he's randomly selected to join an alien confederacy in this hilarious middle grade debut novel.

Zeke Reynolds comes from a long line of proud science fiction geeks. He knows his games, comics, movies, and TV shows like Captain Kirk knows the starship Enterprise. So it's a dream come true when he learns the science fiction he loves so much is based on reality—and that he's been selected to spend a year on a massive space station. To evaluate humanity's worthiness, the Confederation of United Planets has hand picked three of Earth's most talented young people—and then there's Zeke. He's the random.

Unfortunately, Zeke finds life in space more challenging than he'd hoped. When he saves his transport ship from a treacherous enemy attack, he's labeled a war criminal. Now despised by the Confederation, rejected by his fellow humans, and pursued by a ruthless enemy, Zeke befriends the alien randoms: rejected by their own species, but loyal to each other. But their presence in the Confederation may not be so random after all, and as the danger increases, Zack's knowledge of science fiction might be the only thing that can save himself, his friends, and Earth itself.
Praise For Randoms…
"Funny, wild, possibly deranged, and way too much fun."
— Jonathan Maberry, New York Times bestselling author of The Orphan Army and Rot & Ruin

"As fun as a barrel full of tribbles, Randoms is middle-grade space opera at its best. Scary aliens! Cat people! Exploding starships! My inner geek stood up and cheered. Kids who love sci-fi, comics, or gaming will gobble up this fast-paced story, and it will make converts out of the rest."
— Pete Hautman, author of National Book Award Winner Godless

"What an adventure! Randoms has such a clever concept behind it, and it's thrilling to ride along as Zeke Reynolds battles enemy aliens (and humans), buddies up with up with aliens (and even, sometimes, humans), and manages again and again to score his own version of victory for underdogs and 'randoms' all across the universe."
— Margaret Peterson Haddix, author of the New York Times bestselling series The Shadow Children and The Missing

"Randoms is an incredibly fun and heartfelt space adventure. With menacing villains and lovable underdogs, this book has so much to offer readers of all ages. I can't wait to read what happens to Zeke and his friends next!"
— SJ Kincaid, author of Insignia

"A smorgasbord of sci-fi geekiness, David Liss's Randoms blends angst, adventure, humor, pathos, space battles, anime, giraffe aliens, and philosophical meanderings on the nature of "humanity" into a plot that twists and tumbles towards a breathless summer-action-flick finale. Be prepared to cheer on the underdogs in this dizzying romp of a novel."
— John David Anderson, author of Sidekicked

"My fellow geeks, rejoice! We have a new hero in the form of the all-nerdy, all-knowing, Zeke. And it is no random chance that his knowledge of pop sci-fi makes him the hippest hero of the galaxy."
— Tony DiTerlizzi, author of The Search for Wondla

"Like Spider-Man, Zeke has superpowers, but his power is his geekiness. … the aliens feel genuinely—and wonderfully—alien."
— Kirkus Reviews

"Liss's characters are engaging, the video-game-like competitions and SF commentary are fun, the sheer plenitude of alien species is fascinating, and the jokes just keep on coming."
— Publishers Weekly

*"First in a series, Randoms is an exhilarating read that will have no trouble hooking sci-fi fans—particularly with its many sf references—and it carries enough fun and excitement to appeal to reluctant readers, in spite of the intimidating page count. With a tip of the hat to geeks everywhere, this novel is a class act."
— Booklist, starred review

"Fans of science fiction and nonstop action alike will enjoy this smart, light adventure that brims with allusions to a variety of sci-fi movies and TV shows old and new."
— School Library Journal

"For readers who get giddy about mentions of obscure episodes of Star Trek or complex descriptions of nanites that allow humans to build up their natural abilities as they gain skill points (complete with a flowchart), this is a comradely treat."
— BCCB
Simon & Schuster Books for Young Readers, 9781481417792, 496pp.
Publication Date: August 25, 2015
About the Author
David Liss is a proud science fiction geek. When not acting like a total fanboy, he's generally working on his books, stories, and comics. Liss has written eight bestselling novels for adults, most recently The Day of Atonement, and is the author of numerous comics, including Mystery Men, Sherlock Holmes: Moriarty Lives, and Angelica Tomorrow. He lives in San Antonio, Texas.