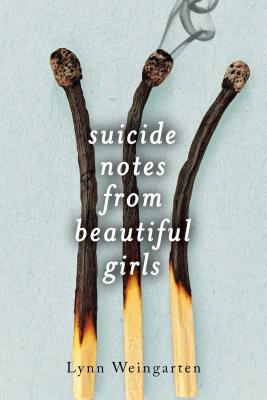 Suicide Notes from Beautiful Girls
Hardcover

* Individual store prices may vary.
Other Editions of This Title:
Digital Audiobook (10/30/2016)
Paperback (7/5/2016)
Paperback (7/2/2015)
Description
Gone Girl meets 13 Reasons Why in this stylish, sexy, and atmospheric story about friendship packed with twists and turns that will leave you breathless.

They say Delia burned herself to death in her stepfather's shed. They say it was suicide.

But June doesn't believe it.

June and Delia used to be closer than anything. Best friends in that way that comes before everyone else—before guys, before family. It was like being in love, but more. They had a billion secrets, tying them together like thin silk cords.

But one night a year ago, everything changed. June, Delia, and June's boyfriend Ryan were just having a little fun. Their good time got out of hand. And in the cold blue light of morning, June knew only this—things would never be the same again.

And now, a year later, Delia is dead. June is certain she was murdered. And she owes it to her to find out the truth…which is far more complicated than she ever could have imagined.

Sexy, dark, and atmospheric, Suicide Notes from Beautiful Girls will keep you guessing until the very last page.
Praise For Suicide Notes from Beautiful Girls…
"Pulse-pounding mystery . . . Weingarten keeps the tension taut . . . readers will be draw to the well-written and well-rounded characters—even the supporting players. Thoughtful and provocative, this will be a hard book for teen readers to put down until the thrilling, twisted end."
— School Library Journal

"A taut, sophisticated thriller."
— BCCB, starred review

Despitenot having talked to Delia in over a year, June is devastated when she hearsthat her former best friend has committed suicide. She's also suspicious,though: there's no way that Delia set herself aflame in her stepfather's shed,since fire was the one thing that scared the normally fearless and fierceDelia. She joins Delia's most recent boyfriend, Jeremiah, in a search for cluesto what they believe is Delia's murder. Their investigation uncovers some ofDelia's seedier activities over the last year, but ultimately, June's hunt foranswers points toward the one person she thought she could trust the most. Thebook earns its dramatic title, both in the plot's hairpin twists and theportrait of an intimately toxic relationship between two desperate girls,illuminated through flashbacks that add dimension to both characters. Deliaseems at first to be a typical manic pixie dream girl, but she is far moreclever and manipulative than June gives her credit for. June's also obliviousto her own malleability when it comes to Delia—she is comfortably ensconced inDelia's shadow when they are friends; unmoored but relieved in theirseparation; and guiltily determined in the aftermath of Delia's death, butnever once does she realize that Delia is always the motivation behind herbehavior. Weingarten is acutely aware of pacing—each plot turn is followed by areprieve that allows readers to settle into a new theory about Delia's fateonly to have their assumptions upended once again. A taut, sophisticatedthriller, this will find an audience with teens who appreciate labyrinthineplots and ambiguous endings.
— BCCB, *STARRED Review*
Simon & Schuster Books for Young Readers, 9781481418539, 336pp.
Publication Date: July 7, 2015
About the Author
Lynn Weingarten is a writer and editor. She is the author of Wherever Nina Lies, The Secret Sisterhood of Heartbreakers, The Book of Love, Suicide Notes from Beautiful Girls, and Bad Girls with Perfect Faces. She lives in Brooklyn, New York.
or
Not Currently Available for Direct Purchase