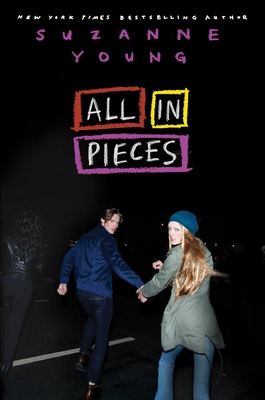 All in Pieces
Hardcover

* Individual store prices may vary.
Other Editions of This Title:
Digital Audiobook (11/7/2016)
Paperback (11/7/2017)
Description
From New York Times bestselling author Suzanne Young comes a heartrending new novel about a girl struggling to deal with anger issues while taking care of her younger brother with special needs.

"Anger-management issues."

That's how they classified Savannah Sutton after she stuck a pencil in her ex-boyfriend's hand because he mocked her little brother, Evan, for being disabled. That's why they sent her to Brooks Academy—an alternative high school that's used as a temporary detention center.

The days at Brooks are miserable, but at home, life is far more bleak. Savvy's struggling to take care of her brother since her mom left years ago, and her alcoholic dad can't be bothered. Life with Evan is a constant challenge, but he's also the most important person in the world to Savvy.

Then there's Cameron, a new student at Brooks with issues of his own; a guy from a perfect family that Savvy thought only existed on TV. Cameron seems determined to break through every one of the walls Savvy's built around herself, except if she lets herself trust him, it could make everything she's worked so hard for fall apart in an instant.

And with her aunt seeking custody of her brother and her ex-boyfriend seeking revenge, Savvy's fighting to hold all the pieces together. But she's not sure how much tighter she can be pulled before she breaks completely.
Praise For All in Pieces…
"All in Pieces is poignant and well crafted with characters that are equal parts heartbreaking and heartwarming. If you only read one book by Suzanne Young, let it be this one."
— Faith Hochhalter, Children's Book Specialist, Changing Hands Bookstore

"All In Pieces is heartbreaking in its authenticity, and unwavering in its hopefulness."






— Jenuinecupcakes@blogspot.com

"All in Pieces is raw and real, and such a beautiful story that I wish I had written it."
— Trish Doller, author of Where the Stars Still Shine

"Real, raw and a story that will touch your heart."
— Katie McGarry, author of Walk the Edge and Pushing the Limits

"Authentic, engaging, and well-crafted, Suzanne Young's All In Pieces perfectly captures the resilience of unprotected teenagers and how friends can become the family we choose. This book is full of raw, messy, beautiful heart."


— Christa Desir, author of BLEED LIKE ME and OTHER BROKEN THINGS

High-school senior Savannah Sutton is now at an alternative school after she stuck a pencil through her exboyfriend's hand after he repeatedly insulted her developmentally disabled little brother. At 17, she's the de facto adult in her household—her mother left the family long ago when Evan's disability became evident, and her alcoholic father can't hold onto a job, let alone care for a disabled child. At her new school, she meets handsome Cameron, a wealthy senior who got kicked out of his private school for the destruction of school property. Unable to help themselves, they see how to help each other, and slowly a tender, loving relationship grows, as well as their senses of self-esteem. Savannah is a tough, wounded, and often abrasive young woman, but she adores her little brother, and when she loses care of him to a well-meaning but insensitive aunt, she is devastated. Young (The Program, 2013) is at her best when portraying Savannah's fierce love; the bitter realization that she cannot protect or provide for Evan is tremendously moving. — Debbie Carton
— Booklist

"Young's characters are likable and believable in their flaws. The protagonist's authentic voice makes this title a fast read and hard to put down . . . For those who enjoy books by Simone Elkeles."


— School Library Journal

"Young is at her best when portraying Savannah's fierce love; the bitter realization that she cannot protect or provide for Evan is tremendously moving."
— Booklist

"Brave, honest, and complex characters . . . will inspire readers to see the beauty in broken things and give them the courage to pick up the pieces and put them together again."
— Shaun David Hutchinson, author of We Are The Ants
Simon & Schuster Books for Young Readers, 9781481418836, 272pp.
Publication Date: November 8, 2016
About the Author
Suzanne Young is the New York Times bestselling author of The Program series. Originally from Utica, New York, Suzanne moved to Arizona to pursue her dream of not freezing to death. She is a novelist and an English teacher, but not always in that order. Suzanne is also the author of Girls with Sharp Sticks, All in Pieces, Hotel for the Lost, and several other novels for teens. Visit her online at AuthorSuzanneYoung.com or follow her on Instagram at @AuthorSuzanneYoung.