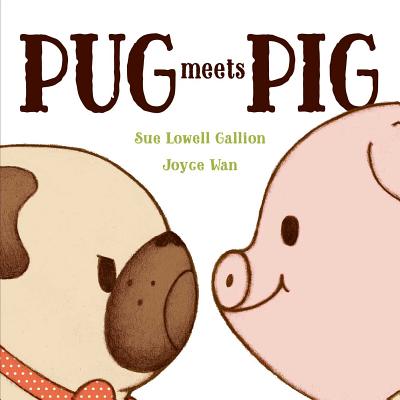 Pug Meets Pig (Pug & Pig) (Hardcover)
Beach Lane Books, 9781481420662, 40pp.
Publication Date: September 27, 2016
* Individual store prices may vary.
Description
An unlikely pair—a pug and a pig!—realize that it's better to be together.

Pug is a very happy pup. He has his own yard, his own bowl, and even his own cozy bed! That is, until Pig moves in and starts eating from Pug's bowl, interrupting Pug's routine, and, worst of all, sleeping in Pug's bed. Will Pug and Pig ever learn to live together as friends?

This sweet and silly story about a darling duo celebrates the timeless themes of embracing change, being kind to others, and finding friends in unlikely places.
About the Author
When Sue Lowell Gallion was growing up in Kansas City, vacation always meant a car trip. Her family traveled from coast to coast, never missing a stop at a scenic overlook or historical marker. Sue and her husband, Terry, and their kids loved to hit the road, too, especially curvy highways in the Rocky Mountains. Her family's favorite color for a car is bright red, just like Axle. How about you?

Joyce Wan is the author and illustrator of several picture books, including Pug Meets Pig, Sleepyheads, Greetings from Kiwi and Pear, You Are My Cupcake, and We Belong Together. She also runs a design studio whose stationery and gift products are sold worldwide. Joyce lives with her husband in New York City. Visit her at WanArt.com.
Praise For Pug Meets Pig (Pug & Pig)…
Pug does not need Pig in his life. Pug is happy with his routine—his home, food, important work digging and barking in the yard, and bed. So when friendly Pig pops onto the scene and obliviously disrupts Pug's daily habits, the dog is not pleased. Will Pug pack his toys and leave, or can he learn to live with and even embrace Pig? The age-old theme of learning to accept a newcomer will resonate with children adjusting to a new sibling or witnessing an old pet adapt to a new one. The text and visuals work well together, employing understated humor. Clear, softly colored illustrations featuring the chubby title characters are appealing and accessible. A cat appears occasionally, along with a few ethnically diverse children as onlookers, and some of Pug's toys can be spotted on multiple pages for observant children to track. The beginning endpapers show Pug enjoying his daily romp in the yard alone, and the closing endpapers present Pug taking part in similar activities along with Pig, conveying the subtle but positive message that Pug can be equally content alone or with company. This selection might be confused with Lynne Berry's Pig and Pug picture book or Laura Marchesani and Zenaides A. Medina Jr.'s Pig and Pug juvenile reader. VERDICT This cozy story is likely to hit the spot with many preschoolers and is a great choice for beginning readers.
— School Library Journal

Pug is master of the house—indeed, his human owners are never seen. Then a new pet, Pig, shows up, wearing a blue dress with a ruffle, no less. Pig immediately and cheerfully co-opts everything that Pug loves: his doghouse, his dish, and his "work" antagonizing the local cat. "Pug is not happy," writes first-time picture book author Gallion in her sublimely economic, emotionally resonant text, which is also simple enough to engage budding readers. "He is not happy here at home anymore." When Pug realizes he can help a miserable Pig navigate a newly installed doggie door ("Pig's round middle cannot fit") the relationship shifts: Pug is no longer put-upon—he's a problem solver. Gallion wisely lets the reward of selflessness speak for itself, while Wan's (The Whale in My Swimming Pool) pert, roly-poly characters look like something lifted out of readers' own toy boxes. Proffered with the lightest of touches, it's a story that readers can easily take to heart. Up to age 8.
— Publishers Weekly *STARRED REVIEW*

A little dog named Pug is perfectly happy in his cozy, suburban world until pushy Pig moves in.Pug lives in a big house with a fenced backyard and his own little doghouse to sleep in. Pig arrives (seemingly out of nowhere) wearing a friendly smile and a dress with a ruffled collar. She moves right in on Pug's territory, slurping up his dog food, making friends with the neighbor cat, and taking over Pug's doghouse. Pug is ready to leave home, but a new doggy door (installed by the unseen owner) gives him the ability to get in and out of the main house, while Pig can't fit through the little door. Pug takes pity on poor Pig, gnawing on the door to enlarge it so it can be a "piggy door" for Pig's convenience as well. Pug and Pig then immediately begin to share everything, becoming best friends and living happily together....The simple, understated text with just a few words on each page will be enjoyed by younger preschoolers and will also be accessible to new readers, and the jaunty, oversized illustrations have a cheerful, straightforward appeal that suits the text. The only human characters are three neighbor children who can be seen peeking over the fence at Pug and Pig; all are children of color.
— Kirkus Reviews