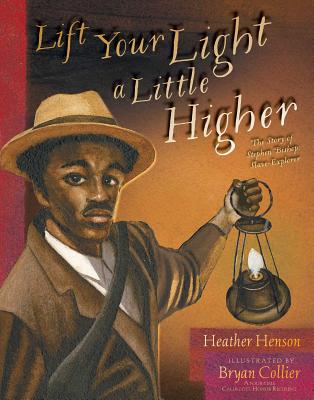 Lift Your Light a Little Higher
The Story of Stephen Bishop: Slave-Explorer
Hardcover

* Individual store prices may vary.
Description
Grab your lantern and follow the remarkable and world-famous Mammoth Cave explorer—and slave—Stephen Bishop as he guides you through the world's largest cave system in this remarkable homage to the resilience of human nature.

Welcome to Mammoth Cave. It's 1840 and Stephen Bishop is the perfect guide.

By the light of his lantern, the deepest, biggest cave in all of the United States is revealed. Down here, beneath the earth, he's not just an enslaved person. He's a pioneer. He knows the cave's twists and turns. It taught him to not be afraid of the dark.

And watching all the visitors write their names on the ceiling? Well, it taught him how to read.
Praise For Lift Your Light a Little Higher: The Story of Stephen Bishop: Slave-Explorer…
This story whispers of the life of a man most contemporary American readers should know but don't.Stephen Bishop, born circa 1821, had intimate knowledge of Mammoth Cave in Kentucky, where he served as guide for visitors who traveled far to tour the underground passageways. Despite the ban against teaching slaves to read, Stephen acquired literacy and wrote his name on the ceiling of Mammoth Cave by using smoke from a lighted candle. Henson weaves Bishop's impressive scientific discoveries of cave life into the sparse narrative, demonstrating the magnitude of his contributions despite that little is known of his life or death. Collier's strikingly symbolic collage illustrations often draw a stark line between what appears above and below the ground, emphasizing the covert nature of Bishop's achievements. Perhaps the book's most memorable illustration appears when, speaking in Bishop's voice, Henson says that slaves are "bought and sold…same as an ox or mule" while overlapping silhouettes of black and brown textured faces appear within the collage cutout of an ox plowing a field. Rich backmatter will help young readers understand more about the historical context in which Bishop lived and died. A story that recovers an important piece of African-American history inextricably tied to the history of Mammoth Cave, a national monument visited by 2 million people each year.(Picture book/biography 4-8)
— Kirkus, STARRED REVIEW

In the middle of the 19th century, Stephen Bishop, an enslaved African-American man, gained attention for the subterranean tours he conducted of Kentucky's Mammoth Cave. Writing in the imagined voice of Bishop himself, Henson (Grumpy Grandpa) allows readers to embark on one such tour as Bishop describes the shadowy environs of the cave, the cruel reality of slavery, and the power inherent in his role as "Guide—a man able to walk before other men, not behind." Collier's (Trombone Shorty) collages strongly evoke the dark, claustrophobic confines of the cave system, as well as haunting moments of both strength and injustice (silhouettes of human faces appear along the flank of an ox, emphasizing the status of slaves as property). Henson's poetic narrative is lyrical, but at times vague; a helpful closing note expands on what little is known of Bishop's life. Ages 4–8.
— Publishers Weekly

Underground, Stephen Bishop (born around 1821) was an intrepid explorer and leader, world renowned for his knowledge of Mammoth Cave, the largest cave system on earth. He discovered new species of fish and crawdads in the underground caves and became the first cartographer of the region. However, his skin was black, which made his aboveground identity in 1840s Kentucky that of a slave known simply as "Guide." In a first-person fictionalized narrative, Bishop himself guides us through his remarkable life story. Bishop's tone vacillates between pride in his accomplishments and growing legacy and a stonier tone regarding his life as a slave ("But being known is not the same as being free"). Speaking directly to readers, Bishop tells of how he has become literate by showing the "fine folks" he leads through the caves how to write their names on the walls and ceilings with candle smoke ("And in return they teach me, sometimes, without knowing what's been taught"). Collier's deft watercolor and collage illustrations pay special attention to perspective and lighting, the dark browns and burnt oranges of the cave contrasting with the bright greens and blues of aboveground. Collier also takes great care to place Bishop in the forefront of the cave scenes, whether it's a full portrait of his face or his intent gaze as he observes the tourists writing. This is a fitting tribute to a historical figure who led so many yet had to remain behind.
— The Horn Book Magazine

This title recounts the biography of little-known slave explorer, Stephen Bishop, who led tours through the intricate and extensive pathways of Mammoth Cave in Kentucky during the 19th century. Attractively illustrated in earth tones by award-winning artist Bryan Collier, the book describes , in lyrical language, Bishop's excursions through the underground world and the freedom his expertise offered him. Restricted by the bonds of slavery above ground, Bishop becomes a leader, a scholar, and an equal below in the caves. In an author's note, Henson explains that she pieced together information for the book and imagined what Bishop's life would have been. In writing instruction, teachers can employ the same concept to show point of view in first person narrative. The poetic content may be adapted for dramatic reader's theater or paired with Marilyn Nelson's or Carol Boston Weatherford's biographical works in verse. Inspired artwork and expressive language unmask Bishop's obscurity in history and elevate his life.

Highly Recommended
— School Library Connection

Were you to tour Kentucky's Mammoth Cave in the middle of the nineteenth century, there's a good chance that a slave named Stephen Bishop would have been your guide. Not that you would have known his name—as he narrates in this fictionalized account, Bishop would simply have been called Guide, but that moniker only hints at his relationship to the cave. Bishop's owner may have tasked him with its exploration, but Bishop put his heart into the job, traversing areas considered impassable and identifying such cave dwellers as the eyeless fish and albino craw- dads. Although the highlights of Bishop's years at Mammoth Cave emerge from the text and Henson's closing note, the first-person narration takes a form closer to reflection than biography, focusing on how he was a freer man in the cave than he could be above ground. "Down here, I am Guide—a man able to walk before other men, not behind; a man able to school even the brightest scholar." Collier's mixed-media collages underscore this message, contrasting the stiff and stoic poses of Bishop with his family above ground with the more animated and expressive depictions of him in the cave that was his virtual domain. Children drawn to cav- ing adventure may find fewer thrills than they hoped for (little is said, for example, of Bishop's discovery of the Bottomless Pit), but those who with a fascination for unsung heroes and adventurers will be pleased to call Mr. Bishop by name.
— Bulletin of the Center for Children's Books
Atheneum/Caitlyn Dlouhy Books, 9781481420952, 32pp.
Publication Date: September 6, 2016
About the Author
Heather Henson lives on a farm in Kentucky with her husband and three children, is the managing director of the Pioneer Playhouse, and is the author of several critically acclaimed picture books and novels, including Dream of Night, The Whole Sky, and the Christopher Award–winning That Book Woman.

Bryan Collier is a beloved illustrator known for his unique style combining watercolor and detailed collage. He is a four-time Caldecott Honor recipient for Trombone Shorty, Dave the Potter, Martin's Big Words, and Rosa. His books have won many other awards as well, including six Coretta Scott King Illustrator Awards. His recent books include By and By, Thurgood, The Five O'Clock Band, and Between the Lines. He lives in New York with his family.
or
Not Currently Available for Direct Purchase