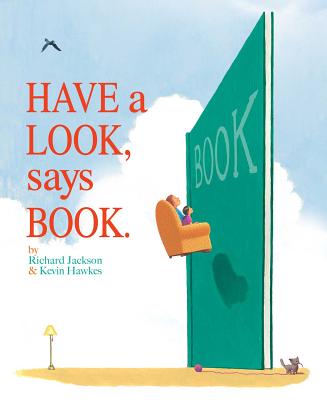 Have a Look, Says Book.
Hardcover

* Individual store prices may vary.
Description
Soft kittens, wooly socks, soggy mittens, fleecy flocks—this pictorial celebration of things tactile explores how what we touch touches us.

There's a reason why toddlers put everything (or so it seems) into their mouths—it's how they understand it…with grabby hands, open mouths, and…here…open book.

In Take a Look, Says Book fleas seem to hop off one page, peas squish bean-bag flat on the next. The images seemingly come to life, just as so much comes to life within our imaginations through reading, and handling things with just the right touch.

From legendary editor Richard Jackson and phenomenally talented illustrator Kevin Hawkes, Have a Look, Says Book is a sweet celebration of the ways we discover new things, through touch, through books.
Praise For Have a Look, Says Book.…
PreS-Gr 2–Bright illustrations takereaders, along with a girl and her papa in an oversize armchair, on aroller-coaster ride through the pages of a beckoning book. The book wants itsvisitors to look and listen, but, most importantly, it wants them to touch—totry to call forth a tactile experience through visuals and adjectives. "I amfurry says Kitten./I am wooly says Sock./I am wet says Mitten./We are fleecysays Flock (stock-still on a rock)." Single- and double-page artwork done ingouache shows the girl and the furry kitten, who follows through the pages,interacting with each of the large objects suspended mostly in white space,giving the visuals an Alice in Wonderland spirit. Manyof the adjectives themselves are part of the art and appear to have the texturethey describe. Though some of the adjectives capture the essence of the nounsbetter than others, all are thought provoking. Nubbly knees? Barky trees? Asthe book winds down, describing cocoa and cake, Papa suggests a break, and thechair sails out of the other side of a very grateful book: "Thanks for thelisten,/thanks for the touch,/thanks for the look,/thank you so much." VERDICT This celebration ofsharing a book together encourages readers to think more about words andtextures.
— School Library Journal *STARRED REVIEW*

As a girl sits withher father reading a book, she goes on a fantastical adventure. The art andlayout are unusual from the start. The text begins on the page facing the titlepage—"Hello there, says Chair," is printed above an inviting,overstuffed chair in a comfy nook, book on its cushion—and the title pageitself continues the text. On the acknowledgment pages, a generic white mansits on Chair with book in hand, and a small white girl—apparently his daughter—climbsup beside him. Gentle rhymes continue the story, as the chair and its occupantsglide into the book's world with "a look, a listen, // and a touch assuch." There follow pages of whimsical paintings of the girl happilyinteracting with various objects, sometimes oversized, sometimes realisticallysized, all of which are described with adjectives and some of which alsoinclude extra rhymes: "I am gluey says Snail / (with its tail in apail.)" The adventures crescendo as the girl flies on a silky crow andsees a steamy "Loco" approaching. Papa suggests a break, and the pairenjoy cocoa and cake on Chair. The ending brings the energy down to a goodplace for bedtime. Art and text together are enjoyably quirky, but theconnection of the girl's flights of fancy to the reading experience is a littlehard to determine, given the frame story's similarity of tone to the accretionof objects and adjectives within. As a celebration of the codex, it is but oneof many; as a celebration of the surreal, it excels. (Picture book. 3-6)
— Kirkus Reviews

In simple, effective rhyme, a variety of objects guide the reader through a wondrous world. A little girl and her father settle down in a comfy armchair with a book, until the book suggests they take a closer look. Soon the girl is zoomed inside the book and whisked away on a fantastical romp. She plays with sheep on a mountain—"We are fleecy says Flock (stock-still on a rock)"—and climbs toadstools with a gnome—"I am gnarly says Gnome (at home on a dome)." Various creatures and objects introduce themselves, but gradually they become less fantastical ("I am wizened says Wizard") and more familiar ("I am hot says Cocoa"). "I am cozy," Papa finally echoes to the girl. "How about you?" The gouache illustrations are playful and bright, and the text is an integral part of the design: a dripping mitten dangles off the end of the word "wet"; a sock and two balls of yarn make up the word "woolly"; and green lichen sprouts from a mossy trail. A whimsical exploration of imagination. — Maggie Reagan
— Booklist
Atheneum/Caitlyn Dlouhy Books, 9781481421058, 48pp.
Publication Date: April 12, 2016
About the Author
Richard Jackson was a long-time editor at Atheneum Books for Young Readers and the critically acclaimed author of a number of books, including Have A Look, Says Book., illustrated by Kevin Hawkes, which Publishers Weekly proclaimed "a shoe-in for the bedtime rotation;" All Ears, All Eyes, illustrated by Katherine Tillotson; and This Beautiful Day, illustrated by Suzy Lee, which received three starred reviews.

Kevin Hawkes has illustrated more than forty books for children, included the New York Times bestseller The Library Lion, Weslandia, Michael Ian Black's A Pig Parade Is a Terrible Idea, and Santa in Cincinatti. He lives in Southern Maine, where he can be found wandering aimlessly in his garden, unless forced indoors, where he creates imaginary landscapes with cobalt blue skies.
or
Not Currently Available for Direct Purchase