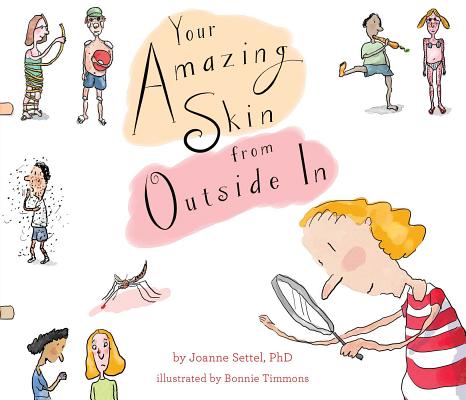 Your Amazing Skin from Outside In (Your Amazing Body Books)
Hardcover

* Individual store prices may vary.
Description
A Bank Street Best Book of 2019

It's itchy, it's sweaty, it's embarrassing...but most of all, it's fascinating! Dr. Joanne Settel has all the answers to our most burning questions in this wacky and informative book of poems about our skin.

Have you ever wondered…
Why you blush when you're embarrassed?
Why you've got freckles everywhere?
Why your fingers wrinkle in the pool?
Why your friends come in all different colors?
Why mosquitoes think you're delicious?
Why you've got that giant pimple on your nose?
Look no further!

With supercool facts, clever rhymes, and hilarious illustrations by Bonnie Timmons, acclaimed author Joanne Settel answers all these questions (and more!) in this fascinating, fun exploration of the science of our skin from head to toe. When she's through, you won't believe what your skin can do!
Praise For Your Amazing Skin from Outside In (Your Amazing Body Books)…
"Settel offers detailed information about skin... Melanin, blood clots, sweat, freckles, sunburn, fingerprints, and more are all described in clever rhyming verse that reads nicely... All spreads include comical and enlightening cartoon illustrations, including some excellent cross sections, which add to the light humorous approach to the biological information. Readers are likely to hope for more of these anatomy lessons and poems from Settel. Educators will appreciate the opportunity to talk about nonfiction text features and formats while teaching health and science. VERDICT: This equally informative and entertaining combination of poetry and anatomical science is a fine addition for libraries serving middle grade readers."
— School Library Journal

"Few would think to form rhymes with the terms collagen, melanocytes, and sweat glands, but Dr. Joanne Settel, aka Dr. Jo, gives the skin-ny on humans' largest organ through a series of amusing yet highly informative rhymes. Starting with skin basics, such as its purpose, make up, and many layers, she continues with shades of skin, including blushing, tanning, and freckles, and how skin changes, from raising goose bumps to wrinkling when wet to getting downright sweaty... Squiggly, cartoonlike illustrations highlight the humor and depict occasional skin diagrams. Children will pore over this inviting look at their skin."

— Booklist
Atheneum Books for Young Readers, 9781481422055, 96pp.
Publication Date: September 25, 2018
About the Author
Dr. Joanne Settel is an award-winning writer of science books for children, including Your Amazing Skin from Outside In and Your Amazing Digestion from Mouth Through Intestine. Dr. Settel's book Exploding Ants: Amazing Facts About How Animals Adapt was listed as one of the Outstanding Science Trade Books for Children by the Children's Book Council. Dr. Settel has a PhD in Zoology. She is a professor emeritus at Baltimore City Community College, where she taught courses in biology, anatomy, and physiology. She lives with her husband in Maryland, where she enjoys hiking, playing bridge, and gardening. Visit her online at JoanneSettel.com.

Bonnie Timmons drew the animations for NBC's long-running hit show Caroline in the City. Timmons and the sitcom won an Emmy for the graphics. Her work has also appeared in The New York Times, Time magazine, and other national magazines and newspapers, in addition to major ad campaigns and a range of books including titles from the American Girl library. She lives on a small horse farm in Pennsylvania with her husband, horses, dogs, cats, fish, chickens, and chicken-fed foxes. She has lots of skin, and even more freckles. Visit Bonnie online at BonnieTimmons.com.