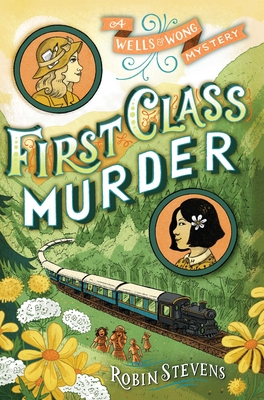 First Class Murder (A Wells & Wong Mystery) (Hardcover)
Simon & Schuster Books for Young Readers, 9781481422185, 320pp.
Publication Date: April 4, 2017
Other Editions of This Title:
Paperback (4/17/2018)
* Individual store prices may vary.
Description
A murdered heiress, a missing necklace, and a train full of shifty, unusual, and suspicious characters leaves Daisy and Hazel with a new mystery to solve in this third novel of the Wells & Wong Mystery series.

Hazel Wong and Daisy Wells are taking a vacation across Europe on world-famous passenger train, the Orient Express—and it's clear that each of their fellow first-class travelers has something to hide. Even more intriguing: There's rumor of a spy in their midst.

Then, during dinner, a bloodcurdling scream comes from inside one of the cabins. When the door is broken down, a passenger is found murdered—her stunning ruby necklace gone. But the killer has vanished, as if into thin air.

The Wells & Wong Detective Society is ready to crack the case—but this time, they've got competition.
About the Author
Robin Stevens was born in California and grew up in Oxford, England, across the road from the house where Alice of Alice in Wonderland lived. Robin has been making up stories all her life. She spent her teenage years at boarding school, reading a lot of murder mysteries and hoping that she'd get the chance to do some detecting herself (she didn't). She studied crime fiction in college and then worked in children's publishing. Robin now lives in London with her pet bearded dragon, Watson.
Praise For First Class Murder (A Wells & Wong Mystery)…
PRAISE FOR MURDER IS BAD MANNERS

*"Irresistible."
— Kirkus Reviews, STARRED REVIEW

*"A pitch-perfect snapshot of adolescent friendship... A sharp-witted debut for Stevens, one that will leave readers eagerly awaiting subsequent installments."
— Publishers Weekly, STARRED REVIEW

"[A] delightful romp....This book, the first in a series, is a "jolly good read," one which intermediate girls will enjoy and share."
— School Library Connection

"[A] first-rate homage to English boarding school adventure and period murder-mystery tales....Middle-schoolers with a taste for Agatha Christie (and perhaps PBS costume or mystery dramas) will eat this up and ask for more."
— The Bulletin of the Center for Children's

"Wells and Wong . . . leave readers eager to read more of their appealing tales."
— Shelf-Awareness Pro

"Stevens's engaging tale shines with the reflected charms of its detecting duo, a winsome combination of thoughtfulness and relish."
— School Library Journal

"Nancy Drew, meet Wells and Wong."
— Booklist

"Friendship, boarding school, and a murder worthy of Agatha Christie."
— The Bookseller

"A skillful blend of golden era crime novel and boarding school romp, with a winning central relationship between plump, anxious Hazel, a new girl who has arrived from Hong Kong, and the super-confident blonde English rose, Daisy Wells. The novel works well both as an affectionate satire and an effective mystery story. . . . Top class."
— Suzie Feay

"Reading Murder Is Bad Manners is like drinking cocoa by a fireside: It is warm and witty and deeply satisfying."
— Katherine Rundell, author of Rooftoppers and Cartwheeling in Thunderstorms

"Murder Is Bad Manners lured me in with a charming British voice, and then, just as I started to get cozy, snap! I was trapped in a serious mystery problem. Robin Stevens develops her girl detectives with a light, deft touch and delivers denouement with a flourish."
— Nancy Springer, author of the Enola Holmes series

"Robin Stevens's MURDER IS BAD MANNERS is what I wish every mystery could be: a perfectly-plotted puzzle told in a deft and charming voice. The story is a brilliant mixture of classic detective work and contemporary humor—I enjoyed every page!"
— Jonathan Auxier, author of The Night Gardener and Peter Nimble and His Fantastic Eyes

"Satisfyingly unpredictable. I did not guess the whodunit. Ripping good fun."
— Alex O'Connell

"Really cleverly done and unexpected for what I thought would be a straightforward whodunit caper."
— Melissa Cox, Head Children's Buyer at Waterstones

*"There's solid suspense, humor, and food for thought....'the Detective Society's most exciting adventure yet!'"

— Kirkus Reviews, STARRED REVIEW

"[A] more than credible take on the Agatha Christie original. . . . both [a] solid mystery and delightful romp."
— Booklist Online