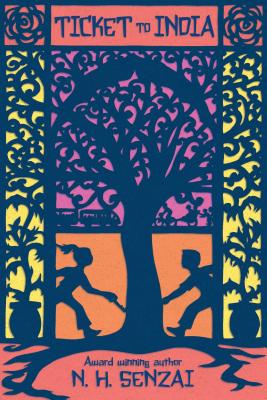 Ticket to India (Hardcover)
Simon & Schuster/Paula Wiseman Books, 9781481422581, 288pp.
Publication Date: November 17, 2015
* Individual store prices may vary.
Description
A trip to India turns into a grand adventure in this contemporary novel about the Great Partition, from the award-winning author of Saving Kabul Corner and Shooting Kabul.

A map, two train tickets, and a mission. These are things twelve-year-old Maya and her big sister Zara have when they set off on their own from Delhi to their grandmother's childhood home of Aminpur, a small town in Northern India. Their goal is to find a chest of family treasures that their grandmother's family left behind when they fled from India to Pakistan during the Great Partition. But soon the sisters become separated, and Maya is alone. Determined to find her grandmother's lost chest, she continues her trip, on the way enlisting help from an orphan by named Jai.

Maya's grand adventure through India is as thrilling as it is warm: a journey through her family's history becomes a real coming-of-age quest.
About the Author
N.H. Senzai is the author of Shooting Kabul, which was critically acclaimed and on numerous award lists. Publishers Weekly called it "hard hitting, emotionally wrenching." Her second book, Saving Kabul Corner, was nominated for an Edgar Award. She is also the author of Ticket to India and Escape from Aleppo. Ms. Senzai lives in the San Francisco Bay Area with her family. Visit her online at NHSenzai.com.
Praise For Ticket to India…
After the sudden death of her nanabba (grandfather), sixth-grader Maya travels from America to her grandparents' house in Karachi, Pakistan, with her mother and older sister, Zara. Before Maya's naniamma (grandmother) will leave with them, she is determined to retrieve her family's hidden valuables from her childhood home in India. Zara and Maya sneak away with Naniamma to India, and although they begin their important "treasure hunt" together, Maya winds up trying to complete it herself. In a trip fraught with mistakes, timid Maya learns how to be brave, inspiring readers to root for this resolute heroine to succeed. Senzai's (Saving Kabul Corner) beautifully detailed prose paints a vivid portrait of Maya's surroundings and the people she meets as she travels across India. Aided by Maya's journal entries, Senzai skillfully incorporates an enlightening lesson about the complex and connected history, cultures, and current state of affairs in India and Pakistan into Maya's journey of discovery.

Sixth-grader Maya has already traveled from California to Karachi, Pakistan, nine times to visit her grandparents, but this trip will be different: her nanabba (grandfather) has passed away. After the funeral, her grandmother will be returning to California with them, but first Naniamma intends to go to India and retrieve valuables hidden by her family when they fled to Pakistan during Partition. Maya and her sister, Zara, persuade Naniamma to let them join her, but their trip is complicated when Naniamma requires hospitalization, and Maya is later kidnapped by men that run a criminal gang of orphans. What starts as a realistic exploration of grief and family history turns into an exciting action adventure. . . . Senzai's novel is packed with fascinating information about the complex history and culture of India and Pakistan. . . . Brings attention to an underrepresented culture in an appealing way.
— Booklist

The death of her beloved grandfather brings sixth-grader Maya and her family from California to Karachi, Pakistan, her mother's birthplace and the site of many blissful visits with Maya's grandparents. Maya's grandmother is understandably distraught over her husband's sudden passing but she's intent on going ahead with their planned trip to India, despite her family's protests. Maya is shocked to learn that her naniamma only settled in Karachi when, as a Muslim, she was forced to flee India during the 1947 Partition. Maya and her older sister Zara decide to help their grandmother on her clandestine mission to recover a piece of her family's history in India, but when the journey goes awry, Zara forges ahead alone. . . . Pair this with Nye's The Turtle of Oman for an compelling look at two kids negotiating their places in their family's history and country of origin.
— The Bulletin of the Center for Children's Books

What's the basic story line?

Sixth-grader Maya and her family travel from America to Karachi, Pakistan, after her grandfather's death. Before leaving Pakistan, Maya, her older sister, Zara, and her grandmother take a trip to India to find a valuable chest hidden in her grandmother's childhood house. While in India, Maya's grandmother suffers a stroke. Maya and her sister must find the treasure on their own. Along the way, Maya not only finds what she was looking for but also her inner bravery and strength.

Are the characters believable?

Yes. They feel hope and disaapointment just as we all do at times. As Maya stands on the doorstep of her grandmother's old house, her high expectations soon turn to disappointment. But she doesn't let that disappointment stop her. Although some of the plot seems unbelievable, it is also very imaginative and one of the many reasons why readers will keep turning the pages.

Who would like this book?

People with a taste for adventure will love the suspenseful and unpredictable plot of this book.

On a scale of 1 to 10, how would you rate this book?

I would rate this book a 9. It's a truly inspiring read about courage and family values.
— Olivia Baran, Time for Kids Reporter

Told alternately through Maya's journal and third person narrative, this book provides young readers with insight into the history of these two countries.

Recommended
— School Library Connection