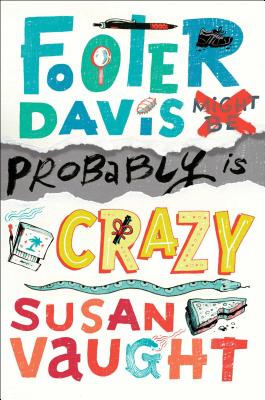 Footer Davis Probably Is Crazy (Hardcover)
Simon & Schuster/Paula Wiseman Books, 9781481422765, 240pp.
Publication Date: March 3, 2015
Other Editions of This Title:
Paperback (3/1/2016)
* Individual store prices may vary.
Description
Winner of the Edgar Allan Poe Award for best mystery
Bank Street Best Children's Book of the Year

"Like its heroine, this contemporary mystery is compelling, offbeat, and fearless." —The Horn Book

"A sensitive, suspenseful mystery that deftly navigates the uncertainty of mental illness." —Kirkus Reviews

Footer Davis is on the case when two kids go missing after a fire in this humorously honest novel that is full of Southern style.

"Bless your heart" is a saying in the South that sounds nice but really isn't. It means, "You're beyond help." That's what folks say about fifth grader Footer Davis's mom, who "ain't right" because of her bipolar disorder. She just shot a snake in Footer's yard with an elephant gun, and now she's been shipped off to a mental hospital, and Footer is missing her fiercely yet again.

"Bless their hearts" is also what folks say about Cissy and Doc Abrams, two kids who went missing after a house fire. Footer wants to be a journalist and her friend Peavine wants to be a detective, so the two decide to help with the mystery of the missing kids. But when visiting the crime scene makes Footer begin to have "episodes" of her own, she wonders if maybe she's getting sick like her mom, and that's a mystery that she's not at all sure she wants to solve.
About the Author
Susan Vaught is the author of Edgar Award­–winning novel Footer Davis Probably Is Crazy. It was a Junior Library Guild Selection, a Bank Street Best Book, and The Horn Book called it "compelling, offbeat, and fearless." Things Too Huge to Fix by Saying Sorry was called "a provocative, sensitive, and oh-so-timely read," by Kirkus Reviews in a starred review. Susan's many books for teens include Trigger, which received three starred reviews and was an ALA Best Books for Young Adults. She is also the author of the picture book Together We Grow. She works as a neuropsychologist at a state psychiatric facility, specializing in helping people with severe and persistent mental illness, intellectual disability, and traumatic brain injury. She lives on a farm with her wife and son in rural western Kentucky.
Praise For Footer Davis Probably Is Crazy…
"I was so far from normal, it wasn't even funny—except, of course, when it was," remarks Footer Davis, establishing the tone for an investigation into missing kids and parental mental illness. For Footer, normality includes her mother going off her medication and pulverizing snakes with an elephant gun, leading to hospitalization for her bipolar disorder. Coinciding with her mother's latest episode is the case of two children who disappeared in a fire after a murder, which Footer and her friends are determined to solve, their record of the investigation playing out via interviews and banter in their notebooks. The notebook entries provide levity, light romance and strong touches of character development in an increasingly tense plot. Suddenly, Footer is seeing a girl in flames and hearing her mother's voice. What if Footer is inheriting her mother's illness? Worse, what if her mother was involved in the murder? When everything seems like a symptom on the Internet, the line between "normal" and "crazy" blurs, and Vaught traces it with realistic care. As Footer tries to make sense of her mother's disjointed conversations, the line touches her mother, too—readers will be moved and reassured to discover that even in her illness, her mother is still a mother, watching out for Footer in her own ways. A sensitive, suspenseful mystery that deftly navigates the uncertainty of mental illness.
— Kirkus Reviews

As fifth-grader Footer Davis and her best friend, Peavine Jones, investigate the shooting of an elderly farmer and the disappearance of his grandchildren, Footer begins to wonder whether she is going crazy like her mother and, worse, if her bipolar mother is a murderer. This suspenseful story, set in a small Mississippi town, explores themes of domestic violence and mental illness in a way that highlights the support of caring parents, neighbors, and other adults. In the course of the second week after the fire that destroyed the Abrams' house and, perhaps, killed the children, Footer begins to experience what she first thinks are hallucinations and later decides are flashbacks to the night of the tragedy. Her first-person narrative is interrupted by entries from Peavine's investigative notebooks, Footer's school essays, and her changing theories. This tightly woven mystery also includes a tender friendship evolving into something more. That Peavine navigates on crutches is so matter-of-factly treated, readers may not even notice. For middle-graders, this is a sympathetic exploration of some difficult issues.
— Booklist

Eleven-year-old Footer Davis's mother, Adele, is notorious in their small Mississippi hometown—"she's a pretty thing," the neighbors say, "but she ain't right, bless her heart." After shooting off an elephant rifle in their backyard, Adele, who has bipolar disorder, is admitted to a psychiatric hospital, leaving Footer temporarily motherless. To distract herself from her mother's worsening condition, budding journalist Footer investigates a dramatic unsolved local crime—someone shot Mr. Abrams, burned down his farm, and possibly kidnapped his grandchildren. With help from her best friend Peavine, an aspiring detective with cerebral palsy, Footer interviews neighbors, takes crime-scene photographs, and researches the habits of serial killers. Her 911-dispatcher father humors her at first, but her efforts lead to serious consequences, including false accusations and disturbing visions that lead Footer to question her own mental stability. Footer's lively narrative voice and irreverent sense of humor add levity to the heavy subject matter. The troubling mental "symptoms" that worry Footer are eventually revealed to be clues pointing toward the fate of the missing children—a clever conclusion, but perhaps too tidy for a story that so deftly illuminates the painful, complex uncertainties of life with a mentally ill parent. Like its heroine, this contemporary mystery is compelling, offbeat, and fearless.
— Horn Book

Nine days after a neighbor is shot on his farm and the man's two grandchildren disappear, 11-year-old Fontana "Footer" Davis, her best friend Peavine, and his younger sister set out to find out what happened. Their investigation takes them to the farm, which burned down that same night, and their interviews with townsfolk appear throughout, along with Footer's amusing school assignments (Reinhardt provides doodles on Footer's behalf). Complicating the investigation are Footer's visions of the fire. Is it possible that she was there that night and has repressed the memory? Or is Footer following in the footsteps of her mother, who just been taken to a psychiatric ward? Vaught (Insanity) deftly portrays the pain of having a mentally ill parent, capturing Footer's simultaneous love for and resentment of her mother, as well as her fears for her own sanity. The unusual and entertaining residents of Footer's small Mississippi town bring moments of humor to a well-plotted mystery that effectively explores some serious themes.
— Publishers Weekly

Twelve-year-old Footer Davis wants to be a journalist, and her best friend, Peavine, wants to be a detective, so the two set out to solve the mystery of their neighbor's murder and the fire that may have killed his two grandchildren. Footer's distracted from her investigations, though, when her mother is hospitalized for bipolar dis- order. Now Footer has to deal with a nosy social worker, a teacher she hates, and some pesky hallucinations that might be traumatic memories of abuse she actually witnessed or might be, she fears, indications that she too will suffer from the same mental illness as her mom. Footer's tongue is as sharp as her mind, and she has no problem sticking up for herself, even when the odds are against her. Vaught keeps up the energy of the reading experience by mixing in various other elements, in- cluding Footer's illustrated school reports and lists, witness interviews transcribed by Peavine, and journal entries written by Peavine's precocious little sister. A busy cast of likable small-town southern folk brings authentic variety to the mix; Peavine has cerebral palsy, for instance, and Captain Armstrong, a neighbor, suffers from PTSD, but like Footer's mom's bipolar disorder, these are just things you cope with as you go about your business. Footer ends her journalism career with a solved crime and a new understanding of the mentally ill, social workers, and herself; readers who appreciate a mystery with heart, humor, and a little trauma will enjoy this. An interview with the author and suggestions for further reading, fiction and non, on brain disorders follows the text.
— Bulletin