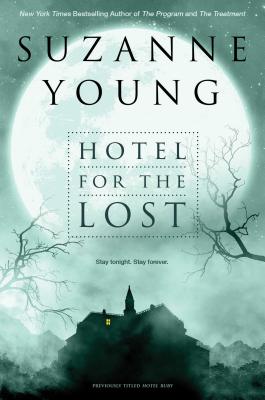 Hotel for the Lost
Paperback

* Individual store prices may vary.
Other Editions of This Title:
Digital Audiobook (11/2/2015)
Hardcover (11/3/2015)
Description
From the New York Times bestselling author of The Program comes a haunting, romantic, and suspenseful story about one girl's search for healing in a grand and mysterious hotel full of secrets.

Stay tonight. Stay forever.

When Audrey Casella arrives for an unplanned stay at the grand Hotel Ruby, she's grateful for the detour. Just months after their mother's death, Audrey and her brother, Daniel, are on their way to live with their grandmother, dumped on the doorstep of a DNA-matched stranger because their father is drowning in his grief.

Audrey and her family only plan to stay the night, but life in the Ruby can be intoxicating, extending their stay as it provides endless distractions—including handsome guest Elias Lange, who sends Audrey's pulse racing. However, the hotel proves to be as strange as it is beautiful. Nightly fancy affairs in the ballroom are invitation only, and Audrey seems to be the one guest who doesn't have an invite. Instead, she joins the hotel staff on the rooftop, catching whispers about the hotel's dark past.

The more Audrey learns about the new people she's met, the more her curiosity grows. She's torn in different directions—the pull of her past with its overwhelming loss, the promise of a future that holds little joy, and an in-between in a place that is so much more than it seems…

And the 13th chapter will only add to the mystery behind the 13th floor of Hotel Ruby...and ultimately, what it means for Audrey.

Welcome to the Ruby.
Praise For Hotel for the Lost…
"Prepare to be spooked and romanced as you attempt to unravel the mysteries of Hotel Ruby!"
— Wendy Higgins, NYT bestselling author of the Sweet Evil series

Young follows up her New York Times best-selling series with a stand-alone title that straddles the line between suspense and horror. Three months after her mother's death, Audrey is en route to her grandmother's house, along with her brother, Daniel, because their dad just can't handle them anymore. But their fractured family makes an unexpected stop at the historic, beautiful, and supposedly haunted Hotel Ruby. One night turns into two, as her family falls under the spell of the place, and Audrey falls for

the dreamy Elias. But when Audrey learns the real reason people stay so long at Hotel Ruby, she's forced to make a difficult decision: Does she want to stay forever, too? With an engrossing plot that keeps readers guessing and an enigmatic romantic lead, Young's latest is sure to please her fan base. Audrey's struggle to reconcile her life in the wake of losing her mother is palpable and adds weight to the story. Haunting and hard to put down.
— Booklist

"Young accurately captures each resident's grief, thus populating her novel with three-dimensional characters whom readers will appreciate."
— Kirkus

Gr 9 Up–Grief-stricken Audrey Casella and her familyarrive at the glamorous Hotel Ruby after an exhausting, strained car ride. Therecent death of Audrey's mother has devastated her father. Audrey and herbrother try to watch out for each other, but the journey has been an arduousone. They are not happy about being sent to live with their grandmother. When asign announces that a hotel is close by, their father decides that they willstay one night and continue on in the morning. However, there is more to theRuby than they expected, and as one night turns into several days, Audrey andwhat's left of her family seem to begin to heal. The place is restful,engaging, glamorous, and strange. It has a ghostly past. Every night certainguests are invited to an elegant party commemorating a fire that killed dozensof people. Audrey is not invited, but her father and her brother both receiveinvitations. She spends her time exploring and making friends. The sweethousekeeper, Lourdes, and the intriguing Elias Lange take her in and show heraround. Unfortunately, the more she learns, the more threatening the hotelbecomes, which culminates in a bone-chilling revelation. Despite some choppyphrasing, this novel is a fast and fun read. VERDICT A great purchase forlibraries where paranormal mysteries circulate well.–Claire Covington, BroadwayHigh School, VA
— School Library Journal
Simon & Schuster Books for Young Readers, 9781481423014, 304pp.
Publication Date: October 4, 2016
About the Author
Suzanne Young is the New York Times bestselling author of The Program series. Originally from Utica, New York, Suzanne moved to Arizona to pursue her dream of not freezing to death. She is a novelist and an English teacher, but not always in that order. Suzanne is also the author of Girls with Sharp Sticks, All in Pieces, Hotel for the Lost, and several other novels for teens. Visit her online at AuthorSuzanneYoung.com or follow her on Instagram at @AuthorSuzanneYoung.
or
Not Currently Available for Direct Purchase