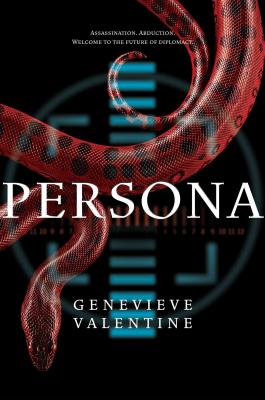 Persona (The Persona Sequence) (Hardcover)
Gallery / Saga Press, 9781481425124, 320pp.
Publication Date: March 10, 2015
Other Editions of This Title:
Paperback (4/5/2016)
* Individual store prices may vary.
Description
In a world where diplomacy has become celebrity, a young ambassador survives an assassination attempt and must join with an undercover paparazzo in a race to save her life, spin the story, and secure the future of her young country in this near-future political thriller from the acclaimed author of Mechanique and The Girls at Kingfisher Club.

When Suyana, Face of the United Amazonia Rainforest Confederation, is secretly meeting Ethan of the United States for a date that can solidify a relationship for the struggling UARC, the last thing she expected was an assassination attempt. Daniel, a teen runaway turned paparazzi out for his big break, witnesses the first shot hit Suyana, and before he can think about it, he jumps into the fray, telling himself it's not altruism, it's the scoop. Now Suyana and Daniel are on the run—and if they don't keep one step ahead, they'll lose it all.
About the Author
Genevieve Valentine is the author of Persona and of the critically acclaimed novel Mechanique: A Tale of the Circus Tresaulti, which won the Crawford Award for Best novel, as well as a nomination for the Nebula Award and the Romantic Times Best Fantasy of the Year. Her short fiction has been nominated for a World Fantasy Award and the Shirley Jackson Award. She lives in New York City. Visit her at GenevieveValentine.com.
Praise For Persona (The Persona Sequence)…
"Beautifully brutal in the best way. By the end of this book I was on my feet cheering. You will be, too."
— N.K. Jemisin, author of the Hugo Award-winning THE FIFTH SEASON

"Suyana Supaki is a heroine you wish were real. She's a living, breathing woman of spirit and mettle—the kind of woman the world hates, for having too much of a mind of her own. Her story in Persona offers the reader a reminder of the enduring power other people have to surprise you, just when it feels like all hope is lost."
— Sonia Saraiya, television critic at Salon

"Blending celebrity and international diplomacy in a near-future Paris, Valentine crafts an intimate thriller that unmasks the players in the game."
— Publishers Weekly

"Suyana is a great character—chosen as a puppet, but smarter and more determined than many of those who would pull her strings."
— Library Journal

"Valentine has crafted a really intriguing thriller with Persona, one that reminded me a bit of Max Berry's brilliant novel Jennifer Government....a lightning fast read, but there's as satisfying level of substance to the story that makes this an interesting read from beginning to end."
— io9.com

"A tense, wonderfully satisfying tightrope walk of a novel."
— NPR
or
Not Currently Available for Direct Purchase