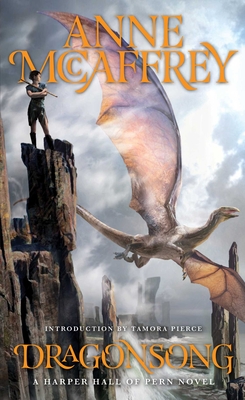 Dragonsong (Harper Hall of Pern #1) (Mass Market)
Gallery / Saga Press, 9781481425803, 256pp.
Publication Date: February 24, 2015
Other Editions of This Title:
Digital Audiobook (7/11/2007)
Digital Audiobook (7/11/2007)
Paperback (11/3/2019)
Paperback (4/1/2003)
Paperback (4/1/2003)
Paperback (4/1/2003)
Mass Market (3/31/2015)
Mass Market (4/28/2015)
Mass Market (5/12/1986)
Paperback (7/26/2005)
Mass Market (10/13/1986)
Prebound (10/1/1986)
Mass Market (12/27/1997)
Mass Market (8/13/1989)
Prebound (5/1/1986)
Prebound (5/12/1986)
Compact Disc (4/1/2013)
* Individual store prices may vary.
Description
A young woman allies with magnificent dragons in the first book in the Harper Hall trilogy, set within science fiction legend Anne McCaffrey's beloved and bestselling Dragonriders of Pern series.

Every two hundred years or so, on the planet colony of Pern, shimmering Threads fall from space, raining death. Yet the great dragons of Pern, mounted by the stalwart dragonriders, scour the skies with fire to destroy the deadly Threads and save the planet.

But it was not Threadfall that made young Menolly unhappy. It was her father who betrayed her ambition to be a harper, who thwarted her love of music, because she was a woman. Menolly had no choice but to run away. When she came upon a group of fire lizards—wild and smaller relatives of the fire-breathing dragons—she let her music swirl around them. She taught nine of them to sing. And suddenly Menolly was no longer alone—she was Mistress of Music, and Ward of the dazzling fire dragons.
About the Author
Anne Inez McCaffrey (1926–2011) was an American-born Irish writer, best known for the Dragonriders of Pern science fiction series. Early in McCaffrey's forty-six-year career as a writer, she became the first woman to win a Hugo Award for fiction and the first to win a Nebula Award. Her 1978 novel The White Dragon became one of the first science fiction books to appear on the New York Times bestseller list. In 1999, she was the recipient of the Margaret A. Edwards Award, honoring her lifetime contribution to writing for teens. In 2005 the Science Fiction and Fantasy Writers of America named McCaffrey its twenty-second Grand Master, an annual award to living writers of fantasy and science fiction. She was inducted into the Science Fiction Hall of Fame in 2006.

Beloved author Tamora Pierce has written a great number of books, including The Song of the Lioness quartet, The Immortals quartet, The Circle of Magic quartet, The Protector of the Small quartet, The Circle Opens quartet, the Trickster series, The Will of the Empress, Melting Stones, and the Beka Cooper series. She lives in New York and can be visited at TamoraPierce.com.