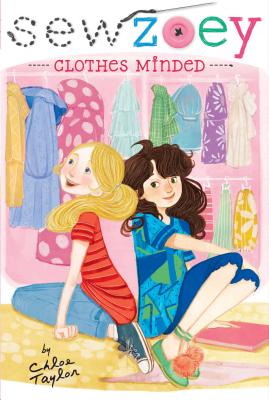 Clothes Minded (Sew Zoey #11) (Paperback)
Simon Spotlight, 9781481429276, 160pp.
Publication Date: February 17, 2015
* Individual store prices may vary.
Description
Zoey always tries to keep an open mind about clothes. Can she do the same for people, too? Includes "Sew Zoey" blog posts and fashion illustrations.

In the eleventh book in the Sew Zoey series, Zoey Webber thinks she's helping when she gives advice to a boy who has a crush on her best friend Kate. Zoey tells him to wear a soccer jersey from Kate's favorite team, assuming that Kate will like him better if he's into sports. Kate finds out and feels betrayed that Zoey thinks she is so closed-minded. Meanwhile, Zoey helps her new friend Sean start a fashion club at school, promising to allow anyone to join. But when someone unexpected shows up to the first club meeting, Zoey struggles to stay true to her ideals and keep her focus on the clothes. Could Zoey be the one who is closed-minded, after all?
About the Author
Chloe Taylor learned to sew when she was a little girl. She loved watching her Grandmother Louise turn a scrap of blue fabric into a simple-but-fabulous dress, nightgown, or even a bathing suit in an instant. It was magical! Now that she's grown up, she still loves fashion: It's like art that you can wear. Chloe has written more than thirty books for children and lives, writes, and window shops in New York City.

Nancy Zhang is an illustrator and an art and fashion lover with a passion for all beautiful things. She has published her work in the art books L'Oiseau Rouge and Street Impressions and in various fashion magazines and on websites. Visit her at Nancy-Zhang.com. She lives in Berlin, Germany.
Praise For Clothes Minded (Sew Zoey #11)…
"An aspiring fashion designer is the affable heroine of this first book in the Sew Zoey series. . . . In a smoothly written story of overcoming challenges with ingenuity and style, Taylor shows a knack for characterization and dialogue, and her detailed descriptions of Zoey's designs will entice young fashionistas."

"Most novels about fashion end up being more about little divas than about the clothing; this is an exception. This story celebrates the rewards of personal creativity and risks of self-expression. . . . This book will appeal to a middle-grade crowd that isn't into vampires and dystopias, as well as to those who create art with their hands."

"Zoey Webber is a funky fashionista stuck in a gray-polyester-uniform world. The first book in a delightful new series, this will appeal to any girl finding her own style. Zoey is a bubbly and vivacious character who doesn't let insecurities take command."

"The characters are enjoyable and well developed, and the plot is humorous and entertaining. The black-and-white drawings that open each chapter add a bit of fashion flair. With a touching ending that will leave readers with a warm, fuzzy feeling, this novel will appeal to young fashionistas."