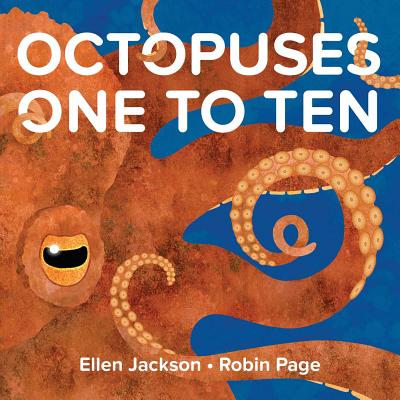 Octopuses One to Ten (Hardcover)
Beach Lane Books, 9781481431828, 32pp.
Publication Date: September 27, 2016
* Individual store prices may vary.
Description
Dive into this fascinating counting journey through the amazing and mysterious world of octopuses.

Everyone knows octopuses have eight arms. But did you know that they have three hearts and nine brains? This intriguing exploration of octopuses goes through numbers one to ten, with a snappy rhyme and fascinating octopus facts for each number. The book also includes octopus crafts and activities for more learning fun!
About the Author
Ellen Jackson is the award-winning author of more than fifty-five fiction and nonfiction books for children, including The Mysterious Universe (a Golden Kite honor book) and Earth Mother (which garnered three starred reviews). She lives with her husband and dog in Santa Barbara, California.

Robin Page has written and illustrated several picture books, including the 2003 Caldecott Honor recipient What Do You Do with a Tail Like This?, which she created with her husband Steve Jenkins, and A Chicken Followed Me Home! and Seeds Move!, which she both wrote and illustrated. Robin and Steve live in Boulder, Colorado.
Praise For Octopuses One to Ten…
Octopuses of all sizes dwell in this simple but enjoyable counting book. Besides having eight arms and three hearts, octopuses also have intelligence, blue blood, and the fascinating ability to camouflage. Combining simple counting rhymes ("Six strong arms can help them grab/shrimp, lobster,fish, and crab") and brief paragraphs expanding on different subjects("Octopuses catch prey with six of their eight arms"), this colorful work is valuable as a read-aloud and for information-seeking youngsters. Muted watercolors emphasize the incredible movement and color of octopuses, and highlighting numbers in bold helps to reinforce the counting exercise.Illustrations one through nine depict the giant Pacific octopus. Following the 10th entry, an additional nine other species, each with its own page, are introduced ("Here are ten that you might meet…"). The information presented(behavior, biology, lifespan, and habitat) is well rounded; however, the octopuses' three hearts are mentioned and described, but their purpose and function are not explained. Several simple craft projects (toilet paper–roll octopus, octopus-themed snacks) are offered. VERDICT Useful for introductory science programs featuring this less-well-understood sea dweller.
— School Library Journal

Count the ways that octopuses surprise!Jackson (Beastly Babies, 2015) and Page (A Chicken Followed Me Home, 2015) team up to offer an engaging presentation of 10 fascinating facts about a curious creature. Organized numerically, their points are introduced in rhyme. Each spread includes both a couplet—"Octopuses! They're so fine. / You have one brain—they have Nine!"—and a narrative paragraph providing further information, as well as an image, usually of a giant Pacific octopus. There is solid research reflected in the details, and the endmatter provides further text and web-based resources, including titles for both children and adults. The facts will be surprising to readers and listeners. They include where octopuses live, their internal and external physical characteristics (three hearts, nine brains!), arm specialization, ways they avoid predators, lifespan and egg laying, feeding, and the designation of Oct. 8 as World Octopus Day. Two-legged walking (the second fact) has not been seen in every species. Fans of Page's work with her longtime collaborator Steve Jenkins will recognize and appreciate the clean design; digitally created images appear on a plain background of black, white, blue, or sea green. The count-up concludes with descriptions of 10 different octopus species, with sizes shown in silhouette next to a human body or hand. The appended octopus crafts and treats are unnecessary. An appealing introduction for preschool and storytime. (Informational picture book. 3-7)
— Kirkus Reviews

Introducing octopuses, this lively book opens its first 10 double-page spreads with rhymed couplets featuring the numbers from 1 to 10. Each couplet is accompanied by a paragraph of related information in smaller print. Kids may be surprised to learn that octopuses have three hearts or that they use two of their "legs" for pushing off and three of their "arms" walking and catching prey. Octopus fans will want to celebrate on October 8, World Octopus Day. The tenth verse leads off the volume's second section, introducing 10 different species, one per page. With the look of cut-paper collage, the digital pictures are varied, colorful, and often striking. Large scenes featuring the giant Pacific octopus demonstrate concepts in the first half of the book, while in the second half, the illustrations show how different octopuses can be in size, shape, and coloration. The last double-page spread features illustrated directions for making four simple octopus crafts and treats. An attractive introduction to these fascinating creatures. — Carolyn Phelan
— Booklist

In this octopus-themed book that counts from one to 10, Jackson (Beastly Babies) offers gentle rhymes that explore the animal's characteristics and habits ("They can wander where they please, swimming through the seven seas"); supplemental paragraphs elaborate on the ideas introduced ("Every ocean of the world, from the shallow coastal waters to the depths of the sea, is home to at least one species of octopus"). Page's (A Chicken Followed Me Home!) digital art, which resembles torn-paper collage, provides a sense of fluid, underwater movement while highlighting the striking diversity of octopus species, including the webbed blanket octopus and venomous blue-ringed octopus. Craft ideas are included. Ages 2–8.
— Publishers Weekly