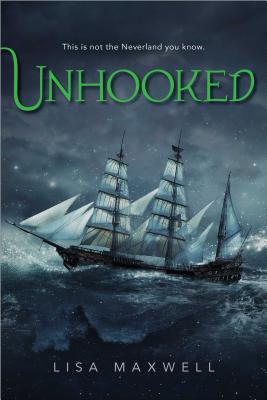 Unhooked
Hardcover

* Individual store prices may vary.
Other Editions of This Title:
Paperback (1/3/2017)
Description
From "talented wordsmith" (Publishers Weekly) Lisa Maxwell comes a lush, atmospheric fantasy novel filled with twists and turns about a girl who is kidnapped and brought to an island inhabited by fairies, a roguish ship captain, and bloodthirsty beasts.

For as long as she can remember, Gwendolyn Allister has never had a place to call home. Her mother believes they are being hunted by brutal monsters, and those delusions have brought them to London, far from the life Gwen had finally started to build for herself. Gwen's only saving grace is that her best friend, Olivia, is with her for the summer.

But shortly after their arrival, the girls are kidnapped by shadowy creatures and dragged to a world of flesh-eating sea hags and dangerous Fey. And Gwen begins to realize that maybe her mother isn't so crazy after all…

Gwen discovers that this new world she inhabits is called Neverland, but it's nothing like the Neverland you've heard about in stories. Here, good and evil lose their meaning and memories slip like water through your fingers. As Gwen struggles to remember where she came from and tries to find a way home, she must choose between trusting the charming fairy-tale hero who says all the right things and the captivating pirate who promises to keep her safe.

Caught in the ultimate battle between good and evil, with time running out and her enemies closing in, Gwen is forced to finally face the truths she's been hiding from all along. But can she save Neverland without losing herself?
Praise For Unhooked…
"Perfect for fans of A.G. Howard's Splintered trilogy and ABC's Once Upon A Time, this twisted Peter Pan retelling isn't the Neverland of your dreams—it's the Neverland of your nightmares."
— Sara Raasch, author of the Snow Like Ashes trilogy

"Lisa Maxwell's The Stars Turned Away spins the classic Peter Pan tale into a tempting, spine-chilling adventure. Maxwell transports readers into the haunting, and yet breathlessly romantic, world of Neverland that will spellbind readers into making them wish they could stay forever."
— Christina Farley, author of the bestselling Gilded series

"This dark, violent, gripping and twisty retelling of Pan is so good, there's no going back to the original!!"
— Ellen Oh, author of the Prophecy series
Margaret K. McElderry Books, 9781481432047, 352pp.
Publication Date: February 2, 2016
About the Author
Lisa Maxwell is the author of The Last Magician, The Devil's Thief, The Serpent's Curse, Unhooked, Sweet Unrest, and The Gathering Deep. She grew up in Akron, Ohio, and has a PhD in English. She's worked as a teacher, scholar, editor, writer, and bookseller (at Little Professor Book Center in Alabama). When she's not writing books, she's a professor at a local college. She now lives near Washington, DC, with her husband and two sons. You can follow her on Twitter @LisaMaxwellYA or learn more about her upcoming books at Lisa-Maxwell.com.