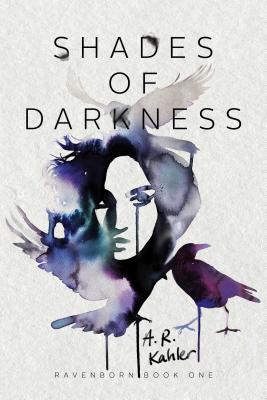 Shades of Darkness (Ravenborn #1)
Hardcover

* Individual store prices may vary.
Other Editions of This Title:
Paperback (12/20/2016)
Description
American Gods meets The Secret History in this suspenseful start to a brand-new fantasy trilogy about a girl named Kaira Winters, the murders that keep happening at her artsy boarding school, and the lengths she must go to in order to protect the people she loves.

When Kaira Winters decided to go to Islington—a boarding school deep in the woods of Michigan—she thought she could finally get away from everything she has tried so hard to forget, including some things from her past that she refuses to believe ever actually happened.

Everything seemed great until the bodies of murdered students started appearing all over campus. The victims seem to have been killed in some sort of ritual sacrifice. And even worse, Kaira's dreams are giving her clues to the killer's identity.

Though she tries to resist, Kaira quickly realizes that she is the only one who can stop the violence, but to do so she must come to terms with her past. She's going to have to listen to the voice that is buried deep within her…the one that claims to have unimaginable power…the one that claims to be an actual goddess.

But even if Kaira can harness the power within her, will it be enough to stop the darkness that has fallen over her school? And if it is strong enough, then what's to stop the goddess from wreaking her own havoc once she's released?

Filled with murder, mystery, and a little bit of magic, this fresh genre-bending novel is a thrilling page-turner you won't be able to put down until the very last page.
Praise For Shades of Darkness (Ravenborn #1)…
"I love AR. Kahler's writing and Shades of Darkness is no exception.Mythical. Magical. Murderous. But grounded in the real world. I devoured this book and can't wait for the next one."
— Julie Kagawa NYT/USA Today/International bestselling author of the Iron Fey and Talon series

"Destiny, death, dating, and daubs of paint: Shades of Darkness perfectly captures the art school experience with a dastardly magical twist that will leave you hungry for more."
— Delilah S. Dawson, author of Servants of the Storm and Hit

"A.R. Kahler's Shades of Darkness is an eerie, wistful meditation on love,sacrifice, and the demons we struggle to leave behind. The arresting final image is going to linger with me indelibly."
— Karsten Knight, author of the Wildefire series

Kaira, fleeing a devastating event from her past, hides out at the Islington Arts Academy, headquartered in snow-laden upper Michigan. Her thesis, the culmination of two years of work, is coming due, but even with great friends like Ethan and Elisa, she is distracted by things she sees as omens, reminders of past traumas. When she tells her friends some of what happened to her, Kaira feels like she has finally banished some of her demons. Unfortunately, the mysterious omens—crows and ravens cawing everywhere and terrible, dark dreams—will not go away. Death keeps following her, mysterious entities demanding their due, and only the tip of their mythological desires are revealed in this first of a planned series, and the ending will have readers begging for more. The mystery does take a few chapters to get going, but strong writing and characterization ultimately make the journey captivating. This successfully straddles the lines between realistic fiction, urban fantasy, and horror, and is ideal for all YA collections. — Stacey Comfort
— Booklist
Simon Pulse, 9781481432573, 304pp.
Publication Date: March 8, 2016
About the Author
A.R. Kahler is the author of the Cirque des Immortels trilogy and the post-apocalyptic YA fantasy series, The Hunted. When he's not writing or climbing in the rafters, he's probably outside, staring at the clouds. Visit him online at ARKahler.com and follow him on Twitter at @ARKahler.
or
Not Currently Available for Direct Purchase