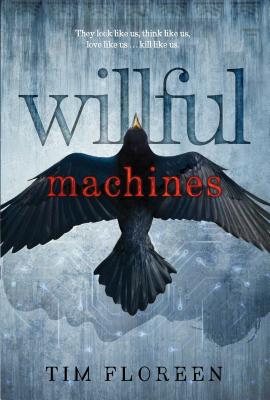 Willful Machines (Hardcover)
Simon Pulse, 9781481432771, 368pp.
Publication Date: October 20, 2015
Other Editions of This Title:
Paperback (10/18/2016)
* Individual store prices may vary.
Description
In this action-packed, high-octane debut, the closeted son of an ultra-conservative president must keep a budding romance secret from his father while protecting himself from a sentient computer program that's terrorizing the United States—and has zeroed in on him as its next target.

In the near future, scientists create what may be a new form of life: an artificial human named Charlotte. All goes well until Charlotte escapes, transfers her consciousness to the Internet, and begins terrorizing the American public.

Charlotte's attacks have everyone on high alert—everyone except Lee Fisher, the closeted son of the US president. Lee has other things to worry about, like keeping his Secret Service detail from finding out about his crush on Nico, the eccentric, Shakespeare-obsessed new boy at school. And keeping Nico from finding out about his recent suicide attempt. And keeping himself from freaking out about all his secrets.

But when attacks start happening at his school, Lee realizes he's Charlotte's next target. Even worse, Nico may be part of Charlotte's plan too.

As Lee races to save himself, uncover Charlotte's plan, and figure out if he can trust Nico, he comes to a whole new understanding of what it means to be alive…and what makes life worth living.
About the Author
Tim Floreen majored in English at Yale and earned a Master's degree in creative writing at Boston University. He now lives in San Francisco with his partner and their two cats. Willful Machines is his first novel. You can find him online at TimFloreen.com or on Twitter at @TimFloreen.
Praise For Willful Machines…
"Smart, brave and utterly original, WILLFUL MACHINES asks questions that matter. Tim Floreen's unforgettable debut will stay with you long after you've finished reading."
— Amie Kaufman, New York Times Bestselling Author of ILLUMINAE and THESE BROKEN STARS

"WILLFUL MACHINES is as exciting as it is heartbreaking. A deft mixture of science fiction, gritty action, and sweet first love, Tim Floreen's debut is everything I want from a book."
— Shaun David Hutchinson, author of The Five Stages of Andrew Brawley

"WILLFUL MACHINES is a thought-provoking thrillerwrapped around a fascinating concept—skillfully mixed in with basic humandilemmas. Tim Floreen's tale convincingly depicts a world where machinescan pass as human, but humans still struggle with age-old questions: "Howmuch control do I have over my own life? Who can I dare to trust? Who can Idare to love?""
— Margaret Peterson Haddix, New York Times Bestselling Author

*** "From a first-person perspective, Lee fumbles from self-deprecation to self-confidence. As varied as his opinions are of himself, so too is the landscape, mixing technology with gothic settings à la Poe and Stoker. Gothic, gadget-y, gay: a socially conscious sci-fi thriller to shelve between The Terminator and Romeo and Juliet."
— Kirkus, STARRED REVIEW

"This is a well-written title [that] will cause students to think aboutthe future. Science fiction fans especially will enjoy the story."

"This book will find an audience for anyone who likes a good romance/thriller but also should resonate with those who are coming to terms with and discovering their own sexuality and self-awareness. An excellent debut thriller that will reach a wide range of readers."

"From start to finish, Floreen builds a world in a future near enough to resonate with teens' realities. The question of whether machines can possess free will–and if so, what separates man and machine—is thought provoking and handled maturely. Readers will clamor for a sequel."

"Floreen's thoughtful debut calls into question the definition of humanity and the nature of love. Genuine twists should catch readers off-guard [...]and the story raises intriguing ideas about free will, morality, and growing up."

"A tightly knit thriller that will delight both its targeted teen audience and adults who enjoy a wonderfully created futuristic world."