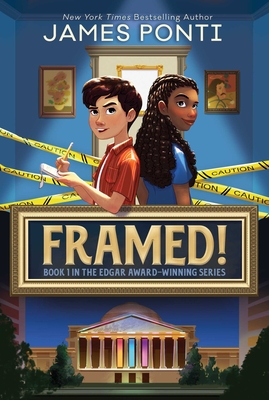 Framed!
Paperback

* Individual store prices may vary.
Other Editions of This Title:
Digital Audiobook (3/9/2020)
Hardcover (8/23/2016)
Description
Get to know the only kid on the FBI Director's speed dial and several international criminals' most wanted lists all because of his Theory of All Small Things in this hilarious start to a brand-new middle grade mystery series.

So you're only halfway through your homework and the Director of the FBI keeps texting you for help…What do you do? Save your grade? Or save the country?

If you're Florian Bates, you figure out a way to do both.

Florian is twelve years old and has just moved to Washington. He's learning his way around using TOAST, which stands for the Theory of All Small Things. It's a technique he invented to solve life's little mysteries such as: where to sit on the on the first day of school, or which Chinese restaurant has the best eggrolls.

But when he teaches it to his new friend Margaret, they uncover a mystery that isn't little. In fact, it's HUGE, and it involves the National Gallery, the FBI, and a notorious crime syndicate known as EEL.

Can Florian decipher the clues and finish his homework in time to help the FBI solve the case?

Kirkus Reviews praised the "solid, realistic friendship bolstered by snappy dialogue," and School Library Journal said "mystery buffs and fans of Anthony Horowitz's Alex Rider series are in for a treat."
Praise For Framed!…
The real draws here are the two resourceful leads' solid,realistic friendship, bolstered by snappy dialogue, brisk pacing, andwell-crafted ancillary characters—not to mention behind-the-scenes glimpses ofthe FBI.More escapades are promised in this improbable but satisfying seriesstarter.
— Kirkus Reviews

Mystery buffs and fans of Anthony Horowitz's "Alex Rider" series are in for a treat. . . . With elements of Alex Rider, James Bond, and Sherlock Holmes stories, this is likely to be popular with mystery and action/adventure fans.
— School Library Journal

The implications Florian draws from focusing on minute details are lots of fun, and if upon reflec- tion readers realize that Ponti is in authorial control of Florian's brilliance, well . . . it worked for Arthur Conan Doyle, too. EB
— BCCB

What stands out is the portrayal of Florian's and Margaret's intelligence, their close friendship, and athlete Margaret's sports prowess. Refreshingly, the adults aren't portrayed as completely clueless; they are respectful of the kids' crime-solving abilities, even though the preteen sleuths, as they realize themselves, are not infallible. Young readers will enjoy this first caper in a projected series.
— Booklist

Florian resembles a young Sherlock Holmes, and together he and Margaret use the TOAST technique to prove that things are not always as they first appear. This book will grab readers from the first page with its witty characters and non-stop action. It would be a great read for fans of Chasing Vermeer (Scholastic, 2005).

— School Library Connection
Aladdin, 9781481436311, 320pp.
Publication Date: May 2, 2017
About the Author
James Ponti is the New York Times bestselling author of three middle grade book series: the all-new City Spies, about an unlikely squad of five kids from around the world who form an elite MI6 Spy Team; the Edgar Award–winning Framed! series, about a pair of tweens who solve mysteries in Washington, DC; and the Dead City trilogy, about a secret society that polices the undead living beneath Manhattan. His books have appeared on more than fifteen different state award lists and he is the founder of a writers group known as the Renegades of Middle Grade. James is also an Emmy–nominated television writer and producer who has worked for many networks including Nickelodeon, Disney Channel, PBS, History, and Spike TV, as well as NBC Sports. He lives with his family in Orlando, Florida. Find out more at JamesPonti.com.