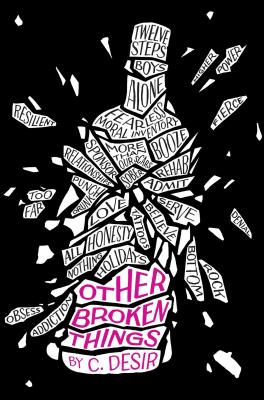 Other Broken Things
Paperback

* Individual store prices may vary.
Other Editions of This Title:
Hardcover (1/12/2016)
Description
From the author of Bleed Like Me, which Booklist called "edgy, dark, and turbulent with passion" comes a "gritty, honest portrayal of the road to recovery" (VOYA) and forbidden romance—starring a fearless, unforgettable heroine.

Natalie's not an alcoholic. She doesn't have a problem. Everybody parties, everybody does stupid things, like getting in their car when they can barely see. Still, with six months of court-ordered AA meetings required, her days of vodka-filled water bottles are over.

Unfortunately, her old friends want the party girl or nothing. Even her up-for-anything ex seems more interested in rehashing the past than actually helping Nat stay sober.

But then a recovering alcoholic named Joe inserts himself into Nat's life, and things start looking up. Joe is funny, he's smart, and he calls her out in a way no one ever has.

He's also older. A lot older.

Nat's connection to Joe is overwhelming, but so are her attempts to fit back into her old world, all while battling the constant urge to crack a open bottle and erase that one thing she's been desperate to forget.

Now, in order to make a different kind of life, Nat must pull together her broken parts and learn to fight for herself.
Praise For Other Broken Things…
"With edges sharper than a fragment of a vodka bottle, C. Desir reveals how far some of us go to run from the sorrows that have broken us, and how much it hurts to find a way to put the shards of ourselves back together again. Desir is hip to the truth that the broken edges let the light shine through. This book is a blinding beauty."
— Martha Brockenbrough, author of The Game of Love and Death

In Desir's latest, Natalie's a fresh-out-of-rehab high-school senior beginning the 12-step program. Brash, unrepentant, and far from kind to herself, Nat strikes up an unlikely friendship—and possibly something more—with 38-year-old Joe, from her local AA group. Her journey toward recovery brims with bumps and potholes: old friends who haven't dropped their drinking habits, parents who fail to offer the support system she needs, and the truth about what happened that fateful night that she doesn't want to face. Though Nat's relationship with her father could have used a bit more development, there is much to recommend here. The frank, sometimes profanity-laced prose suits the subject matter and will engage reluctant readers. Nat's penchant for self-destructive behaviors, including her pursuit of Joe, only augments a reader's sympathy and curiosity for what motivates her. In Nat—a female counterpart to Sutter Keeley of Tim Tharp's The Spectacular Now (2008)—Desir crafts a portrait of a teenage alcoholic that is honest and unsparing.
— Booklist

Gr 9 Up—Seventeen-year-old Natalie's story starts with"I'd cut a bitch for a cigarette," hooking readers immediately. Inthis gritty and honest tale, Nat's struggle with sobriety starts withcourt-ordered AA meetings and community service after a DUI incident. She is afighter, literally. Her parents' demand that she quit boxing leads to herdrinking. Nat fills the holes in her life with booze and sex. Without anaddiction, she feels lost. Enter Joe, the sexy, 30-something would-be sponsorNat bums cigarettes off of during meetings. Though Joe tries to shut down Nat'soutrageous flirting, the sexual tension is palpable, foretelling the inevitabletrain wreck. Desir writes the relationship as an ill-fated May/December romancebetween two addicts. If Nat and Joe do not have alcohol, they will findsomething else to quench their needs. In this case, they find each other, untilthat implodes. While this situation lends itself to controversy, it alsoinvites conversation. Other plot threads—losing friends and reuniting withothers, relapses, and Natalie's parents' rocky marriage—round out therecovering addict's experience. Facing her demons, Nat evolves from arightfully angry teen to a wiser, emotionally stronger young woman able tostand on her own without a man or alcohol, and readers will cheer for hersuccess. Not for the faint of heart (Joe's rock bottom story involves a deadhooker), Natalie's story is told without judgement and with an uncannyunderstanding of the 12-step program. This is sure to appeal to fans of NicSheff's Tweak (S. & S., 2008), Koren Zailckas's Smashed (Viking, 2005), andthe-like. VERDICT This title deserves a place on high school shelves.—LauraFalli, McNeil High School, Austin, TX
— School Library Journal
Simon & Schuster Books for Young Readers, 9781481437400, 272pp.
Publication Date: April 25, 2017
About the Author
C. Desir writes dark contemporary fiction for young adults. She lives with her husband, three small children, and overly enthusiastic dog outside of Chicago. She has volunteered as a rape victim activist for more than ten years, including providing direct service as an advocate in hospital ERs. She also works as an editor at Samhain Publishing. Visit her at ChristaDesir.com.