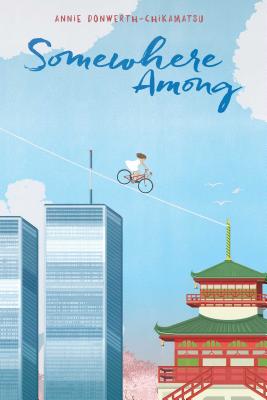 Somewhere Among (Hardcover)
Atheneum/Caitlyn Dlouhy Books, 9781481437868, 448pp.
Publication Date: April 26, 2016
Other Editions of This Title:
Paperback (4/25/2017)
* Individual store prices may vary.
Description
A beautiful and haunting debut novel in verse about an American-Japanese girl struggling with the loneliness of being caught between two worlds when the tragedy of 9/11 strikes an ocean away.

Eleven-year-old Ema has always been of two worlds—her father's Japanese heritage and her mother's life in America. She's spent summers in California for as long as she can remember, but this year she and her mother are staying with her grandparents in Japan as they await the arrival of Ema's baby sibling. Her mother's pregnancy has been tricky, putting everyone on edge, but Ema's heart is singing—finally, there will be someone else who will understand what it's like to belong and not belong at the same time.

But Ema's good spirits are muffled by her grandmother who is cold, tightfisted, and quick to reprimand her for the slightest infraction. Then, when their stay is extended and Ema must go to a new school, her worries of not belonging grow. And when the tragedy of 9/11 strikes, Ema, her parents, and the world watch as the twin towers fall…

As Ema watches her mother grieve for her country across the ocean—threatening the safety of her pregnancy—and her beloved grandfather falls ill, she feels more helpless and hopeless than ever. And yet, surrounded by tragedy, Ema sees for the first time the tender side of her grandmother, and the reason for the penny-pinching and sternness make sense—her grandmother has been preparing so they could all survive the worst.

Dipping and soaring, Somewhere Among is the story of one girl's search for identity, inner peace, and how she discovers that hope can indeed rise from the ashes of disaster.
About the Author
Annie Donwerth-Chikamatsu's debut novel Somewhere Among, based on life in a bicultural multi-generational home in Tokyo, won the Freeman Award, SCBWI Crystal Kite Award, Writers' League of Texas Book Award, and was a Bank Street Best Book of the Year. She still lives in Tokyo, Japan, after raising two children and experiencing the 2011 earthquake and aftershocks. After inheriting the garden work from Great-grandfather and Grandfather, she has spent a lot more time gardening. It keeps her grounded.
Praise For Somewhere Among…
During her mother's difficult pregnancy, Ema andher parents move in with her Japanese grandparents. Usually, in August, Ema andher white, American mother visit Nana and Grandpa Bob in California. But Mom'spregnant and weak, so they move in with Papa's parents on the other side ofTokyo. A new neighborhood's hard, especially for a biracial kid who's called"foreigner" by strangers but identifies as Japanese. Ema describesher life and cares in thoughtful, quietly detailed free-verse poems. Sheworries about the baby ("Other babies have almost come but werelost"), the judgment of her domineering Obaasan (grandmother), and thefrailty of sweet Jiichan (grandfather); she misses Papa, who's almost always atwork. Carefully, she refrains from burdening anyone with her concerns. Wovenright into this family's heart are events past and present, local andfar-flung. One is Jiichan's boyhood trauma during World War II, "in thehills / watching / outside Nagasaki, "and how that bombing means thatJiichan's ancestors have nothing like a grave: "There is nothing / nothing / left of Jiichan's family." Another is the Sept. 11, 2001, attacks,which they watch unfold from Japan and which threaten her fragile mother'speace of mind. An occasional one-sentence poem, starkly alone on a page,strikes hard. Ema's profound choice of her baby sister's name brilliantlytouches all the themes, including peace. A tender piece about connectedness.(Verse historical fiction. 9-12
— Kirkus, STARRED REVIEW

Ema's mom is expecting a new baby, and the pregnancy has been a tricky one, so her parents decide that she and her mother will stay in Japan with her paternal grandparents until the baby arrives. Complicating matters is the fact that her grandparents are very traditional and strict, which makes the biracial tween feel like even more of an outsider. She cannot keep herself from missing her old life of spending summers with her American maternal grandparents or relaxing with her father after work. To make matters worse, it seems she can never make her Japanese grandmother happy. Then tragedy after tragedy strike—all set against the backdrop of September 11, 2001. Everything starts to fall apart. After receiving a small gift during a chance meeting on a train, Ema realizes that she must do her best to remain positive and endure. Written as a first-person novel in free verse poetry, this is an engaging, quick read. Readers will relate to Ema's struggles to grow up and understand how different people react to grief and conflict. Those unfamiliar with Japanese culture will get a glimpse into how other students grow up. Though the topic is heavy, Donwerth-Chikamatsu's writing style will keep even reluctant readers wanting to know more about Ema's life long after the novel's end. This debut is sure to get young students thinking about global connections and how remaining positive through adversity in their own lives may make things a little better. VERDICT An absorbing and affecting story featuring a biracial middle grade protagonist.
— School Library Journal

Eleven-year-old Ema lives in a blend of Japanese and American cultures. As she says,"binational/bicultural/bilingual biracial," and "half this/half that." As the summer of 2001 begins, Ema ispreparing to leave Tokyo, but not for her traditional California summer with her mom's parents. This summer, Ema and her expectant mother retreat to the home of Papa's parents in western Japan. Ema's fierce obaasan is counterbalanced by her gentle jiichan, who never misses the daily news broadcast. This backdrop of world events maintains its own tension as Ema faces the challenges of school and a particularly troublesome classmate. Written in free-verse poems, this novel has a quiet pace reflecting the tranquility of traditional Japanese culture. As some readers might anticipate, the calamitous events of 9/11 reverberate across the distance to rattle Ema's world. The combination of free verse from the vantage of a mixed-race Japanese American youth is reminiscent of Holly Thompson's writing, although this book is better suited for younger readers. — Diane Colson
— Booklist

Ema'slife is in flux: her pregnant mother needs rest, so they've left Ema's fatherin Tokyo while they stay with her grandparents, Obaasan and Jiichan, in thecountry. Ema misses her home and friends, as well as visiting her maternalgrandparents in California in the summer. Meanwhile, her American motherclashes with Obaasan frequently; Ema has trouble getting to know her sterngrandmother, too, though she connects with kindhearted Jiichan. As fifth gradebegins, sensitive Ema has difficulties at school, including a bully, but hermain concern is the health of her mother's baby. Debut novelistDonwerth-Chikamatsu makes good use of the verse novel format to emphasize that"binational/ bicultural/ bilingual/ biracial" Ema is still learningEnglish while revealing an intimate portrait of her daily struggles in anunfamiliar place. The novel is set over the course of several months in 2001,and while the 9/11 connection feels a bit tenuous, it provides a moving outsideperspective on the tragedy and helps shape a universal message of "peaceamong nations/ peace among peoples/ peace in the heart." Ages 9–12.
— Publishers Weekly

Japanese fifth-grader Ema and her pregnant mother must move to the other side of Toyko to stay for several months with Obaasan and Jiichan, Papa's parents: Mom is weak with debilitating morning sickness, and Papa works long hours. No one is happy with the situation—Ema will miss her usual summer visit to Mom's parents in California; stern Obaasan is overly controlling and critical; and Ema must deal with new schoolmates—and a bully. The one bright spot for Ema is Jiichan, who enjoys spending time with his granddaughter. Ema's narration in this free-verse novel is quiet and thoughtful. The year is 2001, and the news is filled with heartbreak: the tragedy of the Ehime Maru, the Japanese ship sunk by an American submarine; the commemoration in August of the anniversaries of Hiroshima and Nagasaki (where Jiichan lost his whole family); and then September 11th, especially traumatic for Ema's American mother. The word heart appears throughout the poems, leading gradually to the climax, as Jiichan's heart lands him in the hospital and a stranger gives Ema an origami doll with a heart on it and a message of peace—a message that awakens in Obaasan a change of heart. When the baby arrives, Ema comes up with the perfect name for her new sister—leaving her family and readers feeling full of hope for the future. Though Ema sometimes sounds older than eleven, that's a small caveat in an otherwise well-crafted, deeply absorbing novel.
— Horn Book Magazine