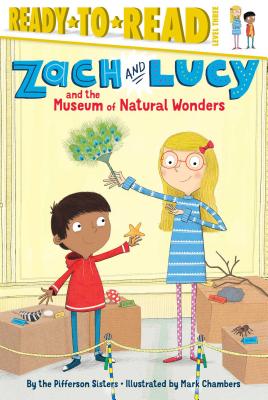 Zach and Lucy and the Museum of Natural Wonders (Paperback)
Simon Spotlight, 9781481439350, 40pp.
Publication Date: January 12, 2016
* Individual store prices may vary.
Description
In this charming and hilarious Level 3 Ready-to-Read, practical Zach and his inventive sister Lucy live in a little apartment in a big city—their space may be small, but their imaginations are just the opposite.

In their first big adventure, scheming siblings Zach and Lucy decide to create their own museum…in the basement of their apartment building!

They go door-to-door asking for contributions to the Museum of Natural Wonders and come away with everything from a tarantula (from Oliver in 2D) to baby teeth (from Henry in 4H). All of their fellow residents are impressed with the museum…well, everyone except grumpy Mrs. Blankenship in apartment 2C. Will Zach and Lucy be able to find a way make Mrs. Blankenship smile?
About the Author
The Pifferson Sisters are Jennifer Bradbury and Stephanie Guerra. Jennifer is the author of the middle grade novel River Runs Deep. She lives in Burlington, WA. Stephanie is the author of the middle grade novel Billy the Kid is Not Crazy. She lives in Seattle.

Mark Chambers has illustrated numerous international books and products. He graduated from the Lincoln School of Art and Design in the United Kingdom. Mark currently lives and works in London, England.