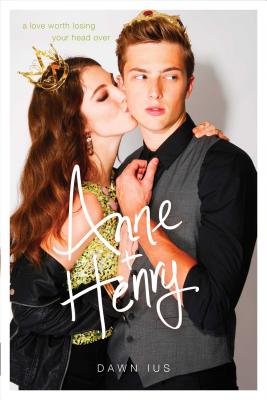 Anne & Henry
Paperback

* Individual store prices may vary.
Other Editions of This Title:
Hardcover (9/1/2015)
Description
In this wonderfully "clever and compelling" (Kirkus Reviews) retelling of the infamous—and torrid—love affair between Anne Boleyn and King Henry VIII, history collides with the present when a sizzling romance ignites in a modern-day high school.

Henry Tudor's life has been mapped out since the day he was born: student body president, valedictorian, Harvard Law School, and a stunning political career just like his father's. But ever since the death of his brother, the pressure for Henry to be perfect has doubled. And now he's trapped: forbidden from pursuing a life as an artist or dating any girl who isn't Tudor-approved.

Then Anne Boleyn crashes into his life.

Wild, brash, and outspoken, Anne is everything Henry isn't allowed to be—or want. But soon Anne is all he can think about. His mother, his friends, and even his girlfriend warn him away, but his desire for Anne consumes him.

Henry is willing to do anything to be with her, but once they're together, will their romance destroy them both?

Inspired by the true story of Anne Boleyn and King Henry VIII, Anne & Henry beautifully reimagines the intensity, love, and betrayal between one of the most infamous couples of all time.
Praise For Anne & Henry…
"Students of history already know where this is headed, but Ius' creative interpretations of the facts are seductive, and she weaves an intriguing web around the doomed lovers. Her prose evokes both the intoxication of teen lust and the treacherous social landscape of adolescence. The first-person narration, alternating between Anne and Henry, draws a layered portrait of two flawed players in a rigged game who are simultaneously affecting and a bit unlikable in their addled decision-making. The end of the affair has a cinematic flair. Clever and compelling storytelling from a promising writer."
— Kirkus Reviews

Set in modern-day Medina, WA, this story is a reimagining of the intense, dramatic (and short) relationship between King Henry VIII and Anne Boleyn. Henry can see his future as clearly as if it was sitting in his palm. He will bow to familial pressure. Once he graduates from high school, he will go to Harvard. He will marry his longtime girlfriend, Catherine. Then he will pursue politics on a national level. All of this seems certain until Anne Boleyn arrives in Medina. Gorgeous but lacking the polish of other Medina girls, Anne does not fit in at the posh high school. The story is told from the alternating viewpoints of Henry and Anne. The protagonist are well developed. Henry's struggle to please his mother and satisfy his own desires is filled with tension that will ring true for many teens. Anne's fruitless efforts to fit in are fraught with angst that will resonate with readers. This soap opera for teens features deception and intrigue aplenty. All of the adolescents are gluttonously wealthy and amazingly sophisticated. Also, they are self-absorbed, spoiled, and prolific swearers. Parents are around but never when they should be. The teens have several opulent parties, all of which involve lots of drinking. Sex is referred to often and described explicitly at least once. VERDICT The over-the-top wealth and intrigue will appeal to fans of Cecily Von Ziegesar's "Gossip Girls" (Little, Brown) and Sara Shepard's "Pretty Little Liars" (HarperCollins).
— School Library Journal - July 2015

As the second son of the wealthiest family in Medina, Henry seems to have it all—but then his brother Arthur dies, and Henry's life is no longer his own. He is to date, and eventually marry, Arthur's girlfriend, Catherine. He has to go to Harvard and pursue a career in politics that ends in the White House. So, when Anne moves to town with her unorthodox ways, the temptation to buck the expected—coupled with the chemistry between them—proves too much for Henry to resist. Henry wrestles with a well-meaning but controlling mother, while Anne is fleeing from her own family secrets, knowing she will never fit in. High-school politics and dysfunctional family relationships are thrown into sharp relief in Ius' first YA novel. Told in chapters that alternate between Henry's and Anne's perspectives, this contemporary spin on the true story of King Henry VIII and Anne Boleyn oozes sexual and dramatic tension reminiscent of Stephenie Meyer's Twilight (2005). With a little effort, this title will fly off the shelves.
— Booklist - September 15, 2015
Simon & Schuster Books for Young Readers, 9781481439428, 320pp.
Publication Date: September 13, 2016
About the Author
Dawn Ius is the author of Anne & Henry, Overdrive, and Lizzie. When she's not slaying fictional monsters, she can be found geeking out over things like true love and other fairy tales, Jack Bauer, sports cars, Halloween, and all things that go bump in the night. She lives in Alberta, Canada, with her husband, Jeff; their giant English Mastiff, Roarke; and their Saint Bernard, Charley.
or
Not Currently Available for Direct Purchase