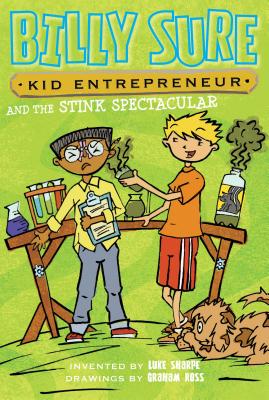 Billy Sure Kid Entrepreneur and the Stink Spectacular (Paperback)
Simon Spotlight, 9781481439503, 160pp.
Publication Date: May 26, 2015
Other Editions of This Title:
Paperback (5/26/2015)
Paperback (9/1/2015)
Paperback (5/2/2017)
Hardcover (12/6/2016)
Paperback (1/12/2016)
Paperback (3/15/2016)
Paperback (10/11/2016)
Paperback (12/6/2016)
* Individual store prices may vary.
Description
Billy Sure, twelve-year-old inventor and CEO of Sure Things, Inc., adds espionage to his resume in the second book of a hilarious middle grade series!

Billy Sure is many things: CEO of Sure Things, Inc., a sleepwalking seventh-grader, and now he's adding spy to the list! When Billy finds out he's been exchanging emails with a corporate spy from a rival company, he's not happy. So he enlists the help of his mother and his best friend and CFO, Manny, to set a trap to catch the shady email impostor before he can reveal Sure Things, Inc.'s valuable secrets!

Meanwhile, Billy and Manny are arguing about Billy's newest invention—the Stink Spectacular. Billy thinks the Stink Spectacular is the next All Ball, but Manny's not convinced. Can Billy save his company from sabotage, come up with his next big invention, and survive his dad's terrible cooking?
About the Author
Luke Sharpe is not a millionaire, but he has been trying to invent a machine that can teleport people anywhere in the world since he was eight years old. He has so far been unsuccessful but he has vowed never to give up. When he isn't working, Luke enjoys Hawaiian pizza and skateboarding. He lives near Chicago with his wife and son (named Billy, of course), their gecko, Eddie, and their aquarium full of exotic fish.

Graham Ross has grand plans for world domination through his illustrated inventions. Right now he's having a "ball" hanging out with Billy Sure, the next sure thing! Graham lives in a little log home in the woods with his inventive family, just outside of Merrickville, Canada.