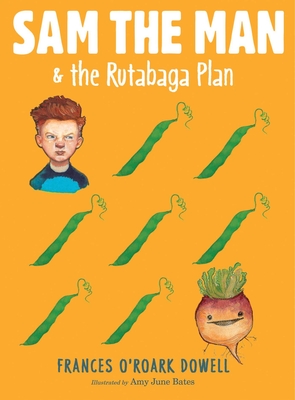 Sam the Man & the Rutabaga Plan (Hardcover)
Atheneum/Caitlyn Dlouhy Books, 9781481440691, 128pp.
Publication Date: February 14, 2017
* Individual store prices may vary.
Description
Sam the Man has a new school project. He's got to "babysit" a vegetable in this second hilarious chapter book in a new series from Frances O'Roark Dowell.

Sam the Man is back, and he needs a NEW plan. Sam has already solved a chicken problem, but this time, he's having rutabaga issues. Rutabaga? Yes, Rutabaga. You see, Sam thought he was quite clever, missing school while his classmates were picking out their vegetable for a two-week science project. But, instead of being able to skip the project, he gets stuck with the vegetable that no one else wanted: the rutabaga!

What even is this thing? It's dirty and kinda purple, and it does not look like something Sam would ever eat. Sam the Man is not a vegetable man to begin with, and he doesn't think he'll ever be a rutabaga man. But after drawing a little face on it, he starts to grow fond of the curious veg. Then it dawns on him that vegetables don't last forever…so he changes his plan: he has to keep this rutabaga happy—and rot-free—for as long as he can. To do that, he'll have to make the best dirt possible. All he needs is a little help from nature, and, of course, his chickens!
Praise For Sam the Man & the Rutabaga Plan…
Sam's second grade class is studying vegetables. On the day each student is given a veggie, Sam is absent and ends up with the lowly root that no one else wanted—the rutabaga. At first Sam is uncertain about spending time with this seemingly bland and uninteresting globe. However, as the class delves into the science of agriculture, Sam starts to bond with his tuber. In fact, he adds a face with a permanent marker and names his new friend Rudy. Sadly, as time goes on, Sam notices that some of the other students' produce has begun to wilt. He begins to understand that Rudy will not last forever. So the lad comes up with a plan. With the help of kindly neighbors, his chickens, and his compost, Sam is determined to find a way to keep Rudy around as long as possible. This tale of a young boy using his wits and determination to help a friend, who just happens to be a rutabaga, is both instructive and inspirational. VERDICT With witty dialogue and pleasing illustrations, this second installment will engage younger elementary school readers.