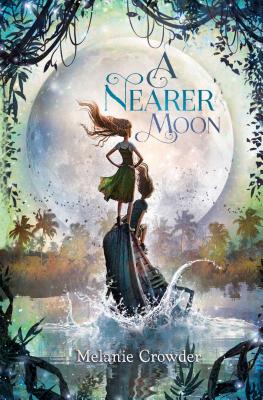 A Nearer Moon (Hardcover)
Atheneum Books for Young Readers, 9781481441483, 160pp.
Publication Date: September 8, 2015
Other Editions of This Title:
Paperback (8/30/2016)
* Individual store prices may vary.
Description
In a small river village where the water is cursed, a girl's bravery could mean the difference between life and death in this magical story of "perseverance and hope" (Kirkus Reviews, starred review) from the author of Parched and Audacity.

Along a lively river, in a village raised on stilts, lives a girl named Luna. All her life she has heard tales of the time before the dam appeared, when sprites danced in the currents and no one got the mysterious wasting illness from a mouthful of river water. These are just stories, though—no sensible person would believe in such things.

Beneath the waves is someone who might disagree. Perdita is a young water sprite, delighting in the wet splash and sparkle, and sad about the day her people will finally finish building their door to another world, in search of a place that humans have not yet discovered.

But when Luna's little sister falls ill with the river sickness, everyone knows she has only three weeks to live. Luna is determined to find a cure for her beloved sister, no matter what it takes. Even if that means believing in magic…
About the Author
Melanie Crowder lives on the Colorado Front Range, where she is a writer and educator. She holds an MFA in writing from Vermont College of Fine Arts. She is the author of the young adult novels Audacity and An Uninterrupted View of the Sky and the middle grade novels Parched, A Nearer Moon, The Lighthouse between the Worlds, and A Way between Worlds. Visit her at MelanieCrowder.com.
Praise For A Nearer Moon…
STARRED REVIEW: "This lyrical story has a once-upon-a-time quality and, like the best of fairy tales, an evil to be overcome, a magic charm, and a lesson to be gleaned. Crowder's language is sumptuous, written with an elegiac quality that suits the wistful longings of her protagonists. A quiet story of perseverance and hope, exquisitely written with words and images that demand savoring."

"Crowder blends gorgeously poetic language with precisely observed detail in this delicate fantasy of sisterly love tested by separation and illness."
— Publishers Weekly, STARRED REVIEW

"Told in alternating chapters of the past fairy time and Luna's present, this meandering tale highlights the power of sisterly love in a truly enchanting way."
— School Library Journal, STARRED REVIEW

Luna lives in a swamp. It didn't used to be a swamp. Back in Granny Tu's time, it was a lovely flowing river, filled with sprites and fairies and magic where all of the people of the village were happy. Now the fairies are gone and the magic has turned dark and there is a sickness in the water. Or so they say. Luna doesn't believe a word of it. She only believes what she can see and touch and hear. When Luna's beloved younger sister, Willow, falls into the swamp and catches the river sickness, Luna's family is torn asunder. Willow has three weeks until she wastes away and dies, just like their father did years earlier. Luna's brave journey to save her sister takes her to places her mother told her never to go and to the very heart of the dark magic. Told in alternating chapters of the past fairy time and Luna's present, this meandering tale highlights the power of sisterly love in a truly enchanting way. VERDICT The book is an easy read and will appeal to lower level/higher interest readers but its charming narrative will be sure to captivate everyone.
— School Library Journal, STARRED REVIEW