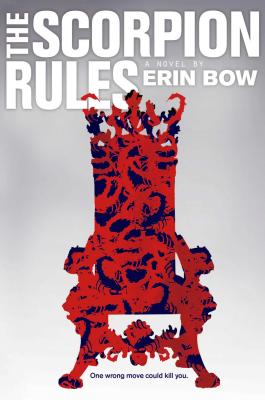 The Scorpion Rules (Prisoners of Peace)
Hardcover

* Individual store prices may vary.
Other Editions of This Title:
Digital Audiobook (9/21/2015)
Paperback (6/7/2016)
Description
The children of world leaders are held hostage in an attempt to keep the peace in this "slyly humorous, starkly thought-provoking" (Kirkus Reviews, starred review) novel.

Greta is a Duchess and a Crown Princess. She is also a Child of Peace, a hostage held by the de facto ruler of the world, the great Artificial Intelligence, Talis. This is how the game is played: if you want to rule, you must give one of your children as a hostage. Start a war and your hostage dies.

The system has worked for centuries. Parents don't want to see their children murdered.

Greta will be free if she can make it to her eighteenth birthday. Until then she is prepared to die with dignity, if necessary. But everything changes when Elian arrives at the Precepture. He's a hostage from a new American alliance, and he defies the machines that control every part of their lives—and is severely punished for it. His rebellion opens Greta's eyes to the brutality of the rules they live under, and to the subtle resistance of her companions. And Greta discovers her own quiet power.

Then Elian's country declares war on Greta's and invades the prefecture, taking the hostages hostage. Now the great Talis is furious, and coming himself to deliver punishment. Which surely means that Greta and Elian will be killed...unless Greta can think of a way to break all the rules.
Praise For The Scorpion Rules (Prisoners of Peace)…
*"Slyly humorous, starkly thought-provoking, passionate, and compassionate—and impeccably written to boot: not to be missed."
— Kirkus Reviews, Starred Review

*"Bow continually yanks the rug out from under readers, defying expectations as she crafts a masterly story with a diverse cast, shocking twists, and gut-punching emotional moments."
— Publishers Weekly, starred review

*"Masterful, electric prose... Bow delivers a knockout dystopian novel that readers will devour with their hearts in their mouths."
— School Library Journal, Starred Review

"Bow has crafted a true sci-fi narrative around the AI premise, utilizing an imaginative world and well-developed characters. Through Greta's conflicts, the author explores what it means to be human."
— Booklist

" This is a smart, compelling read that explores the complicated nature of love, family, peace, war, and technology; fans of Johnson's Summer Prince and Collins's Hunger Games who are searching for an empowering and intelligent read-alike need look no further."
— The Horn Book Magazine

"This is fearfully superlative storytelling- electrical tension crackles in every elegant word. The finest fiction I'veread this year."
— Elizabeth Wein, author of Code Name Verity

"Bow's amoral artificial intelligence overlordis one of my favorite characters in a while."
— Maggie Stiefvater, author of The Raven Boys

"In Fairy Tales, princesses are always worried about who they are going to marry. Greta is more concerned with her responsibilities as a future head of state. Erin Bow's Greta is my kind of Princess."
— Megan Whalen Turner, author of The Thief

"The Scorpion Rules is one of the most inventive, devious, exciting and thoroughly enjoyable books I've read in years. Very highly recommended!"
— Jonathan Maberry, New York Times bestselling author of ROT & RUIN and THE NIGHTSIDERS

"Clever and unexpected, THE SCORPION RULES is a game-changing novel about the consequence of war and the brutality of peace. Unforgettable!"
— Suzanne Young, New York Times bestselling author of The Program series

"Elegant world-building, white-knuckle plot, and wonderful characters make The Scorpion Rules an extraordinary tale. I couldn't put it down."
— V.E. Schwab, author of A Darker Shade of Magic

"Bow's vision ofour apocalypse is stark, beautiful and terrifying. This is my favouritebook."
— EK Johnston, author of The Story of Owen

"I don't know which is more delicious, the storytelling or the villain."
— Tone Almhjell, author of The Twistrose Key

"THE SCORPION RULESis a bloody, breath-taking, beautiful book… As a fellow craftsperson I'm leftin awe, and as a reader I'm left feeling transformed."
— Zoe Marriott, author of The Name of the Blade series
Margaret K. McElderry Books, 9781481442718, 384pp.
Publication Date: September 22, 2015
About the Author
Erin Bow is the author of The Scorpion Rules, which received three starred reviews and was a Kirkus Reviews Best Book of the Year and it's sequel, The Swan Riders, which received two starred reviews. She also wrote the acclaimed Russian-flavored fantasy Plain Kate, which received two starred reviews and was a YALSA Best Book of the Year, and the terrifying YA ghost story Sorrow's Knot, which received five starred reviews and was a Kirkus Reviews Best Book of the Year. Visit her at ErinBow.com.
What genre would you consider The Scorpion Rules to be?
The Children of Peace have been trained to behave in a
dignified manner, even when they are facing death. Do
you think this training is cruel?
The political conflict in The Scorpion Rules is about access to fresh
water. Discuss whether this seems plausible.
Is Talis a multidimensional character? How does the author present
him as male even though he inhabits a female body?
Greta finds herself falling in love with Xie while she is also drawn to
Elián. Do you think it's natural that she could care for both of them?
Does it seem to matter in their society?
Discuss the following quote from Chapter 11: "You cannot control a
man if you take everything from him. You must leave him something to
lose." Is there a certain freedom that comes from being unencumbered?
The Abbot is a Class Two Artificial Intelligence with full rights of
personhood. How does the Abbot demonstrate human qualities?
In Chapter 8, shortly after Elián's arrival, Greta says, "I had changed."
How has her relationship with the Abbot and her mother shaped her
character? How has knowing Elián helped cause these changes?
Xie and Elián tell Greta that they think about escaping all the time, but
Greta has never thought about it. Is it because she thinks being a Child
of Peace is her destiny, or is she just resigned to her fate?
As the story progresses, Greta begins to discover and claim her power. Are
you worried that once she has joined Talis she will misuse her authority?
Almost as soon as Cumberlanders invade the Precepture, Tolliver Burr
begins planning Greta's torture with the apple press. Why is torture
one of the rituals of war? Do you think torture always gets "results"?
Do you agree with Greta that Elián is being stupid for challenging the
status quo, or is he being heroic, like Spartacus?
In Chapter 20, after the Abbot tells Greta there might be an alternative
to dying, she thinks: "Stirring inside me was the kind of fear that
comes with hope." What does Greta mean? Do you think that hope
can inspire fear?
or
Not Currently Available for Direct Purchase