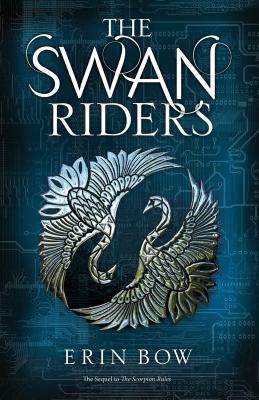 The Swan Riders (Prisoners of Peace) (Hardcover)
Margaret K. McElderry Books, 9781481442749, 384pp.
Publication Date: September 20, 2016
Other Editions of This Title:
Digital Audiobook (9/19/2016)
Paperback (9/19/2017)
* Individual store prices may vary.
Description
Treacherous twists await Greta as the stakes get even higher in this stunning follow-up to the "masterful" (School Library Journal, starred review) novel, The Scorpion Rules.

Greta Stuart has become AI. New transmitters have silvered her fingerprints. New receptors have transformed her vision. And the whole of her memory has become one book in a vast library of instant knowledge. Greta is ready to rule the world.

But the new technology is also killing her.

Greta is only sixteen years old, but her new enhancements are burning through her mortal body at an alarming rate. Of course the leader of the AIs, an ancient and compelling artificial intelligence named Talis, has a plan. Greta can simply do what he's done when the time comes, and take over the body of one of the Swan Riders, the utterly loyal humans who serve the AIs as part army, part cult.

First though, Greta will have to find a way to stay sane inside her new self. Talis's plan for that involves a road trip. Escorted by Swan Riders, Greta and Talis set out on a horseback journey across the strange and not-quite-deserted landscape of Saskatchewan. But there are other people interested in Greta, people who want to change the world…and the Swan Riders might not be as loyal as they appear…
About the Author
Erin Bow is the author of The Scorpion Rules, which received three starred reviews and was a Kirkus Reviews Best Book of the Year and it's sequel, The Swan Riders, which received two starred reviews. She also wrote the acclaimed Russian-flavored fantasy Plain Kate, which received two starred reviews and was a YALSA Best Book of the Year, and the terrifying YA ghost story Sorrow's Knot, which received five starred reviews and was a Kirkus Reviews Best Book of the Year. Visit her at ErinBow.com.
Praise For The Swan Riders (Prisoners of Peace)…
*"Slyly humorous, starkly thought-provoking, passionate, and compassionate—and impeccably written to boot: not to be missed."

*"Bow continually yanks the rug out from under readers, defying expectations as she crafts a masterly story with a diverse cast, shocking twists, and gut-punching emotional moments."

*"Masterful, electric prose... Bow delivers a knockout dystopian novel that readers will devour with their hearts in their mouths."

"Bow has crafted a true sci-fi narrative around the AI premise, utilizing an imaginative world and well-developed characters. Through Greta's conflicts, the author explores what it means to be human."

" This is a smart, compelling read that explores the complicated nature of love, family, peace, war, and technology; fans of Johnson's Summer Prince and Collins's Hunger Games who are searching for an empowering and intelligent read-alike need look no further."

"This is fearfully superlative storytelling- electrical tension crackles in every elegant word. The finest fiction I've read this year."
— Elizabeth Wein, author of Code Name Verity

"Bow's amoral artificial intelligence overlord is one of my favorite characters in a while."

"The Scorpion Rules is one of the most inventive, devious, exciting and thoroughly enjoyable books I've read in years. Very highly recommended!"
— Jonathan Maberry, New York Times bestselling author of ROT & RUIN and THE NIGHTSIDERS

"Clever and unexpected, THE SCORPION RULES is a game-changing novel about the consequence of war and the brutality of peace. Unforgettable!"

"Elegant world-building, white-knuckle plot, and wonderful characters make The Scorpion Rules an extraordinary tale. I couldn't put it down."

"Bow's vision of our apocalypse is stark, beautiful and terrifying. This is my favourite book."

"I don't know which is more delicious, the storytelling or the villain."

"THE SCORPION RULES is a bloody, breath-taking, beautiful book… As a fellow craftsperson I'm leftin awe, and as a reader I'm left feeling transformed."

*"A fascinating follow-up and stunning story that is a must-read."
— School Library Journal *STARRED*

*"Brilliant and compelling: don't miss this."
— Kirkus Reviews, Starred Review