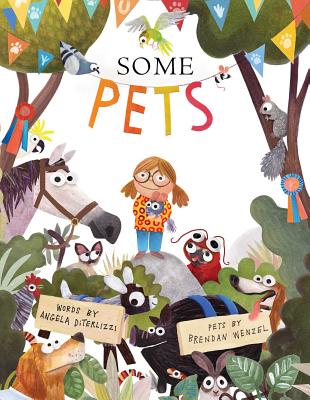 Some Pets
Hardcover

* Individual store prices may vary.
Description
The duo that brought you the "bright" and "breezy" (Booklist) Some Bugs is back with a vibrant companion book that's packed with your favorite pets.

Some pets sit.
Some pets stay.
Some pets fetch,
And some pets play.

Come one, come all, to the pet show! With dogs and cats, horses and chickens, hamsters and chinchillas—and many, many more!—this book celebrates animal companions of all shapes and sizes. Who will take home the coveted Best in Show ribbon? Join the fun to find out!
Praise For Some Pets…
Children and animals mingle at a pet show in this picture book. Variety is on full display in this second collaboration by DiTerlizzi and Wenzel. Their first, Some Bugs (2014),had its reveal at the end of the story. In this, the reveal comes first, as the double-spread title page shows a city park hosting a busy pet show. The illustrations that follow—all double-page spreads—are scenes pulled out and amplified from this beginning overview. DiTerlizzi's spare, rhyming words give structure to Wenzel's kaleidoscopic illustrations, which in their turn amply adorn the minimalist text. The plot is a celebration of diversity, both human and animal,as everyone cavorts and cuddles. The idea of animals sharing space with humans in a human-created habitat is a nice one, and a note from the creators at the end emphasizes the commitment needed for responsible pet ownership....
— Kirkus Reviews

This bright and bouncy story in verse is about an array of pets and what they do. "Some pets slither. Some pets bound. Some pets scurry round and round." Verbs describe how pets move, how they make sounds, how they eat, and how they show affection to their owners. The story ends with a statement about what all pets have in common. Humorous illustrations flesh out the simple text with mixed-media art that includes lots of cut-paper collage and what appear to be googly eyes. The bright, colorful illustrations are at their best when showing animals dressed for a costume party. Readers will have many observations about the animals in this story, as well as comments about their own pets or other animals they have known. Encourage young readers to find a word to describe how their pets move, make sounds, eat, or show affection, and, if appropriate, discuss the difference between nouns and verbs. VERDICT This fun, lively book will entertain kids at storytime, but it is also a simple way to begin discussing parts of speech. Recommended for all collections.
— School Library Journal

Using the setting of a pet show (a pretty raucous one), DiTerlizzi and Wenzel highlight the traits that make pets so great in this companion to 2014'sSome Bugs. "Some pets slither./ Some pets bound./ Some pets scurry round and round," writes DiTerlizzi as Wenzel's vivid mixed-media artwork shows a striped snake navigating an obstacle course, a rabbit bounding over hurdles, and a hamster giving it all he's got on a wheel. Bouncy verse, playful illustrated details, and abundant affection between animals and humans add up to an exuberant reminder of the joy that having a pet can bring. Ages 4–8.
— Publishers Weekly

In entertaining, witty fashion, the author-illustrator duo of Some Bugs (2014) here highlight a festive array of pets great and small. Set at a pet show in the park, various events from agility trials with a snake ("Some pets slither") and a rabbit ("Some pets bound"), to a pig race ("Some pets squeal"), to a costume party—featuring a dragon-suited dog and punk-rock Chihuahuas among others—give different pets a chance to shine. Eventually, there's a celebratory animal parade, culminating with all the pets and their diverse, youthful owners gathered for an award ceremony. Finally, after an exciting day, things quiet down with an affectionate concluding scenario and "Some pets can be . . . someone's best friend!" The short, descriptive text with refrain is enlivened with rhyming elements and interspersed sound effects.Meanwhile, the vibrant, collagelike mixed-media artwork incorporates cartoonish touches, amusing seek and- find details, and varying perspectives as animals interact with one another and their caretakers in a variety of playful scenarios, from chaotic to sweet. A closing author's note briefly touches on the responsibilities of pet ownership. Peppy, fun, and perfect for reading aloud. — Shelle Rosenfeld
— Booklist online
Beach Lane Books, 9781481444026, 32pp.
Publication Date: August 23, 2016
About the Author
Angela DiTerlizzi is a mom, wife, and author who loves writing books for children. Her picture books include Some Pets, Some Bugs, Baby Love, and Just Add Glitter. She and her husband, bestselling author/illustrator Tony DiTerlizzi, reside with their daughter in Amherst, Massachusetts.

Brendan Wenzel's artwork often explores the natural world and our relationship to it and he has teamed up with many groups working to preserve wild places and creatures around the world. He has illustrated several acclaimed animal-themed picture books, including Some Bugs and Some Pets by Angela DiTerlizzi, Beastly Babies by Ellen Jackson, and his own They All Saw a Cat. He lives in New York.