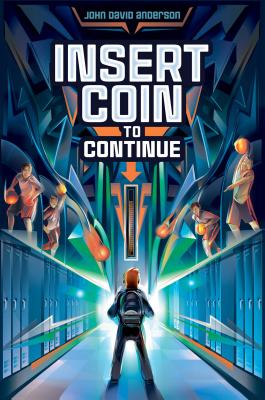 Insert Coin to Continue
Hardcover

* Individual store prices may vary.
Other Editions of This Title:
Paperback (9/19/2017)
Prebound (10/10/2017)
Description
Bryan Biggins wakes up to find that his life has become a video game in this funny, honest coming-of-age novel from the author of Ms. Bixby's Last Day, Sidekicked, and Minion.

Meet Bryan Biggins. Most of the time he's a freckle-faced boy, small for his age, who attends a school known for its unwritten uniform of North Face jackets and Hollister jeans. The rest of the time he is Kieran Nightstalker, the level-fifty dark-elf hero of his favorite video game, Sovereign of Darkness.

Until one day Bryan wakes up to find out his life has become a video game. Sort of. Except instead of fighting dragons or blasting bad guys, he's still doing geometry and getting picked last for dodgeball. It's still middle school. Only now there's much more at stake.

Stealing the Twinkie from underneath the noses of those dieting teachers isn't enough to earn him another life. And battling the creature that escaped from the science lab doesn't seem to cut it either. And who knew Romeo and Juliet would turn into a zombie bloodbath?!

All the while he's losing hit points and gaining levels, and facing the truth that GAME OVER might flash before his eyes at any minute. It all seems to be building to something…something that has been haunting Bryan since way before his life turned into an X-Box nightmare, a challenge that only he can face. Will Bryan find a way to beat the game before it's too late?
Praise For Insert Coin to Continue…
"Ready Player One for the middle grade crowd. . . .With fast-paced action and a fun, engaging voice, there is plenty here to hold interest. . . .Anderson combines action and realistic middle grade issues with video game references to produce a winning pick that's ideal for gamers or reluctant readers."
— School Library Journal

"In this clever deconstruction of video game tropes . . . Anderson (Ms. Bixby's Last Day) presents an entertaining romp in which a mundane school day takes on epic qualities."


— Publishers Weekly

"This enjoyable adventure with plenty of laugh-out- loud moments wins because it never takes itself too seriously. Reveling instead in its own oddly relatable premise, the novel offers readers an awkward nerd-turned-hero who learns lessons in real-world courage and self-confidence, while the story itself avoids the pitfalls of anti-gaming didacticism. The video game challenges are well crafted, and they reference a diverse list of unnamed games from Tetris to Frogger to Rock Band to Mortal Kombat, giving knowledgeable readers a chance to play guess-that-allusion. The overall quirky tone and set-up make for a likely success among readers who want a gamer hero and with retro-loving gamer-readers who aren't quite ready for Cline's Ready Player One."
— The Bulletin for the Center of Children's Books
Aladdin, 9781481447041, 336pp.
Publication Date: September 20, 2016
About the Author
John David Anderson writes novels for young people and then, occasionally, gets them published. He is the author of Ms. Bixby's Last Day, Sidekicked, Standard Hero Behavior, Minion, and The Dungeoneers. He lives with his patient wife and brilliant twins in Indianapolis, Indiana, right next to a State park and a Walmart. He enjoys hiking, reading, chocolate, spending time with his family, playing the piano, chocolate, not putting away his laundry, watching movies, and chocolate. He likes video games where mustachioed plumbers fall into pools of lava and thinks twenty minutes of Dance Dance Revolution counts as a full cardio workout. He has leveled up forty one times, but he hasn't grown up yet.
or
Not Currently Available for Direct Purchase