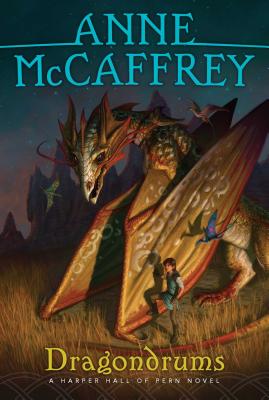 Dragondrums (Harper Hall of Pern #3)
Hardcover

* Individual store prices may vary.
Other Editions of This Title:
Digital Audiobook (10/24/2005)
Digital Audiobook (10/24/2005)
Digital Audiobook (5/15/2017)
Digital Audiobook (9/24/2005)
Digital Audiobook (7/11/2007)
Digital Audiobook (7/11/2007)
Digital Audiobook (7/11/2007)
Paperback (11/3/2019)
Paperback (4/1/2003)
Paperback (4/1/2003)
Mass Market (3/31/2015)
Mass Market (5/12/1986)
Mass Market (10/13/1986)
Mass Market (4/28/2015)
Hardcover (5/17/2016)
Compact Disc (4/1/2013)
Paperback (4/1/2003)
Description
As Menolly uncovers magic and intrigue, mischievous Piemur discovers the rhythm of adventure in the final book in the Harper Hall trilogy, set within science fiction legend Anne McCaffrey's beloved and bestselling Dragonriders of Pern series.

Mischievous Piemur is used to getting away with a lot. He has one of the most impressive voices at Harper Hall and, in the world of Pern, there are few things more important than the ability to sing and write songs. But when his voice begins to change, Piemur loses all confidence and questions everything he thought he knew about himself. No longer capable of singing, Piemur is sent on various errands by Masterharper Robinton, including the task of learning the complicated beats of the messenger drums. Piemur has no clue of the grand adventures that await him, and he'll need to find the courage within himself to survive.
Aladdin, 9781481448642, 240pp.
Publication Date: May 17, 2016
About the Author
Anne Inez McCaffrey (1926–2011) was an American-born Irish writer, best known for the Dragonriders of Pern science fiction series. Early in McCaffrey's forty-six-year career as a writer, she became the first woman to win a Hugo Award for fiction and the first to win a Nebula Award. Her 1978 novel The White Dragon became one of the first science fiction books to appear on the New York Times bestseller list. In 1999, she was the recipient of the Margaret A. Edwards Award, honoring her lifetime contribution to writing for teens. In 2005 the Science Fiction and Fantasy Writers of America named McCaffrey its twenty-second Grand Master, an annual award to living writers of fantasy and science fiction. She was inducted into the Science Fiction Hall of Fame in 2006.