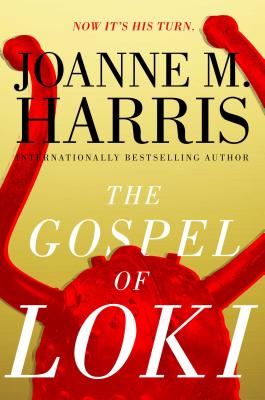 The Gospel of Loki (Hardcover)
Gallery / Saga Press, 9781481449465, 288pp.
Publication Date: May 5, 2015
Other Editions of This Title:
Digital Audiobook (5/4/2015)
Paperback (6/7/2016)
CD-Audio (5/5/2015)
Paperback (6/4/2015)
* Individual store prices may vary.
Description
"A surprise from the author of Chocolat," New York Times bestselling author Joanne M. Harris, "this pacy adult fantasy is narrated by Loki, the Norse god of fire and mischief" (Vogue).

This novel is a brilliant first-person narrative of the rise and fall of the Norse gods—retold from the point of view of the world's ultimate trickster, Loki. A #1 bestseller in the UK, The Gospel of Loki tells the story of Loki's recruitment from the underworld of Chaos, his many exploits on behalf of his one-eyed master, Odin, through to his eventual betrayal of the gods and the fall of Asgard itself.

Using her lifelong passion for the Norse myths, New York Times bestseller Joanne M. Harris has created a vibrant and powerful fantasy novel that the Sunday Sun recommends "to her long-standing audience with wit, style and obvious enjoyment;" The Sunday Times claims it "lively and fun;" and The Metro adds that "Harris has enormous fun with her antihero...this mythical bad boy should beguile fans of Neil Gaiman."
About the Author
Joanne Harris (MBE) was born in Barnsley in 1964, of a French mother and an English father. She studied modern and mediaeval languages at Cambridge and is the author of Chocolat (1999), which was made into an Oscar-nominated film starring Juliette Binoche and Johnny Depp. Since then, she has written several more novels, two collections of short stories, and three cookbooks. Her books are now published in more than fifty countries and have won a number of British and international awards. She is an honorary Fellow of St Catharine's College, Cambridge, and has been a judge for the Whitbread Prize, the Orange Prize, the Desmond Elliott Prize, and the Royal Society Winton Prize for Science. She works from a shed in her garden and lives with her husband and daughter in a little wood in Yorkshire.
Praise For The Gospel of Loki…
"If everything you know about Loki begins and ends with the actor Tom Hiddleston, this book is for you.

The way Harris writes him, you can't help but like him, even as he confesses to the most absurd and/or horrific deeds; well, you like him, but you wouldn't really want to be acquainted with him—being his enemy or his friend seems equally dicey. One has to admire the author for imposing her own take on the character."
— Kirkus Reviews

"The Gospel of Loki is a charming novel, told with snark, wit and familiarity. Harris's voice of Loki is an addictive thing, a pleasure to consume. While some may be most familiar with the Norse gods from the Marvel films, Harris draws the characters magnificently from their original inspirations and makes them her own."
— Rob Bedford