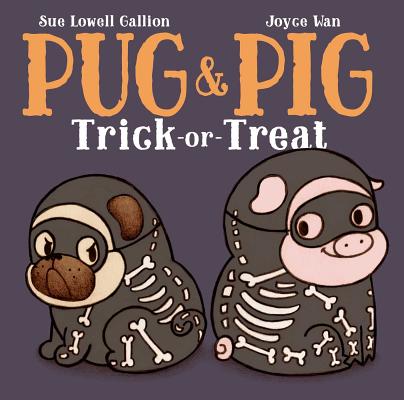 Pug & Pig Trick-or-Treat (Hardcover)
Beach Lane Books, 9781481449779, 40pp.
Publication Date: July 25, 2017
* Individual store prices may vary.
Description
Pug and Pig are back for a heartwarming Halloween adventure in this adorable picture book that's perfect for pet lovers of all ages.

Halloween night has come to Pug and Pig's house, and the darling duo is sporting matching costumes. The costumes are cozy. They glow in the dark. And they have masks! There's only one problem—Pug hates wearing his. So he decides to rip it up and stay home. But Halloween just isn't any fun for Pig without Pug! Can Pug find a way to be a good friend and get back into the Halloween spirit?
About the Author
Sue Lowell Gallion is a printer's daughter, so she has a life-long love of type, paper, and the aroma of ink. Her work has been published in Highlights, High Five, and Clubhouse Jr. Sue lives with her family in Leawood, Kansas. She is the author of Pug Meets Pig and Pug and Pig Trick-or-Treat.

Joyce Wan is the author and illustrator of several picture books, including Pug Meets Pig, Sleepyheads, Greetings from Kiwi and Pear, You Are My Cupcake, and We Belong Together. She also runs a design studio whose stationery and gift products are sold worldwide. Joyce lives with her husband in New York City. Visit her at WanArt.com.
Praise For Pug & Pig Trick-or-Treat…
The stars of Pug Meets Pig are back, and while they've acclimated to sharing a home, they aren't on the same page where Halloween is concerned. If possible, the pals are even more adorable this time around, thanks to their matching skeleton costumes. Pig adores everything about the outfit: its "snug fit," glow-in-the-dark bones, and mask. "Will anyone know who she is?" wonders Pig with glee, mugging for readers with an expression that approaches ecstasy. But Pug is miserable in his costume, and after he tears it to bits, Gallion subtly explores how the two stay true to themselves, respect what the other needs, and find common ground (namely by getting really muddy and scarfing down Halloween candy). Wan's art is almost impossibly cute, and the message about compromise is one for any time of year.
— Publishers Weekly *STARRED REVIEW

A costume kerfuffle may ruin Pig's celebration of Halloween, but Pug's quick thinking saves the day. Pug and Pig have matching costumes for Halloween: tight-fitting black suits with glowing bones. Pig adores hers. Pug decidedly does not; he shreds it all over the yard. But while Pug doesn't really care about the holiday, Pig cares very much. Whom will she share the day with? In a marvelous spread that shows Pug leaping off the easy chair and heading out the doggy door, Wan captures the dog's emotions: sympathy for his sad friend, the spark of an idea, and determination to carry it out. He heads to the muddy corner of the yard and suddenly becomes Pig's shadow, brown mud covering all of him except for an oval "mask" around his eyes. Together the best friends answer the door and pass out treats, go trick-or-treating, and enjoy the Halloween party. The final scene of the two, still in costume and snuggled in their house, is as satisfying as it gets. Gallion's tale works on many different levels: as a look at clever problem-solving and compromise, as a friendship story, and as a text suitable for early readers, with plenty of repetition, simple vocabulary, and short sentences. Wan's pencil-and-digital illustrations support all of this with spare backgrounds, simple details, and a focus on the friends' relationship. Delightful. (Picture book. 3-7)
— Kirkus Reviews *STARRED REVIEW

October 31 is here, and Pug and Pig are decked out in matching skeleton costumes. Pig couldn't be happier, but Pug can't stand the tight outfit, and he's afraid no one will recognize him in his mask. He rips apart the costume, deciding that this holiday isn't for him, but Pig is crestfallen at the prospect of celebrating Halloween without her pal. So Pug discovers a way to enjoy the festivities on his own terms. Coating himself with mud and calling himself Pig's shadow, Pug feels much more comfortable and readily joins in the fun. Softly rounded illustrations complement the concise, matter-of-fact text. Roly-poly Pig and Pug are utterly expressive. Despite the appropriately dark palette, there are no frightening ghouls or goblins here, and cozy details abound, such as the decorative scarecrow (a sweetly smiling sunflower dressed in overalls) and a wreath festooned with a cheery little ghost. Children, especially those a bit apprehensive about the holiday, will applaud Pug's solution and appreciate his willingness to seek a compromise. VERDICT A lovely addition to most libraries, especially for Halloween storytimes or where there are fans of the duo's first outing, Pug Meets Pig.


— School Library Journal