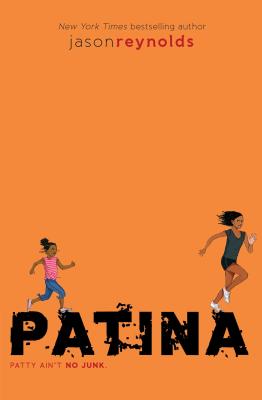 Patina (Track #2)
Hardcover

* Individual store prices may vary.
Other Editions of This Title:
Digital Audiobook (8/28/2017)
Paperback (10/23/2018)
Paperback, Large Print (5/22/2019)
Library Binding, Large Print (5/22/2019)
Prebound (10/23/2018)
Description
A New York Times Notable Children's Book

A newbie to the track team, Patina must learn to rely on her teammates as she tries to outrun her personal demons in this follow-up to the National Book Award finalist Ghost by New York Times bestselling author Jason Reynolds.

Ghost. Lu. Patina. Sunny. Four kids from wildly different backgrounds with personalities that are explosive when they clash. But they are also four kids chosen for an elite middle school track team—a team that could qualify them for the Junior Olympics if they can get their acts together. They all have a lot to lose, but they also have a lot to prove, not only to each other, but to themselves.

Patina, or Patty, runs like a flash. She runs for many reasons—to escape the taunts from the kids at the fancy-schmancy new school she's been sent to since she and her little sister had to stop living with their mom. She runs from the reason WHY she's not able to live with her "real" mom any more: her mom has The Sugar, and Patty is terrified that the disease that took her mom's legs will one day take her away forever. So Patty's also running for her mom, who can't. But can you ever really run away from any of this? As the stress builds up, it's building up a pretty bad attitude as well. Coach won't tolerate bad attitude. No day, no way. And now he wants Patty to run relay…where you have to depend on other people? How's she going to do THAT?
Praise For Patina (Track #2)…
African-American track phenom Patina Jones takes the baton from Ghost (2016) in the second volume of Reynolds' Track series for middle graders.Reynolds tells readers almost all they need to know about Patty in two opening, contrasting scenes. In the first, Patty misjudges her competitors in an 800-meter race she's certain she should have won. Running well but second is not enough for the ferociously competitive Patty. In the other, she braids her little sister's hair before church, finishing off each of Maddy's 30 braids with three beads. She does this every Sunday because their white adoptive mother can't ("there ain't no rule book for white people to know how to work with black hair") and because their birth mother insists they look their best for church. Their father dead and their birth mother's legs lost to diabetes, the two girls live with their father's brother and his wife, seeing their mother once a week in an arrangement that's as imperfect as it is loving and necessary. Writing in Patty's voice, Reynolds creates a fully dimensional, conflicted character whose hard-earned pragmatism helps her bring her relay team together, negotiate the social dynamics of the all-girls, mostly white private school she attends, and make the best of her unusual family lot. When this last is threatened, readers will ache right alongside her. Another stellar lap—readers will be eager to see who's next. (Fiction. 8-12)
— Kirkus, STARRED REVIEW
Atheneum/Caitlyn Dlouhy Books, 9781481450188, 240pp.
Publication Date: August 29, 2017
About the Author
Jason Reynolds is a #1 New York Times bestselling author, a Newbery Award Honoree, a Printz Award Honoree, a two-time National Book Award finalist, a Kirkus Award winner, a Carnegie Medal winner, a two-time Walter Dean Myers Award winner, an NAACP Image Award Winner, a two-time Odyssey Award Honoree, and the recipient of multiple Coretta Scott King honors. He's also the 2020–2022 National Ambassador for Young People's Literature. His many books include All American Boys (cowritten with Brendan Kiely); When I Was the Greatest; The Boy in the Black Suit; Stamped; As Brave as You; For Every One; the Track series (Ghost, Patina, Sunny, and Lu); Look Both Ways; Stuntboy, in the Meantime; Ain't Burned All the Bright, and My Name Is Jason. Mine Too. (both cowritten with Jason Griffin); and Long Way Down, which received a Newbery Honor, a Printz Honor, and a Coretta Scott King Honor. He lives in Washington, DC. You can find his ramblings at JasonWritesBooks.com.