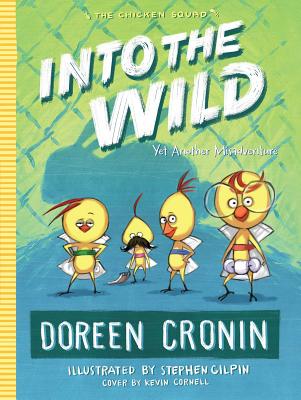 Into the Wild
Yet Another Misadventure (The Chicken Squad #3)
Hardcover

* Individual store prices may vary.
Other Editions of This Title:
Paperback (5/16/2017)
Prebound (8/19/2017)
Description
The Chicken Squad is back for their third (mis)adventure, and this time they're facing off with whatever's hiding in a mystery box in the backyard. A hilarious chapter book from the bestselling author of Click, Clack, Moo and Diary of a Worm.

Our fluffy, fearless young detectives are back out sleuthing because there's a new cage in the yard, and the Chicken Squad is determined to figure out just who this new addition is. Because whatever it is, it's definitely up to no good. So equipped with the latest surveillance gear—which apparently includes copious amounts of marshmallows—the chicks venture into the wild to get answers. Let's just hope they can beat that giant raincloud that's closing in…because everyone knows that chickens can't swim!
Praise For Into the Wild: Yet Another Misadventure (The Chicken Squad #3)…
The short, fuzzy, yellow chick detectives are back for another misadventure in this lip-bitingly funny series entry by the author of The Trouble with Chickens (HarperCollins, 2011), which stars the chicks' ex–police dog pal, J.J. Tully. As in past installments, the hard-boiled Tully introduces readers to Barbara's backyard and the motley crew of pet chicks who spend their days investigating oddities, devising plans, staking out suspicious characters, and generally causing an adorable ruckus. Once again, know-it-all Sugar leads the way, roping her siblings into spying on a strange new box in the yard—could it be a shark?!Though levelheaded Dirt drolly deduces that their new neighbor is a rabbit, Sugar, Sweetie, and Poppy are convinced that the new creature is up to no good. When the hatch door is found open, the squad goes on a search-and-contain mission, armed with marshmallows. Gilpin's comically expressive black-and-white drawings pepper almost every page, and the typeface is generously sized, making this an ideal series for newly independent readers. The slight sarcasm, witty banter, and sly observations in the style of old-time noir films will have adults chuckling right alongside kid readers. VERDICT This volume, along with the previous books in the series, is an essential purchase for chapter book collections.
— School Library Journal

Barbara has built a mysteriousbox in the backyard near the coop; what dangerous creature lurks within? TheChicken Squad is on the case (much to retired rescue dog J.J. Tully'samusement). Dirt (the smart one), Sugar (the know-it-all), Poppy (the boy), andSweetie (well, she shows up) decide to investigate the strange new box onstilts that Barbara has placed in the backyard. With their spy kits (containingbinoculars, mustaches, and marshmallow belts), the chicks are ready for action.After three long minutes of surveillance (that may have included a nap), Dirt,at least, has ruled out a shark as a possibility for the backyard's newdangerous denizen…Sugar's not so sure. After careful review of the evidence(and accidental poetry) they decide it must be a rabbit…but the door has beenleft open! Rabbits can't survive in the wild! So despite the fact that Sugar'scompass is predicting scorching weather (don't ask), the Chicken Squad is readyto head into the wild to save the maybe-bunny. Cronin continues her series ofmystery misadventures following the chicken siblings, while Gilpin takes overillustrating duties from Kevin Cornell (and young fans might not notice thechange). Many illustrations and frequent word repetition (not to mention thegiggle-inducing high jinks) make this series a great choice for those new tochapters. Final art not seen. Long may these clueless chicks cluck! (Mystery.6-10)
— Kirkus Reviews

In this drollstory, four little chicks use their new spy kits (observation logs, binoculars,fake mustaches, andstring-of-marshmallow belts) to investigate a mystery, namely, what animallurks in the new backyard cage? Athunderstorm tests their survival skills, but in the end, the mystery issolved. An introduction and an epiloguecontributed by canine detective J. J. Tully frame the story and introduce thefour main characters.Readers may find themselves returning to those introductory pages to sort out,say, which chick is Sugar andwhich is Dirt (not to mention Poppy and Sweetie). Whether the fuzzy yellowsiblings are slinging gumshoelingo or just squabbling, the dialogue is amusing. Ramping up the comedy, thegrayscale illustrationsare at their riotous best once the chicks go into action in full camo mode,wearing their mustaches andmarshmallow belts. Another amusing addition to the Chicken Squad series ofbeginning chapter books. —Carolyn Phelan
— Booklist online

This third book in the Chicken Squad series finds theinvestigative team of Dirt, Sugar, Poppy, and Sweetie trying to solve a mysteryinvolving a box made of wood and wire that has appeared in the yard. Dirt,whose mix of no- nonsense gruffness and utter incompetence offers big laughsthroughout the story, is certain that it's a "top-secret maximum-security box"and that "we are all in imminent danger." Luckily, cooler (and more logical)heads prevail, and the truth turns out to be a lot fluffier. Gilpin's black-and-whitespot illustrations adeptly replicate the look Kevin Cornell established in theprevious books as Cronin humorously explores the differences between facts andspeculation, spying and observing, and rain and other things that sprinkle.Ages 7–10.
— Publishers Weekly

In the poultry quartet's third misadventure (The Chicken Squad, rev. 5/14; The Case of the Weird Blue Chicken, rev. 11/14), the goodhearted and demented chicks Dirt, Sugar, Poppy, and Sweetie investigate their latest mystery. What is that new structure in the corner of the yard, and who lives there? For some reason, based on chicken logic, discovering the answers to these questions involves false mustaches, flip charts, and the writing of poetry. Once the young detectives figure out that the newcomer is a rabbit, the mystery turns into an altruistic, if daft, rescue mission. Cronin is a master of comic misunderstandings and parallel conversations that will never meet. Readers new to chapter books will relish how we get to know each of the main characters through action and dialogue and will find out about spy techniques while enjoying the satisfying heft of words such as surveillance and hypothesis. Gilpin rises admirably to the challenge of portraying such scenes as a chicken doing the backstroke while wearing a marshmallow life
preserver.
— Horn Book Magazine

A group of four chicks, who go by the names of Dirt, Sweetie, Poppy, and Sugar, are super sleuth detectives who have already solved mysteries that have occurred in their yard. There appears to be a mysterious box that contains another mystery – who, or WHAT, could be inside it? The group conducts surveillance episodes in order to better answer the questions they have about the mysterious box. Once they determine that the newcomer is a rabbit, he disappears. Now that the four detectives know that he is safe to be around, their main mission is to bring the rabbit back safely to his hutch. Pencil drawings by Gilpin appear throughout the story, adding to the humorous situations that the chicks find themselves in. Cronin is no stranger to the younger readers who have already enjoyed her mysteries, and fans of hers will enjoy the latest installment of this squadron of poultry!
— School Library Connection
Atheneum/Caitlyn Dlouhy Books, 9781481450461, 112pp.
Publication Date: May 3, 2016
About the Author
Doreen Cronin is the author of many bestselling and New York Times bestselling picture books, including Click, Clack, Quack to School!; Click, Clack, Surprise!; Click, Clack, Ho, Ho, Ho; Click, Clack, Peep; Click, Clack, Boo!; Dooby Dooby Moo; Thump, Quack, Moo: A Whacky Adventure; Bounce; Wiggle; Duck for President; Giggle, Giggle, Quack; Bloom; and the Caldecott Honor Book Click, Clack, Moo: Cows That Type as well as The Chicken Squad series and Cyclone. She lives in Brooklyn, New York. Visit her at DoreenCronin.com.

Stephen Gilpin graduated from the NYC School of Visual Arts where he studied painting and cartooning. He is the illustrator of the Who Shrunk Daniel Funk series and The Extraordinary Adventures of Ordinary Boy series. Stephen currently lives in Hiawatha, Kansas. Visit him at SGilpin.com.