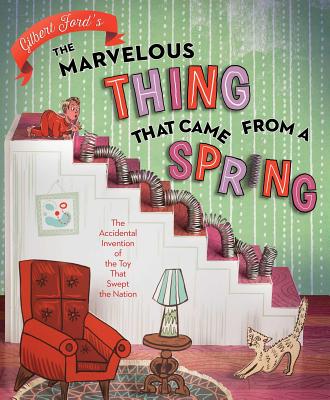 The Marvelous Thing That Came from a Spring (Hardcover)
The Accidental Invention of the Toy That Swept the Nation
Atheneum Books for Young Readers, 9781481450652, 40pp.
Publication Date: September 13, 2016
* Individual store prices may vary.
Description
With magnificent dioramic illustrations, Gilbert Ford captures the joy, creativity, and determination behind the invention of an iconic, one-of-a-kind toy: the Slinky!

One day, a spring fell from the desk of Richard James, an engineer and a dreamer. Its coils took a walk…and so did Richard's imagination. He knew right away that he had stumbled onto something marvelous.

With the help of his wife, Betty, Richard took this ordinary spring and turned it into a plaything. But it wasn't just any old trinket—it was a Slinky, and it would become one of the most popular toys in American history.
Praise For The Marvelous Thing That Came from a Spring: The Accidental Invention of the Toy That Swept the Nation…
A Bank Street College of Education Best Children's Book of the Year (5-8 category)

*STARRED REVIEW* "The Slinky, one of the great toy sensations of the 20th century, was born during WWII, when naval engineer Richard James noticed a torsion spring's unusual properties.... Ford (Mr. Ferris and His Wheel) writes with reportorial concision, and his visual style is elaborately and ingeniously playful, capturing both a midcentury American optimism and the tinkerer mindset. His photographed dioramas are assembled from expressive paper doll figures, two-dimensional drawings, and three-dimensional objects."

"Who hasn't had fun with a Slinky at some point in childhood? This toy has been ubiquitous since its creation in the mid-twentieth century, and its origin story will grab young readers and might spur would-be inventors to think about the way simple things capture imaginations. Meanwhile, older readers will have fun pinpointing all the vintage treasure Ford uses to embellish his three-dimensional set-piece illustrations: from dominoes and pick-up sticks, to plastic sedans and dollhouse sofas, he imaginatively uses childhood's commonplaces to add pizzazz. The story itself...is fascinating.... Readers intrigued by the origins of commonplace things will find this a fulfilling piece of nonfiction."

"The history of an iconic toy is shared in this delightful title from award-winning illustrator Ford. Authoring his first nonfiction picture book, Ford introduces his readers to naval engineer Richard James and his wife, Betty James. Always a dreamer, Richard James watches in wonder one day as a torsion spring falls from a shelf in his office and its coils take a walk. In that moment, the seeds of an idea are planted in his imagination, and with the help of his family, Richard James invents a new toy.... Ford's forthright narrative is informative, and his illustrations are as inventive as the engineer's amusing new toy. The pictures capture the can-do attitude of the mid-20th century United States and mirror the clever creativity the inventor needed to bring his sensational toy to kids and parents across the country. Found objects such as metal springs, dominoes, fuzzy pipe cleaners, and game pieces decorate the dioramic illustrations, adding a touch of whimsy to the scenes chronicling the Jameses' entrepreneurial journey. VERDICT: Young scientists and kids at heart will appreciate this nostalgic look at a popular accidental invention."

"[A] lively and visually entertaining tale. Illustrations created from cutouts, painted backgrounds, and...lots of kids' period dollhouse furniture, toy vehicles, and games...will prove as fascinating for many readers as the narration itself. Pair this with Chris Barton's Whoosh! (BCCB 6/16) on the invention of the Super Soaker for a crowd-pleasing invention-themed story time."

"This quick read with colorful illustrations makes the history of this iconic toy accessible and engaging for young readers. Full page whimsical dioramas that are a combination of drawings and real objects will capture readers' attention and bring the story to life.... An appealing read about a familiar toy that students can easily connect with."

"A memorable toy slunk into baby boomers' lives in the 1950s. What fun to read about how Slinky got its start in "The Marvelous Thing That Came from a Spring," a book that celebrates happenstances and toys of old.... Ford's rendition details "The Accidental Invention of the Toy That Swept the Nation" in entertaining text, and illustrations conceived in a most unique way.... Everything from how the toy got its name, to doubts others had about its success and more are included in this book, proof-positive that non-fiction can be fun to read, and informative. This one should appeal to readers in first through fourth grade."